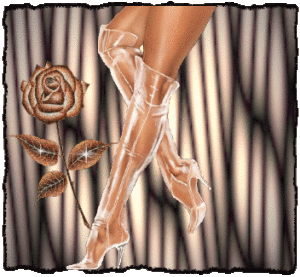 STEPPING OUT FLORIDA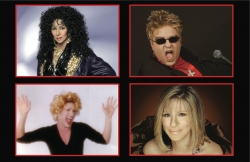 April 1 and 2-The Edwards Twins-An Evening with Cher, Billy Joel, Celine Dion, and Barbra Streisand-Direct from Las Vegas, The Edwards Twins, The Brother Who Look and Sound Like The Stars, is the Number 1 Identical twin and impersonation show in the world. The most unique show you will ever see. People Magazine Raved, "Flawless vocals & visuals, the Edwards Twins in many ways are better than watching the real thing." -Extraordinary Talent!-The NBC Today Show- No lip-syncing to the original Stars. To hear and see them go to theedwardstwins.com Anthony & Eddie Edwards are considered by most of the major newspapers, magazine and TV shows in the country as the most talented twins in the world today. Weather it's playing piano, dancing, acting, singing or doing over 100 impressions of the top super stars in the world, The Edwards Twins will WOW all age groups from 5 years old to 100. At the Boca Black Box-8221 Glades Road #10-Boca Raton,FL 33434-Tickets are $35 and $45-Phone:561-483-9036 or www.BocaBlackBox.com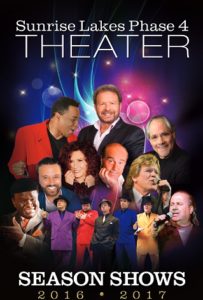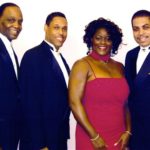 April 1-The Platters- (Final  Show of the Season) –8:00PM;  Come enjoy one of the most successful vocal groups of the early rock and roll era. They had 40 charting singles on the Billboard Hot 100 chart between 1955 and 1967, including four no. 1 hits. The Platters were one of the first African American groups to be accepted as a major chart group and were, for a period of time, the most successful vocal group in the world! They are known for "Only You," "The Great Pretender," "Smoke Gets in Your Eyes,""Twilight Time,", Harbour Lights"  and so many more-At the Sunrise Lakes Phase 4 Theater-For Tickets: Call 954- 748-3230, x1 –  Box Office Hours: Mon. – Fri 9:00 am – 2:00 pm- The theater is located at 10102 Sunrise Lakes Blvd, Sunrise, FL 33322  For more information, click here for the website: www.sl4recdistrict.com  To order tickets   CLICK HERE
Listen to how great The Platters sing "Only You":  Click Here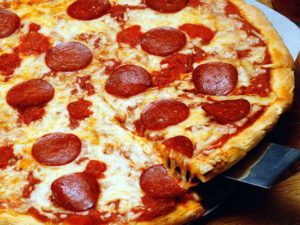 April 1-Fort Lauderdale Pizza Festival-Over 15,000 pizza lovers will descend onto the cheesy wonderland that will unfold from 1p.m. to 6p.m. at the War Memorial Auditorium in Holiday Park, located right in the heart of downtown Fort Lauderdale. The Festival will feature local pizza joints, national pizza brands we know and love, refreshing adult beverages, local art and entertainment, live cooking demos, a family-friendly kid zone and even a pizza eating competition. Some of the participants include Mellow Mushroom, PizzaCraft, Funky Buddha Brewery, iHeart Media and The Wander Shop, just to name a few. A special VIP kickoff will be held an hour prior with a proclamation declaring it Fort Lauderdale Pizza Day by the City of Fort Lauderdale. Tickets cost $30 for general admission and $75 for the premium VIP experience. A portion of the proceeds will be donated to charity partner Feed South Florida, providing 6 meals to men, women and children in need of food assistance, per ticket sold.  The Fort Lauderdale Pizza Festival is produced by millennial entrepreneur, Lais Pontes, best known for launching The Pontes Group, a bicoastal branding, public relations and marketing agency that landed the founder on the Forbes 30 under 30 list.For info and tickets, click here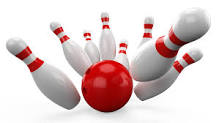 April 1-An Afternoon of Food, Fun & Bowling-Veterans Helping Veterans Bowling Tournament-Tournament Schedule: 11:30am check in; 12:30pm Bowling Tournament; 3:30pm Silent Auction Closes; 4pm Awards Ceremony; Held at 12:30pm at Sawgrass Lanes-8501 N. University Drive-Tamarac-For sponsorship or info: Mike Varga   954-520-8416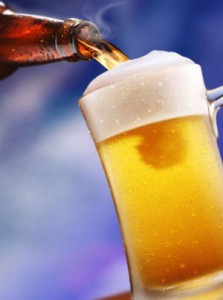 April 1- Sprung! Spring Beer Festival-A celebration of spring and summer beers, paired with cooking classes and workshops;Play your favorite bar games — including classics like beer pong and super-sized ones like human bowling — watch college basketball on TVs, dance to live music, and enjoy brew after delicious craft brew.3:30pm to 7pm for General Admission; VIP at 3pm- 550 Northwest 24th Street–Miami, FL 33127-Phone: 305-461-2700-http://www.igotsprung.com/
 April 1 & 2- The Palm Beach International Film Festival –This year's festival will consist of 30 films, including "Price for Freedom," "Remember Me" and "Wrestling Alligators." It will begin with a red carpet screening, followed by an after party at Bowery Palm Beach in CityPlace and Tilted Kilt on Airport Road next to Cinemark. From there, events will take place all around Palm Beach County, such as Jupiter, Lake Worth, Wellington and Boca Raton. For information and tickets:  pbifilmfest.org
April 3-Miami Senior Lifestyle & Healthcare Expo–9:30am to 1:30pm-The 37th Senior Health Fair! Our Last Senior Expo Sold Out With 95 Vendors. 100 + exhibitors with senior products and services. Extensive health screenings. Door prizes, special giveaways & raffles. Senior volunteer organizations. Live entertainment and informative workshops. Get more information- To Register, CLICK HERE- Magic City Casino- 450 NW 37th Avenue, Miami 33125͘-Info: 305-278 – 1811 Miami's South Dade location is at the center of the Hispanic retirement market.
April 7-The 22nd Annual Bank of America Wine, Spirits and Culinary Celebration at the Museum-6:30 PM – 9:30 PM- The Grand Tasting will take place from 6:30 p.m. to 9:30 p.m. and highlight over 40 South Florida premier restaurants, an array of wine and spirits, assortment of craft beers and a silent auction. Event highlights include tastings from South Florida's leading restaurants and a vast array of wines and spirits from around the world, courtesy of beverage sponsor Southern Wine and Spirits. There will also be an assortment of craft beers to taste, amazing prizes in the silent auction and a complimentary Riedel wine glass for every guest. This will be followed by the ultra-chic After-Party Lounge where all guests can continue to enjoy additional culinary delights from the After-Party restaurant partners and dance under the stars. The After-Party will take place from 8 p.m. to 10:30 p.m. in the MODS atrium. Held at The Museum of Discovery and Science-401 SW 2nd Street- Ft. Lauderdale, FL 33312-Phone: 954-713-0918; For more info. and tickets, CLICK HERE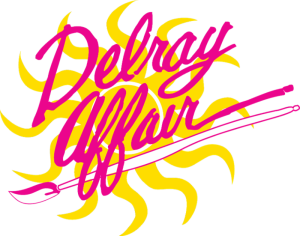 April 7, 8, 9- Delray Affair-The Delray Affair features over 500 exhibitors including artists, crafters, and food vendors from Delray Beach and all over the country. The event spans across 10 city blocks in downtown Delray Beach on Atlantic Ave. The Delray Affair is the largest arts & craft festival in the Southeast United States. The event takes place along the palm tree lined downtown streets of Delray Beach and stretches 12 city blocks from the Intracoastal to NW 2nd Avenue. The Delray Affair has received numerous awards for its 'eclectic' mixture of fine art, great crafts and funky products from around the world. Last year, artists and crafters from 30 states and twelve countries exhibited at the Delray Affair.Admission is FREE. For more information and tickets, CLICK HERE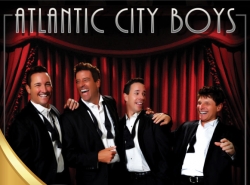 April 8-The Atlantic City Boys-Don't miss these four dynamic lead singers who have wowed audiences at Las Vegas, Walt Disney World, and of course, Atlantic City! "Oh What a Night", "Sherry Baby", "Walk Like a Man", "Big Girl's Don't Cry", are just four electrifying Broadway smash hits that bring this non-stop energy, incredibly talented group performs. Lending their world class vocals to the rock-n-roll harmonies of the 60's , the Atlantic City Boys will have you reliving the smooth street corner harmonies and non-stop hits of one of the world's most memorable singing sensation groups of all time. These four talented, dynamic male lead vocalists, backed by an equally accomplished live band, will take you on an exhilarating musical trip down memory lane that you will never forget! At the Aventura Arts and Cultural Center-Tickets $40-$45 | www.aventuracenter.org or call the box office at 305-466- 8002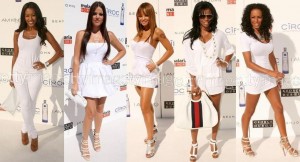 April 8-All White Party-Fundraiser to benefit "Eat Better Live Better"-6pm to midnight- Come out for great food, an open bar and an amazing show! We will have a live concert by Adrianna Foster, a dance show by Digital Vibez and tons of music, food and drinks! This will be a night to remember! Help "Eat Better Live Better" raise

money to serve the community and fight childhood obesity; Therefore, we will have Registration Stations for our 5K race on April 30, raffles, auctions and prizes; 100% of the proceeds will be donated; Plus…Win a prize for wearing the coolest kicks!  Location: TrainerSpace -990 Rogers Circle- Boca Raton, FL 33487 Get Your Tickets Today: https://trainerspaceparty.eventbrite.com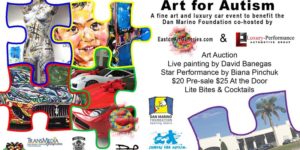 April 8-'Art for Autism"- A Charity Event by Easton Art Galleries and Luxury Performance Automotive Group; 6-10pm at 1800 N. Federal Highway, Delray Beach, Florida 33483- Dozens of artists  are pleased with Easton Art Galleries (www.eastonartgalleries.com) as the latest way to display their art virtually to a larger market via the Internet; TransMedia Group will partner the event with two charities, Dan Marino Foundation and Surfers for Autism;  in addition, Easton Art Gallery will partner with Luxury Performance Automotive Group (www.lpautogroup.com), a new hi-end car dealership in Delray and host for the event; TransMedia (www.TransmediaGroup.com) is also arranging for a Special Guest Appearances with artist William Debilzan and his collection of art inspired fashion, Fashion Designer Shy Figaro with live model expose and Singer, Composer, Violinist and Public Speaker Biana Pinchuk; artists attending: a Bolivian born artist who specializes in action painting with David Banegas, Salvatore Principe, William DeBlizan, William Braemer, Rolando Chang Barrero, Juan Luis Perez, Dr. Daniel Man, Doris White, Kevin Dodge, Magoz and Ralph Papa. The event is open to public with ticket purchase of $20 presale at bit.ly/art4autism or $25 at the door.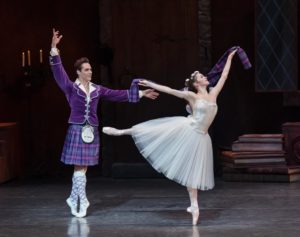 April 8 and 9-Boca Ballet Theater Announce Guest Artists for La Sylphide-One of the oldest ballets still commonly performed, La Sylphide ushered in the beautiful, romantic era of ballet and remains popular today. Directed and choreographed by Co-Artistic Director Dan Guin, La Sylphide is his interpretation of the Bournonville classic. "We are so pleased to announce that New York City Ballet Principal Dancers Megan Fairchild and Gonzalo Garcia will be returning to the Boca Ballet Theatre stage dancing the lead roles of The Sylph and James", said Dan Guin. "Our audience will remember them from their recent performance in the Don Quixote grand pas de deux at the 25 th Anniversary Gala Performance". With La Sylphide being a shorter story ballet, Boca Ballet Theatre will be adding the stand alone piece"Enchanted Garden" from Le Corsaire to the program. This lovely vignette was added to Le Corsaire to showcase the Corps de Ballet which is the heart and soul of classical ballets. Saturday at 8pm; Sunday at 2pm-The Countess de Hoernle Theatre, Spanish River High School, 5100 Jog Road, Boca Raton, FL 33496Ticket Price:  $35 for adults and $25 for children and seniors.  Tickets and Information:  561-995-0709 or  www.bocaballet.org

April 11- Passover Dinner For Singles-Join us for a joyous evening of Festive Foods, Friends, and A Celebration of the Holiday- OPEN TO EVERYONE (Single or Not; Any Faith; Anyone who would like a Holiday Celebration)-Enjoy an elegant and delicious dinner, then stay after for music (by "It Takes Two") and dancing at no extra charge!For all the details—Menu, Directions, How to Pay:  CLICK HERE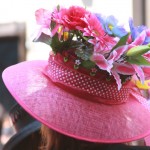 EASTER– APRIL 16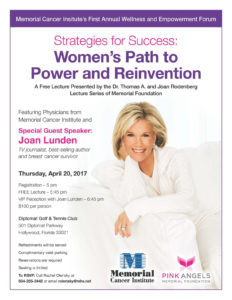 April 20- "Strategies for Success: Women's Path to Power & Reinvention"-Hear TV Journalist, Best Selling Author and Breast Cancer Survivor, Joan Lunden Speak- FREE-Also featuring physicians from Memorial Cancer Institute-Registration at 5pm; FREE Lecture at 5:45pm; VIP Reception with Joan Lunden at 6:45pm, $100 per person; At the Diplomat Golf & Tennis Club-501 Diplomat Pkwy., Hollywood 33021  Refreshments will be served; Complimentary Valet Parking, Reservations are required; Seating is limited; To RSVP call Rachel Olensky at 954-265-3442 or email rolensky@nullmhs.net
April 21-Las Olas Wine & Food Festival– 60+ restaurants and 40+ wineries will take over Las Olas Blvd for one night only to benefit the American Lung Association-Tickets are currently priced at $100 but purchase soon since The American Lung Association will increase pricing to $125 shortly-   www.LasOlasWFF.com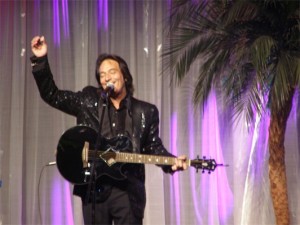 April 26- Neil Diamond-50th Anniversary Tour-8pm at BB& T Center in Sunrise-For tickets, CLICK HERE