WHAT'S THERE TO DO TONIGHT?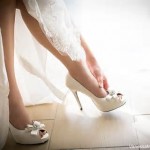 STEPPING OUT FLORIDA  
                                                          SUNDAY, NOVEMBER 26
Pavilion Grille
Neil Zirconia tonight!
Taste of New York Dinner Buffet from 6-8pm. Show & Dancing from 7:30-10pm. Dinner & Show $35 plus tax & tip. Bar Area Admission from 7pm. $15 cover includes a House Drink. The Pavilion has award-winning food, a HUGE 2000 sq. ft. wooden dance floor, FREE Parking, AND….great music tonight! Both singles and couples welcome; Come dine, dance, mix & mingle- Dinner Reservations may be made at 561-912-0000 -Pavilion Grille, 301 Yamato Rd, Boca Raton, 33431, is located in the lobby of the Seeman Holtz Building (formerly The Stonegate Bank Building.) The building is about 2 stories tall with distinctive glass sides, and is located on the NE corner of the intersection of Dixie Hwy and Yamato Road; FREE parking- in the lot or garage and enter the lobby to a world of music and dancing.  www.PavilionGrille.com
Come on in and join us!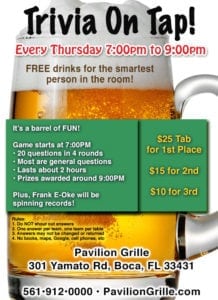 "Trivia on Tap" Returns on Thursday, November 30–What a great night of entertainment! Come early for Trivia Night at  7pm (and Every Thursday) in the Grille Room. Free Drinks for the Smartest Person in the Room! Games include  20 Questions in 4 Rounds led by Frank E-Oke;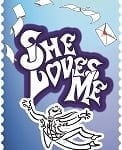 'She Loves Me'- Just Opened at The Wick Theater–She Loves Me is a euphoric romantic comedy with a soaring score. Amalia and George work together at a modest Hungarian parfurmerie, and have disliked each other from the very beginning. He thinks she's stuck up, and she thinks he's arrogant and mean. But each rapturously writes to a lonely hearts pen pal when the work day is done, and it doesn't take long for the audience to see that they're in love without realizing it. Inevitably through some of the most iconic songs in the musical theatre canon (Vanilla Ice Cream, She Loves Me, Will He Like Me?), George and Amalia discover the truth as well and rejoice in their love for each other at the story's sweet and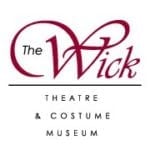 musically delightful conclusion. The play runs until December 23 with performances Wednesday- Sunday; Located at 7901 North Federal Highway – Boca Raton, FL 33487; For tickets call the box office at 561-995-2333 or visit www.TheWick.org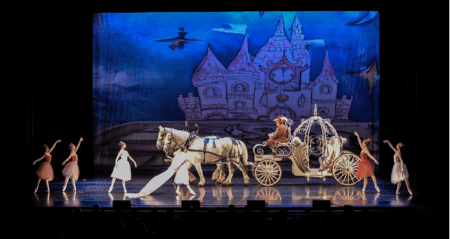 The ballet production of Cinderella will be presented by The Open World Dance Foundation featuring local youth and stars of American Ballet Theatre, Devon Teuscher and Cory Stearns-This past year marked the 125th anniversary of composer, Sergei Prokofiev, whose noted works include the music for the ballets Romeo and Juliet and Cinderella.  The Open World Dance Foundation celebrates the life of this remarkable composer with the production of Cinderella-As a follow up to a successful premiere in Houston, the Open World Dance Foundation will share this unique opportunity with local children, youth and the community in South Florida. This is  a special experience for children to collaborate in the creation of the production and rehearse and dance alongside accomplished dancers and other guest artists from around the world in their culminating performance.  Open World Dance Foundation promotes the preservation and development of the traditions of professional ballet education.  The foundation strives to create opportunities to unite dancers of all ages and backgrounds from around the world through a common love of ballet and dance that includes festivals and exchange programs, and promoting and preserving dance education-Performances are November 25 at 7:30 p.m. and Sunday, November 26 at 2 p.m.at Parker Playhouse, 707 NE 8th Street in Fort Lauderdale.Tickets range from $35 – $125.  For tickets and more information, CLICK HERE
Art Festival-Downtown Delray Beach-An Outdoor Art Show on Thanksgiving Weekend-On NE 4th Avenue, just north of Atlantic-10am to 5pm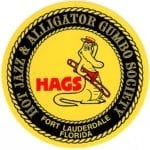 Hot Jazz & Alligator Gumbo Society-"HAGS" Hot Jazz & Alligator Gumbo Society, features S. Florida's BEST Swing & Dixieland Jazz – Jazz sessions 4th Sunday of the Month. Featured Band this month – Larry Kendzora's Hornucopia-1pm – 4pm-Members – $5  Non-members $10-Boca Raton Shrine Club-601 Clint Moore Rd.–Boca Raton, FL 33487  Phone: 954-651.0970– For more info, Click here: www.HagsJazz.com  Save The Date: Next Hags: Dec. 17th, 2017-The Glyn Dryhurst – Dixieland Jazz Band** Note: 3rd Sunday of Month instead of 4th, due to Christmas **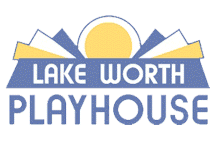 November 26 to December 3-A Christmas Story at the Lake Worth Playhouse-The Story: He's back! One boy. One holiday wish. And a world that seems to be conspiring to make it certain it doesn't come true. Join us as in all its pink-bunny-suit, glowing-leg-lamp, triple-dog-daring glory. This is a perfect holiday treat for the whole family. Schedule: Preview Night is Thursday, November 16, 2017 at 8:00 p.m. ($23 & $27);
Opening Night is Friday, November 17, 2017 at 8:00 p.m. ($38 – includes Opening Night Elegance); Evening and Matinee Performances will run November 18-December 3, 2017 at 8pm and 2pm. ($29 & $35); Dinner & Show Night is November 16 and includes a 6:00 p.m. pre-show dinner at Brogues prior to the 8:00 p.m. performance. The all-inclusive dinner/show package price is $60 and includes a three-course meal and premium seats for the preview performance. Buy tickets online, Click HERE  or call 561-586-6410  Find us on Social Media: FACEBOOK www.facebook.com/lwplayhouse   TWITTER www.twitter.com/LWPlayhouse  Located at:   713 Lake Ave, Lake Worth, FL 33460
Evita- (Final Performance today) To Celebrate the 30th Anniversary Season of Actor's Playhouse at the Miracle Theater-At 280 Miracle Mile, Coral Gables 33134 For tickets: www.ActorsPlayhouse.org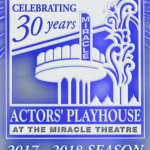 To see the plays Coming up at Actors Playhouse at the Miracle Theater for 2017-2018- CLICK HERE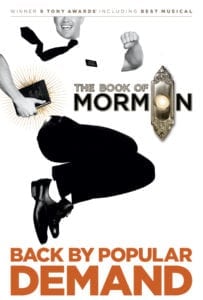 "The Book of Mormon"-(final performance)  Winner of 9 Tony Awards including Best Musical-Back by Popular Demand,  at the Kravis Center in West Palm Beach- For more info and tickets:  CLICK HERE
Stone Crab Season Begins- Ahhh!…. Stone Crabs… for those who love cracking open those delicious chilled claws, get ready–today the season officially opens (In Florida, stone crabs are legal to harvest from NOW through May 15.)
 The Gardens Green Market-Sunday at 8 AM – 1 PM-10500 Military Trail, Palm Beach Gardens, FL 33410-4628
Delray Sunday Yoga in the Park-Until March 25, 2018-Held outdoors by the intracoastal, these classes offer a unique atmosphere to move, breathe, stretch, and relax together in nature. Bring a yoga mat, water, towel, and a smile. The practice is a 60- minute all-levels yoga class, for beginners and experienced practitioner alike. This is the new Sunday Yoga Service of Delray. Join certified and registered Yoga teachers and cousins Jesicca Aloha and Barbara Alfonzo for a journey of self-discovery, and awareness of mind-body connection. At Veterans Park-802 NE 1st St, Delray Beach 33483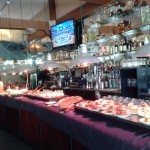 Sunday Brunch with 50 items and Chef's Bloody Marys and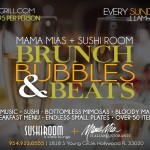 Bottomless Mimosas-Come to Mama Mia's + Sushi Room for the best variety of Italian and Japanese in a buffet-"Brunch Bubbles and Beats" has pumping live music,  creative breakfast items like Eggs Benedict (done with Short Ribs, Prosciutto or Florentine) or "Hangover Pancake" and great Italian and sushi choices-All for $19.95 per person–At Mama Mia Italian Ristorante- 1818 S. Young Circle in Hollywood 33020   Info: 954-923-0555 or  MiaGrill.com – MENTION STEPPING OUT FLORIDA to General Mgr., VITO, and you may get a nice surprise….
Wing Special Sundays-Whole Foods Market in Davie-12:00 PM – 8:00 PM-At "The Watering Hole"-Visit us Sunday's for 10 boneless or traditional wings and a beer for $8. At 1903 S. University Drive, Davie 33324-Phone: 954-916-3000
Backroom Blues Party Sundays-6pm until ?  Every Sunday- At 7200 Dixie Hwy. locale-(Formerly The Rockin Angels) – with: Open Mic Blues Jam-The Westside Blues Band-166 SE 2nd Ave-Delray Beach, Florida, FL 33444-Call to confirm: 561860-4679
Voltaire-New Club Just Opened on Clematis Street in W. Palm Beach-The Club Promoter has scheduled major touring bands through the fall, including post-rock favorites Unwed Sailor,  Marbin, a Chicago by way of Israel jazz-rock band, and New York shoe-gazers Shana Falana. Expanding its sonic palette, Voltaire has also dedicated future Saturday nights to a drag cabaret in the spirit of the late Clematis Street venue The Lounge, and Sunday nights to blues. To start, the venue will be open Wednesdays to Sundays, with possible special events slated on select Mondays and Tuesdays. Located at 526 Clematis Street, W. Palm-For the full schedule, visit sub-culture.org/voltaire.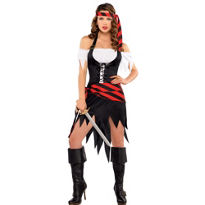 Shell, Shuck and Peel Weekends at Muddy Waters Restaurant- Great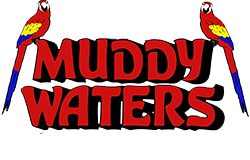 Specials on  Saturday and Sunday from 11am to 4pm like "Shrimp Bang! Bang!- CLICK HERE to see-Home of 69 cent clams and oysters on the half shell daily-Happy Hour 4pm to 7pm and ALL NIGHT ON MONDAYS-Try a House Shrimp Bloody Mary ($5)-And absolutely the BEST Fish Tacos!-Get your game on here on Saturday and Sunday afternoons with 19 H/D TVs- At 2237 W. Hillsboro Blvd.-Deerfield Beach 33442-Info: 954-428-6577 or www.MuddyWatersRestaurant.com
Boca Resto Lounge-Karaoke- (6:30pm to 9:30pm)  Patio Seating Available-Call 561-430-5639 or visit BocaRestoLounge.com -Located at 3360 N Federal Hwy., Boca Raton 33431-  Open Tuesday through Sunday
City Pub-956 S. Federal Hwy., Deerfield Beach 33441-Open Tuesday through Sunday-954-427-8213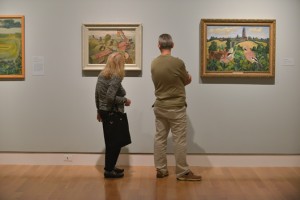 Norton Museum-FREE ADMISSION: There's much to celebrate at the Norton this month: The Museum reopened on July 5 after a five-week hiatus to re-install galleries and prep for construction. And admission is FREE for all through December 2018! Be sure to visit the reinstalled galleries to view your favorite works in a new context. Also on view is a video installation by artist Mark Fox, Giverny: Journal of an Unseen Garden, that offers a new perspective of the lily ponds in Giverny, France that Claude Monet made famous in his paintings. Programs such as Art After Dark resume this week, and are free as well!  Welcome back!
For info. on Exhibitions, Programs, Tours, Art After Dark, Theater Lab (new), and more, CLICK HERE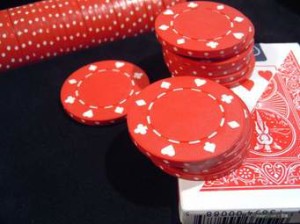 The Casino at Dania Beach is open! Casino, Concert Venue, Comedy Club! The newest casino in Broward County is almost here! You have been waiting, and soon you will able to try out an all new gaming… 301 E Dania Beach Blvd, Dania Beach, FL 33004 -Phone: 954-920-1511
Note: Are you interested in a new job or know of someone who is looking? The brand new  Casino @ Dania Beach is still hiring Cocktail Waitresses, Bartenders, Cashiers, Security Agents & Housekeeping Personnel-Resumes should be sent to JOBS@nullDANIACASINO.COM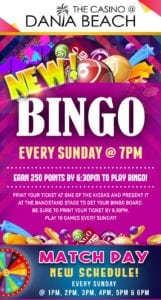 Also, Bingo every Sunday at 7pm-Earn 250 points by 6:30pm to play-be sure to print your ticket by 6:30pm-Every Sunday at 1pm, 2pm, 3pm, 4pm, 5pm and 6pm
Jazz in Jupiter-Every Sunday-Every Sunday great local jazz bring your instrument and sign in to play- From 4:30 until 9pm-(And live music all week)- Double Roads Tavern-251 S. US Hwy 1-Jupiter 33477-Phone: 561-203-7061 Call to confirm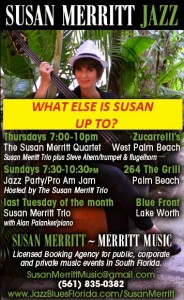 The Susan Merritt Trio-Sundays 6:30pm to 9pm at the Basil Bar and Grille- 243 Ocean Blvd- Manalapan-Phone: 561-588-2405; Alan Palanker, piano;  Susan Merritt, bass; Marty Campfield, drums- Live JAZZ to accompany your dinner and cocktails in an upscale, relaxed, convenient location.  Ample free parking.  Kitchen serving until 10pm.   on Thursdays at Zuccarelli's in The Emporium Shoppes, 4595 Okeechobee Blvd #126, in West Palm Beach -561-686-7739 -Call to confirm-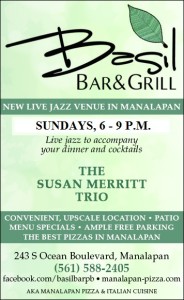 -Contact:  SusanMerrittMusic@nullgmail.com   or 561-835-0382
                                                     ~        ~             ~        ~           ~       ~        ~
Josh's Organic Garden, 101 N. Ocean Drive, Hollywood, year-round 9 a.m. to 5:30 p.m. most Sundays
Las Olas Sunday Market, year-round at 333 E. Las Olas Boulevard, Fort Lauderdale, most Sundays 9 a.m. to 2 p.m.
The Yellow Green Farmers Market, indoor venue, year-round 1940 N. 30th Road, Hollywood, 8 a.m. to 4 p.m. Saturdays and Sundays, 954-513-3990
Tamarac Farmers Market, 9 a.m. to 2 p.m. most Sundays, 7825 Southgate Blvd., 954-540-6593 or 954-597-3620Wilton Manors Green Market, 8 a.m. to 2 p.m. most Sundays, 2020 Wilton Drive, 954-531-5363
Green Market in Coconut Creek–  At the Promenade -8:30am to 1pm- From April 27 until October 26-Organic Produce, Arts and Crafts, Local and Homemade Foods, Fresh Flowers -Located at the corner of Lyons and Wiles Road-Coconut Creek- Info:  www.ThePromenadeAtCoconutCreek.com
Las Olas Outdoor Gourmet Market–Sundays 9:00am-2:00pm-At 1201 E. Las Olas Boulevard at SE 12th Avenue Fort Lauderdale (954) 347-1474-Call to confirm; market schedules change
West Boca Green Market-Sundays, 8:30 a.m. to 2 p.m.–As the largest year-round market in the county, West Boca Green Market has more than 100 vendors. Boasting everything from nut butters to cocktail soaps (Mojito, anyone?), the market also offers children's activities so parents can focus. Face painting and train rides galore. Catch the fun year-round at Olympic Heights High School-Address: 20101 Lyons Road; Boca Raton, FL 33434–Phone: 561/929-0237
Marando Farms–Sundays (and Saturdays) 9:00am-4:00pm-At 1401 S.W. First Avenue, downtown Fort Lauderdale- Soon to partner with Georgia Pig for Marando Ranch-For details, CLICK HERE 
Parkland Farmers' Market-Sundays, 9:00am-1:00 pm-Equestrian Center 8350 Ranch Rd. Parkland, Usually 1st and 3rd Sundays- 954 -757-4120–Call to confirm; market schedules change
Palm Beach Gardens Green Market-Sundays 8am-1pm -The market will still offer wonderful produce, flowers, plants, breads, seafood, bakery items, cheeses, sauces, live music, and more-Rain or Shine-Please leave your pets at home-Info: 561-630-1146- At 10500 N. Military Trail, Palm Beach Gardens 33410-To confirm: Email: RECINFO@nullPBGFL.com    Website: www.PBGFL.com
Marandos Ranch (Formerly Batten's Farmers Market) CLICK HERE–6807 Stirling Rd., Davie-954- 990-7820-Hours: Year-round, Monday, Tuesday, Thursday & Friday, 10 am–5 pm, Saturday & Sunday, 9 am–5 pm-Batten's Farmers Market is a local icon, acclaimed for its abundance of delicious strawberries that grow during winter and spring. The farmstead experienced difficult times and closed in 2008, but it reopened in 2011 under new ownership. Batten's continues its tradition of selling fresh conventional and organic produce from local farmers, in addition to breads, raw honey, nuts, jams and jellies. There's also a milkshake and smoothie counter. Kids enjoy the petting zoo, and can take cooking and gardening classes.
Brothers Farmers Markets–Hollywood Location, 4191 N. State Rd. 7-Phone: 954-962-9292-Davie Location, 6807 Stirling Rd.-954- 585-2225-Hours for both locations: Open Year-round, Monday–Friday 8am–5pm, Saturday-Sunday 8am-3pm-Established in 2003, Brothers Farmers Market supports Florida farming by offering a bounty of fresh organic and conventional produce at reasonable prices. The market is very popular, so the produce cases are constantly being restocked. Beyond fruits and veggies, the shelves are filled with so many unique gourmet products that shoppers tend to spend a lot of time here browsing.
Yellow Green Farmers Market-A massive metal shed filled with fresh produce, vendors selling everything from olives to essential oils, Cuban coffee, soups, fresh bread, hats and shorts and ukeleles made out of cigar boxes. Also good for Latin food stands' or  brunch at the Chill Bar-Open on Saturdays and Sundays only.  ygfarmersmarket.com –  1940 N. 30th Road, Hollywood – Phone: 954-513-3990
Coral Gables' brand new Farmer's Market at The Village of Merrick Park-A select group of local vendors showcase their fresh picked produce, and delicious homemade, handmade, artisan products.- 9:00 am-358 San Lorenzo Ave, Coral Gables, FL-Phone: 305- 529-0200
                                                                                                                                                         ~
Link to City of Boca Raton- Special events: www.ci.boca-raton.fl.us                                        
Link to City of Palm Beach-Events:www.palmbeachchamber.com
___________________________________________________________________________________________
                                     AND MORE!  ONGOING:
  BEREAVEMENT AND GRIEF SUPPORT GROUPS:
http://bereavement-groups.meetup.com/cities/us/fl/boca_raton/
http://www.mhapbc.org/SupportGrief
http://widows-and-widowers-support-group.meetup.com/cities/us/fl/boca_raton/
(NOTE: FYI: Also, every Saturday: "You're Never Alone After Bereavement- A 50 and over group in its 14th year-From 9am to 10:30am-Heritage Park West Library-5859 Via Flora, Delray Beach-Call to confirm meeting: 561-361- 9091 -$1 Donation-Sponsored by the Senior Foundation-A 501 (c) 3 Charity)
Blue Jean Blues–Ft. Lauderdale's Jazz and Blues Club- Happy Hour-4pm to 8pm-Different bands every Sunday-8pm-at 3320 NE 33rd St.-Ft. Lauderdale Fl 33308-(2 blks. N. of Oak. Pk. Blvd. & A1A)–www.bjblive.com
Deck 84–Caribbean resort-style bands from 2 to 5:30 p.m., plus Brunch and a Build-Your-Own Bloody Mary Bar from 11:30 a.m.840 East Atlantic Avenue- Delray Beach 33483-Info: 561- 665-8484  Call to confirm–(restaurants change hours often, esp. in varying seasons) www.Deck84.com       
JB's on the Beach – Waterfront-Known for its 'classy casual' setting, tropical dining right on the ocean and live music- the outside terrace starts hopping at 8pm-300 NE 21st Avenue (on A1A)- Deerfield Beach 954-571-5220
Ocean's 234 – Waterfront Grille- Beach-side fine dining with seafood dominating the menu- Live band on Thursday; DJ music on Friday and Saturday- 234 N. Ocean Blvd. (A1A)- Deerfield Beach-954-428-2539
Bru's Room-great wings, $2 pitchers of Icehouse beer & other specials-123 NE 20th Street-Deerfield-954-420-5959
Boston's on the Beach- Newly renovated with ocean-view dining upstairs–Great band plays Grateful Dead music-At  7pm-Never a cover-Always a good time-Every Mon: Reggae Night (10pm)-Every Thur: Classic Rock Night (9pm)-40 S. Ocean Blvd–A1A in Delray Beach- 561-278-3364
Gold Coast Ballroom– Latin music and dance from 5 pm to 8 pm. and Ballroom mix from 8pm to 11 pm. Cover: $15 – this venue now includes a drink bar (alcohol) and sandwich bar-954-979-0770
The Banana Boat– All-day Island Rum Party- Pop and Rock music from 2pm to 6pm; Reggae band from sunset to 10 pm; music till 2 am.-561-732-9400
Cafe Iguana-Pines– 25,000 sq.ft. entertainment mega-plex with 8 bars including "Red Zone" sports bar-Sunday is 'Flashback Night" with music of the 80's and 90's-at 8358 Pines Blvd. in Hollywood- Late night – Info: 954-433-8787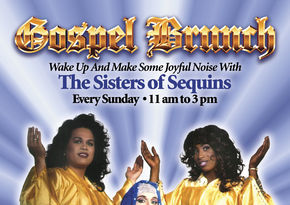 Sunday at 'Lips'– Dinner with the Divas– Thursdays and Try Sunday Gospel Brunch on Sunday- (11am-cover: $21.95) Unlimited Champagne or Mimos with Entree- The ultimate in Drag Dining and fun place to celebrate birthdays impersonations of Cher, Lucy, Dolly Parton, Liza, more- But be prepared for some risque and off-color humor-1421 E. Oakland Park Rd.-Ft. Lauderdale 954-567-0987  Info at www.LipsUSA.com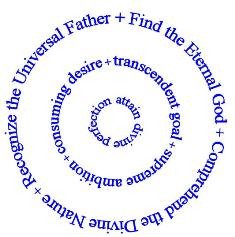 New: The SNi S. Florida Morning Makeover & LifeStyle Rounding Program!
1.   40 Minute Guided Group Meditation –
2.  90 Minute Total Body-Balance Classical Hatha Yoga
– HelioTheraputic or ThermoTheraputic
Build equal strength, endurance and flexibility
3.  20 – 60 Minute Deep Meditation,
Profound!   This 1-2-3 step Spiritual Experience is proving to be the single most powerful personal development Program available in South Florida today!
The Spiritual Nutrition Institute (SNi)
Morning Makeover & Life Style Rounding Program!
One Love, Contact: Edmund F. Kuell III
Spiritual Nutrition Master, Evolutionary Medicine
International Financial Healing Program
561-460-3168 | 1-5pm ET