WHAT'S THERE TO DO TONIGHT?   
                                             THURSDAY, NOVEMBER 23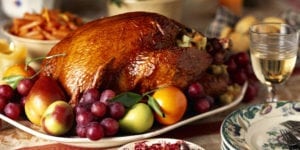 HAPPY THANKSGIVING!
THESE STORES ARE OPEN ON TURKEY DAY!! (Still a good idea to call first to confirm)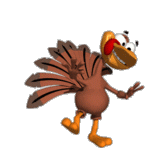 Walmart- Most open 24 hours
Best Buy- Opens at 5pm
Target- Opens at 6pm
Macy's- Opens at  6pm
Dollar General- Open 7am to 10pm
Toys R Us-Opens at 5pm
Bass Pro Shops-Open from 8am to 6pm 
____________________________________
Pavilion Grille
Closed for Thanksgiving Day
BUT….Come back tomorrow, Friday, November 24 for the fun and fabulous oldies and Doo Wop music of Joey Dale!  The Pavilion features a huge 2000 sq. ft. wooden Dance Floor, Free Parking;  Why not make it a perfect evening of Dinner and Dancing?  Dinner Reservations may be made at 561-912-0000; Pavilion Grille, 301 Yamato Rd, Boca Raton, 33431, is located in the lobby of the Seeman Holtz Building (formerly The Stonegate Bank Building.) The building is about 2 stories tall with distinctive glass sides, and is located on the NE corner of the intersection of Dixie Hwy and Yamato Road; FREE parking- in the lot or garage and enter the lobby to a world of music and d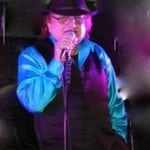 ancing. www.PavilionGrille.com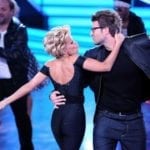 The Weekend Ahead:  Friday: Joey Dale with Doo Wop and classics we all know and love; Saturday: Closed for a Private Party;  Sunday:  Neil Zirconia Dinner Show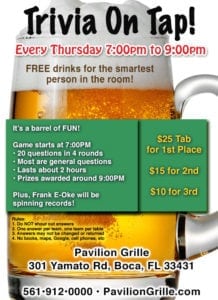 "Trivia on Tap" returns on Thursday, November 30! –What a great night of entertainment! Come early for Trivia Night at  7pm (and Every Thursday) in the Grille Room. Free Drinks for the Smartest Person in the Room! Games include  20 Questions in 4 Rounds led by Frank E-Oke;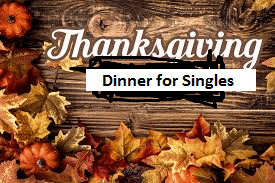 Thanksgiving Dinner for Singles!
A Vegan Thanksgiving-The Palm Beach County Vegetarian Society will be hosting a vegan picnic in South County Regional Park. The Boca Raton-based event, which is now in its seventh iteration has attracted dozens of local vegans. The vegan-friendly Thanksgiving party demonstrates that a plant-based diet can help one  feel better, control their weight, cholesterol, blood pressure, and potentially avoid or reverse disease; Melanie Wolf, organizer, hopes curbing locals' meat consumption will help curb animal cruelty. "Turkeys, pigs, cows, and all animals are sentient beings who, just like humans, cherish life and fear death," she says. "Every life is precious to the one living it. You can celebrate Thanksgiving with delicious meals and without taking a life." Wolf will help supply paper plates, cups, napkins, utensils, and bottles of water. In terms of food, she asks that guests bring only dishes that contain no animal products so that both vegetarians and vegans will be accommodated. There is no entrance fee to the park, and all are welcome to the vegan potluck—including dogs—but there will be a contribution jar to help cover the cost of the pavilion ($165) and supplies ($50). The suggested contribution is $5 per adult. Alcoholic beverages are allowed and so are small radios. Also, since there is a volleyball/badminton net, as well as basketball courts near the pavilion, Wolf says to feel free to bring frisbees, games, blankets, bicycles, etc. Located at  11200 Parks Access Road. Boca Raton  33498. Get Directions: 561-966-6600.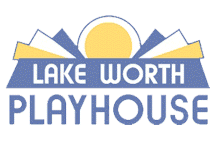 November 23 to December 3-A Christmas Story at the Lake Worth Playhouse-The Story: He's back! One boy. One holiday wish. And a world that seems to be conspiring to make it certain it doesn't come true. Join us as in all its pink-bunny-suit, glowing-leg-lamp, triple-dog-daring glory. This is a perfect holiday treat for the whole family. Schedule: Preview Night is Thursday, November 16, 2017 at 8:00 p.m. ($23 & $27);
Opening Night is Friday, November 17, 2017 at 8:00 p.m. ($38 – includes Opening Night Elegance); Evening and Matinee Performances will run November 18-December 3, 2017 at 8pm and 2pm. ($29 & $35); Dinner & Show Night is November 16 and includes a 6:00 p.m. pre-show dinner at Brogues prior to the 8:00 p.m. performance. The all-inclusive dinner/show package price is $60 and includes a three-course meal and premium seats for the preview performance. Buy tickets online, Click HERE  or call 561-586-6410  Find us on Social Media: FACEBOOK www.facebook.com/lwplayhouse   TWITTER www.twitter.com/LWPlayhouse  Located at:   713 Lake Ave, Lake Worth, FL 33460
November 23 to 26- Evita- To Celebrate the 30th Anniversary Season of Actor's Playhouse at the Miracle Theater-At 280 Miracle Mile, Coral Gables 33134 For tickets: www.ActorsPlayhouse.org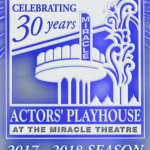 To see the plays Coming up at Actors Playhouse at the Miracle Theater for 2017-2018- CLICK HERE
Thursday Deals At Duffy's-All-You-Can-Eat Boneless Wings $9.95, with fries- Every Thursday (and Monday Night), 8pm to Close-All Season Long; AND Duffy's Rib Fix: $9.95 for 1/2 rack of Signature Baby Back Ribs, with 1 side-Every Thursday Night after 4pm-Check locations:  CLICK HERE
The Poppin' and Hoppin' Special; Pizza & Pint Night-5pm to 8pm-At Whole Foods Market, Davie-From 5 pm – 8 pm-Grab a seat at the Watering Hole and enjoy a personal pizza and a pint for just $8 on Thursdays.  See you at the Watering Hole! Located at 1903 S. University Drive, Davie 33324   Phone: 954-916-3000
Clematis By Night-West Palm's favorite Thursday night tradition proves why it has been the "hot spot to chill" for more than 20 years. During Clematis by Night, guests will enjoy live music, food and drink specials and the hottest local social scene, creating an unmatched seaside Happy Hour setting-Various bands will perform from 6pm to 9pm at the waterfront-100 Clematis Street-For more information, please visit Wpb.org/events or follow the City of West Palm Beach on Facebook @CityofWPB, on Twitter @westpalmbch or on Instagram @westpalmbch.  or call 561-822-1515
Voltaire-New Club Just Opened on Clematis Street in W. Palm Beach-The Club Promoter has scheduled major touring bands through the fall, including post-rock favorites Unwed Sailor, Marbin, a Chicago by way of Israel jazz-rock band, and New York shoe-gazers Shana Falana. Expanding its sonic palette, Voltaire has also dedicated future Saturday nights to a drag cabaret in the spirit of the late Clematis Street venue The Lounge, and Sunday nights to blues. To start, the venue will be open Wednesdays to Sundays, with possible special events slated on select Mondays and Tuesdays. Located at 526 Clematis Street, W. Palm-For the full schedule, visit sub-culture.org/voltaire.
Boca Resto Lounge-Music 7pm to 10pm-Great food & Drinks- Happy Hour EVERY DAY from  4pm – 7pm -Inside and Outside Patio Seating Available-Call 561-430-5639 or visit BocaRestoLounge.com -Located at 3360 N Federal Hwy, Boca Raton 33431-  Open Tuesday through Sunday
Networking Every Thursday-Coffee Open Networking Thursday-8:00AM – 8:45AM-$5 for coffee, bagels, fruit, danish and our famous oatmeal-We start at 8AM sharp and are out the door before 9:00AM-Held at Spoto's Oyster Bar -4560 PGA Blvd-Palm Beach Gardens -No Dues or Fees to Join-For more info, CLICK HERE