What's There To Do This Week?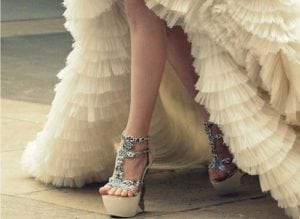 STEPPING OUT FLORIDA

May 29-Memorial Day
Want to know what Memorial Day is all about?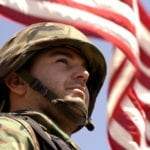 It's  a federal holiday for remembering the people who died while serving in the country's armed forces.  AND…..
It marks the start of the unofficial summer vacation season, (while Labor Day marks its end.)The day will be filled with solemn observances but also with concerts, parades, parties and..barbecues!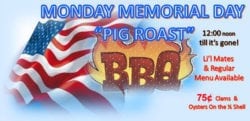 May 29-Monday Memorial Day "Pig Roast" BBQ-At Muddy Waters Restaurant and Raw Bar-From 12 noon till it's gone-("Li'l Mates" and Regular Menu also available)-Special: 75 cent Clams & Oysters on the Half Shell.  The Pig Roast / Pork Platter is $14.99 (**SPECIAL DISCOUNT FOR ALL OUR VETERANS**) Note: No rewards or additional discounts with this menu. All specials include Lilly's Potato Salad & Homemade 5 Bean Supreme. Muddy Waters-2237 W. Hillsboro Blvd.-Deerfield Beach, FL 33442-Phone: 954-428-6577
---
                  JUNE
June 3-A Taste of Recovery-The culinary festival will be held from 6 – 10 p.m. at the Old School Square Pavilion, during which guests will enjoy savory bites and desserts from a variety of area restaurants, along with live entertainment. The cost is $40 per ticket. Live entertainment will include world-renowned comedian Sarge. Louie Bossi, Executive Chef/Partner at Big Time Restaurant Group's Louie Bossi's Ristorante, Bar & Pizzeria, will host the inaugural Taste of Recovery, a benefit for The Crossroads Club in Delray Beach, Florida, which has been serving the area for 35 years. All proceeds and donations will go to the Delray Crossroads Club.  At Old School Square, 51 N. Swinton, Delray Beach 33444-For more info. and tickets, Click here: TasteofRecovery.com
June 3- Hollywood Wine & Food Festival-Live music and entertainment, Event cup, Unlimited wine, beer, and liquor sampling, Entry to chef culinary and comedy tents-Event begins at 1pm-Arts Park Young Circle,  1 North Young Circle, Hollywood, FL 33020 For info: 786-483-7714
June 5-First Annual Fundraising Gala sponsored by Life Through Nature Foundation-6:30pm to 9:30pm at Blue Island Fish Restaurant in Delray; Join us for an evening of award-winning food, entertainment from Florida,  Las Vegas and New York; Meet celebrities and international artists; Bid on an array of donated goods and internationally renowned art work;   $79 in Advance; $100 after June 1; Includes Mediterranean Buffet, Silent Auction, Fine Wine, Live Music, Book Signing; Every ticket included a signed copy of "Relationships;: Functional vs Dysfunctional by Gus Barni -Attire: Casual Elegant; To purchase tickets, CLICK HERE

June 9-Rock & Roll Dance Party with CRT Band (Classic Rock Therapy)-Join us for our 1st rock and roll dance party of the summer featuring South Florida's favorite party band, Classic Rock Therapy. The party will be held at Cash Only Bar located at 15 W. Las Olas Blvd in downtown Ft. Lauderdale The band starts at 8pm but arrive early to mingle with friends. The band plays favorite songs from the 70's through today and will keep you up dancing all night. This party is for singles and couples and many people arrive alone so don't be shy.
June 21-Summer Boom Health Expo-
 9 am-1 pm
Northwest Focal Point Senior Center, 6009 NW 10th Street, Margate-Info: Contact Karin Diaz at 954.973.0300 or  
karindiaz@
null
margatefl.com

June 24- The Strength of a Woman's Voice- A "Women Who Dare to Dream" Workshop-Kristen Bomas Invites You to Unlock the Power of Your Voice! 9:30 AM – 4 PM- Held at Cendyn Spaces | M.E.A.T. Eatery Lobby-980 N Federal Highway, Boca Raton, FL 33432-Lunch will be served | Snacks and beverages available throughout the day-In a safe and sacred atmosphere, you will learn to: Gain an understanding of the history of women and their voice; Identify the cultural and social influences of a woman's voice and message; Begin discerning the outside influenced from the outside experience; Learn to speak from your truth and experience; Ready to find your voice beyond the historic, social and cultural influences? Register today! For more information or to RSVP please call  561 -212-7575 or visit KristenBomas.com   and click on the event banner before June 19-$127 per person | Seating is limited -Please register by June 19
June 30-The Rock Pack: Lead Singers from Foreigner, Journey, Asia and Toto-At Hard Rock Live in Hollywood-The classic rock foursome includes Lou Gramm, Steve Augeri, John Payne and Bobby Kimball. Tickets start at $40 for the 90 minute show.  For info. and tickets, CLICK HERE