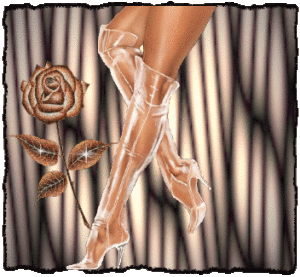 STEPPING OUT FLORIDA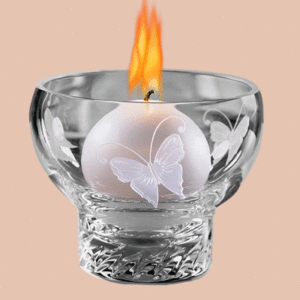 April 24- Holocaust Remembrance Day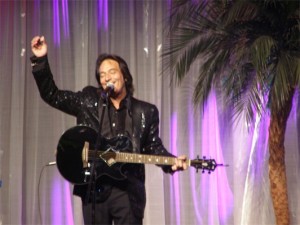 April 26- Neil Diamond-50th Anniversary Tour-8pm at BB& T Center in Sunrise-For tickets, CLICK HERE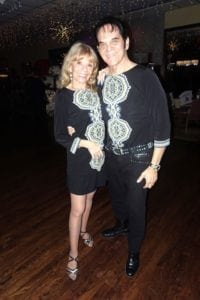 April 24, 27 and May 1-"Danceland"- A New Musical "How We Found Love" presented by the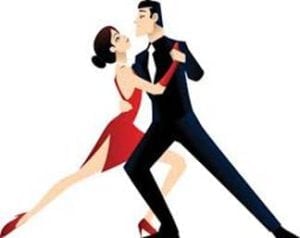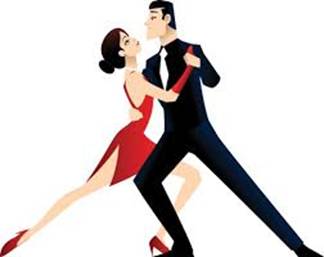 Musical Theater Workshop-Written and Directed by Val Chevron; Musical Director, Wally Childs-Tickets are $3 for Members; $5 for Non-Members-Buy tickets now at the Front Desk, Sign in at the kiosk on the day of the show-Held at the Shirley & Barton Weisman Delray Community Center-7091 W. Atlantic Avenue, Delray Beach 33446  561-558-2100  or  www.RalesJFS.org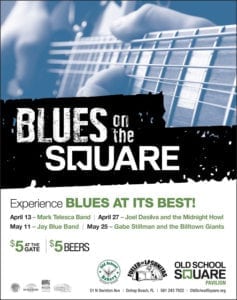 April 27-Blues on the Square-
 Experience some of Florida's best blues bands under the Big Top-Blues fans unite at the Old School Square Pavilion-7:30pm to 10pm-  $5 at the gate | $5 beers-Next shows: April 27 – Joel DaSilva and the Midnight Howl; May 11 – Jay Blue Band; May 25 – Gabe Stillman and the Billtown Giants; Bring chairs, but no pets or outside food and beverage. Food trucks, popcorn, ice cream. Sponsored by Lagunitas and Old School Bakery.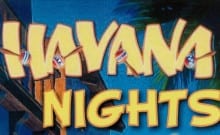 April 27-Havana Nights-The last Thursday of every month starting at 5pm.  $35 Cover Charge at the door includes Cuban Food, 1 Complimentary Mojito, & Latin Music – All you can dance! DRINK SPECIALS $8 Bacardi Mojito's, $6 Beer, $6 Wine; Fresh rolled cigars $7; Our next Havana Nights is May 25-Located at 106 S. Swinton Avenue-Delray Beach 33444-For more info: www.SundyHouse.com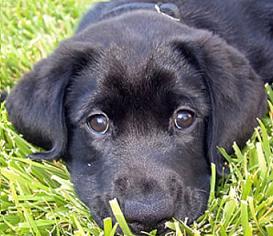 April 28-Everglades Angels Dog Rescue-Fundraiser/Adoption Event–Dogs, Beaches and Brews-Together there is no stopping us from accomplishing our mission; a mission to save abandoned, starving dogs in the Everglades Ecosystem of Florida. These pets were left by past owners to die in hell on earth. The minute they are dumped, the clock starts ticking quickly towards their tortured death. The volunteers of Everglades Angels Dog Rescue utilize every precious moment to rescue, rehabilitate and find the Angel Dogs a perfect lifetime home-Join us at The World Famous Parrot Lounge- 911 Sunrise Lane-Ft. Lauderdale Beach-From 5–10 pm-(Last Friday of every month)-For more info, CLICK HERE
April 28-A Mile Long Block Party- From Jaco Pastorius Park to Oakland Park Boulevard (on 12th Avenue) hosted by the City of Oakland Park. This event is our Music on Main Street amped-up with 9 live bands, including acoustic guitar performers, funk, jazz, top 40, country, rock, salsa, merengue, and tropical music. Dancing in the Streets will take place  from 6-10pm from Funky Buddha Brewery to Big Dog Station-Dance, Live Music, Food Trucks- Ride the trolley and check out the fun from NE 36th Street & 12th Avenue to NE 32nd Street. Free parking in the Dixie Lots at NE 38th Street & Dixie Highway and at 12th Avenue and NE 32nd Street
April 28-Vivaldi 4- A Re-Imagining of Vivaldi's 'The Four Seasons"-Witness the world premiere of The Vivaldi Project: "4", a collaboration between Miami's own Nu Deco Ensemble and Brooklyn's phenomenal hip-hop dance company Deca dance theatre at the Arsht Center -The program will also include work by Bach and Stravinsky, both with special twists! Join us for this genre-bending collaboration in the visualization of classical music-Tickets at arshtcenter.org.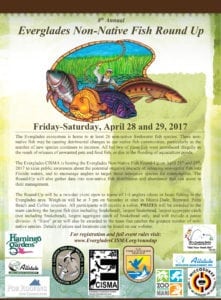 April 28 and 29-Everglades Non-Native Fish Roundup-the Everglades ecosystem is home to at least 26 non-native freshwater fish species. These non-native fish may be causing detrimental changes to our native fish community, particularly as the number of new species continues to increase. All but 2 of these fish were introduced illegally as the result of releases of unwanted pets and food fish, or due to the flooding of aquaculture ponds. The Round-up is a 2-day event open to teams of 1 to 4 anglers (shore or boat) fishing in the Everglades area. All teams will receive and T-shirt and PRIZES will be awarded. For more information:  www.EvergladesCISMA.org/Roundup
April 29-The Golden Runway-Teen Fashion Show-Proceeds Benefiting The Golden Bell Education Foundation-11am in The Town Center Mall-Come see Boca Raton public high school students walk the runway at Golden Bell's first teen fashion show fundraiser-There will be food, music, awesome raffle items and plenty of fun; Stephanie Susskind from WPTV is our Emcee for the Fashion Show.Admission: $20 (includes lunch); Fashion Show will be in the Pottery Barn Courtyard (Park outside of Crate & Barrel)- Town Center Mall-6000 Glades Road, Boca Raton 33431- RSVP to Christie Workman at CWorkman@nullBocaChamber.com
April 29- A Taste of Spring-At Whole Foods Markets-2pm to 5pm-Free Event-Watch and taste as our specialty hand cuts, wraps and tastes some of our fine cheeses on the floor with you-Come see what makes our cheese different; Guests will enjoy seasonal wine pairings with our featured favorite cheeses. No registration necessary, just stop by Whole Foods Market West Palm Beach, Boca Raton or Wellington locations.
April 29-Ben Bailey-Comedy! 8pm- At the Crest Theater in Old School Square in Delray–For more information and tickets, CLICK HERE

April 29 and 30-Recycled Book Sale-All funds will be donated to Parkland Buddy Sports, Inc., a not for profit organization that offers well-structured sports programs for special needs children and young adults. Purchase used books, outside the store)-Whole Foods Market-810 University Drive-Coral Springs, FL 33071  Phone: 954-796-5800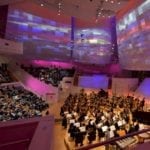 April 29-The New World Symphony- America's Orchestral Academy (NWS), will perform its sixth annual New Work program—dedicated to commissioning and premiering new pieces from high-profile and developing artists across a range of genres, intersecting music with theater, dance, poetry, video, lighting, and other art forms— at 7:30 p.m. at the New World Center. The program will include a new Michael Tilson Thomas-led- and-conceived stage production of Niccolò Castiglioni's Inverno In-Ver, the premiere performance of an orchestral version of Oscar Bettison's Lights in Ashes led by NWS Conducting Fellow Dean Whiteside, and the world premiere of John Supko's broken on the wheels of night, a New World Symphony commission composed for viola and electronics. Tickets starting at $40 are available from NWS by phone at 305- 673-3331 or online at NWS.edu  or in person at the New World Center box office.

April 30-Eat Better Live Better 5K Run-Eat Better Live Better is on a mission to prevent, reverse and reduce childhood obesity.With your support, we can tackle this national epidemic by creating permanent change in the community and make a lasting impact! Thank you so much for your support! This year's event includes a 5K race, green market, contests and raffles, kids zone, unique vendors, special guests and much, much more!! Proceeds will be donated to Eat Better Live Better, a local non-profit organization that is helping reverse and prevent childhood obesity. Come today and Run, Jog, or Walk-All finishers will receive a custom finishers medal after crossing the finish line. For more info. and to sign up:  CLICK HERE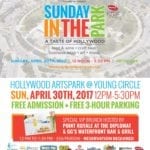 April 30-Sunday in the Park-A Taste of Hollywood-noon to 5:30pm-FREE Admission; FREE 3 hour parking-Food & Wine-Craft Beer; Business Expo; Art; Music-For more info, CLICK HERE  or 954-923-4000