***************************************************************************
SteppingOutFlorida.com 

Things to do, Places to go, People to meet!

Enjoy "STEPPING OUT" on the town! 
WE ARE ON FIRE! 
************************************************************************* 

---

   What's There To Do This Week?
 
THIS WEEK AT A GLANCE:   
OCTOBER 15   to    OCTOBER 21
CLICK ON THE BLUE DAY OF THE WEEK BELOW FOR MORE THAN 25 GREAT THINGS GOING ON EACH DAY!!!  
LISTED BELOW ARE ONLY A FEW!
Monday –     Washington Post's Bob Woodward speaks, Monday Night Football, First Day of Stone Crab Season, FREE Burgers, Trivia Contests,  Improv, Happy Hour Specials, Networking, Basement Open Jams
Tuesday  "It Takes Two" Performs at 11th Anniversary Party for PAVILION GRILLE and STEPPING OUT FLORIDA,  South Beach Seafood Fest continues, Israeli and International Folk Dancing
Wednesday – Ballroom & Latin Dancing,  Phantom of the Opera, Classic Jimmy Stuart film, Food Trucks, Networking, Trivia Night at the Brewery, Wine Wednesday
Thursday –    Karaoke at Muddy Waters, Pirates of Penzance Opens, Trivia Contests
Friday   Joey Dale, Free Concerts in Ft. Lauderdale,  Oktoberfest all weekend, Wine Opener, Chef Shodown, Enigma Haunt, Dog Water Park Opens, Dirty Rotten Scoundrels, Eagles Tribute Band

Saturday –  Oktoberfests,, Boca Gumbo Fest,  "Bacon, Blues & Brews' in Delray,  Halloween Dance Party, Morikami's Lantern Festival,  Theater, Moonlight Guided Canoe Tours, Green Markets
Sunday  – Sunday Brunches, Oktoberfests, Theater Matinees (Phantom, Pirates, Ladies, Sunday Karaoke in Delray
______________________________
NEXT WEEK…   AND AFTER ….CLICK HERE
SCROLL DOWN TO SEE

"SPECIAL EVENTS"

 !!!
___________________________________________________________________________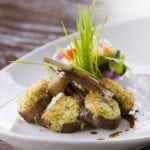 RESTAURANT NEWS!  For Openings  & Closings,  CLICK HERE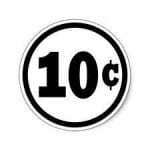 Wow!  10 ¢ Drinks Every Day in October–Yes, you read that right. Every day in October, the bar at The Grove in Delray Beach will only be charging 10 cents for drinks. However, there is a slight catch: they're only doing it for 10 minutes every day from 5:30 to 5:40 p.m. The restaurant made the announcement on Instagram. The Grove's rules are that you must be seated or standing at the bar during the 10-minute time period, and eligible drinks include red and white wine, beer and well cocktails.  (By the way, the price wasn't anywhere close to buying a beer for 10 cents back in the '50s, so this is a seriously good deal you don't want to miss.)  The Grove, 187 NE Second Ave, Delray Beach; 561-266-3750; thegrovedelray.com
___________________________________________________________
JUST

 S

CROLL DOWN……WHAT INTERESTS YOU?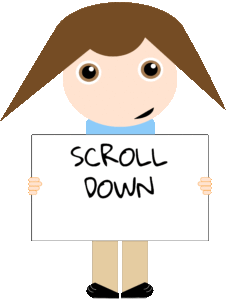 SPECIAL EVENTS-     Scroll down!
SAVE THE DATES-     Scroll down!
ONGOING EVENTS- Scroll down!
RESTAURANT NEWS- Scroll down or  (CLICK HERE)
FOR SALE-                       Scroll down!
FACEBOOK-                    Scroll down!
JOB OPENINGS-           Scroll down!
HAPPY HOURS!!!!         Scroll down or (CLICK HERE)  

SPECIAL EVENTS: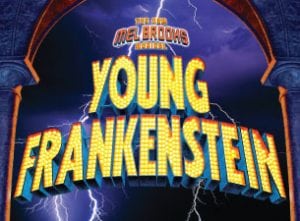 October 18 to 21-Young Frankenstein-From the creators of the record-breaking Broadway sensation, The Producers, comes this monster musical comedy. The comedy genius, Mel Brooks, adapts his legendarily funny film into a brilliant stage creation – Young Frankenstein! Grandson of the infamous Victor Frankenstein, Frederick Frankenstein (pronounced "Fronk-en-steen") inherits his family's estate in Transylvania. With the help of a hunchbacked sidekick, Igor (pronounced "Eye-gore"), and a leggy lab assistant, Inga (pronounced normally), Frederick finds himself in the mad scientist shoes of his ancestors. "It's alive!" he exclaims as he brings to life a creature to rival his grandfather's. Eventually, of course, the monster escapes and hilarity continuously abounds. At Lake Worth Playhouse, 713 Lake Avenue, Lake Worth, FL 33460-Opening Night: 8pm, All seats $38; Show Times are Thursdays-Sundays at 8pm with Sat. & Sun. Matinees at 2pm; For tickets, Click here;  Special: To order Dinner & a Show Package, call 561-586-6410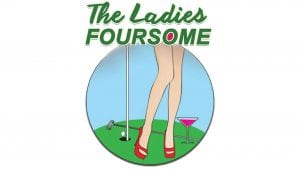 October 18 to 21-The Ladies Foursome–(Back by Popular Demand!) Pigs Do Fly Productions' production of The Ladies Foursome played to consistently full houses when it ran at Empire Stage last March. The show was such a success that the company's founder and Executive Producer, Ellen Wacher decided to bring 'the ladies' back onto the golf course and let them swing their way through another round! "Why not?" Wacher said recently. "I kept hearing from people saying their friends heard great things about the show and were sorry they'd missed it. Or that they hadn't laughed so much in the theatre for ages and wanted to see it again. The play – and the dialogue – is thoughtful, clever, realistic, and very, very funny, and it really resonated with our audiences – both men and women. So this is truly a case of 'back by popular demand'!"  The show's premise is simple: It's the day after the funeral, and three women gather for a round of golf in honor of their recently departed play partner. A mysterious fourth joins them, and so begins a raucous and rowdy 18 holes filled with secrets, surprises, confessions… and sex.  "These four women have played golf together every week for 14 years, and they believe this is the perfect way to honor their friend," Director Genie Croft explained when she spoke about the play last March. "Each one of the foursome has her secrets – some have been taken to the grave, and others are revealed in moments of anger, jealously, drunkenness, and guilt. As they play the links, confessions about men, sex, love, children, and careers come to the fore as they challenge each other's views. The Ladies Foursome is a tribute to the pitfalls and pleasures of friendships and their lasting significance in our lives."Tickets for The Ladies Foursome are $39 and are available on line at www.pigsdoflyproductions.com or by calling 866-811-4111. Performances are on Thursday, Friday, and Saturday at 8 pm, and on Sun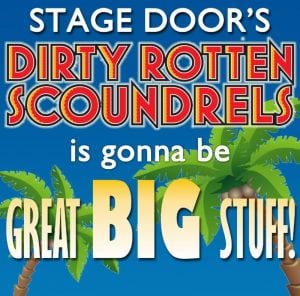 October 17 – November 4-Dirty Rotten Scoundrels- Presented by Stage Door Theatre-at their new venue Lauderhill Performing Arts Center (LPAC) -Stage Door's second production in their new state-of-the-art home should definitely entice their audiences –returning and new: Dirty Rotten Scoundrels is an award-winning musical comedy based on the hit movie of the same name. The story: Lawrence Jameson makes his lavish living by talking rich ladies out of their money. Freddy Benson more humbly swindles women by waking their compassion with fabricated stories about his grandmother's failing health. After meeting on a train, they attempt to work together, only to find that their small town isn't big enough for both of them. They agree on a settlement – the first one to extract $50,000 from their mutual target, young heiress Christine Colgate, wins, and the other must leave town. Sophisticated, suave, and with a good dash of mischief, this thoroughly entertaining musical features a delightfully jazzy score and was nominated for eleven Tony Awards. The music is by David Yazbek (The Full Monty, Women on the Verge of a Nervous Breakdown, and this year's Tony Award winner for Best musical, The Band's Visit). The show's book is by Jeffrey Lane (Women on the Verge of a Nervous Breakdown). The production will be directed by Clayton Phillips: " I guess if there is a message in it at all, it is that greed does not pay (or does it?). The show is full of twists and turns and is a real comedy from start to finish. I love this musical because it is smart and funny and entertaining," he says. "And what more could we want these days?!"  The Lauderhill Performing Arts Center (LPAC) is located at 3800 NW 11th Place, Lauderhill (33311), in the Central Broward Regional Park on the North East corner of Sunrise Boulevard and 441 (State Road 7). Tickets for Dirty Rotten Scoundrels and for all Stage Door productions remain at $48. (LPAC charges a $5 service fee per ticket, however if a package of four Stage Door shows is purchased the service fees will be waived.) Group rates are available, as are student prices (with valid ID). For more info. and for tickets, call the box office at 954-344-7765 or on line at https://www.stagedoorfl.org or on the LPAC website at https://lpacfl.com. Showtimes:  Wednesday, Saturday, & Sunday at 2 pm; Friday & Saturday at 8 pm; For more information about Dirty Rotten Scoundrels and/or Stage Door Theatre, contact Derelle Bunn Executive Producer/Artistic Director, at DerelleBunn@nullyahoo.com / 954-344-7765 or C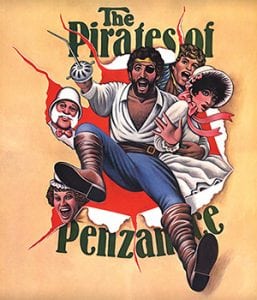 October 18 to November 11-The Pirates of Penzance–First play of the 2018-2019 season at the Wick Theater in Boca-The Gilbert and Sullivan treasure returned to Broadway in 1981 under the direction of Joseph Papp and went on to win the Tony Award for "Best Revival." This adventurous tale with an enthralling love story is suited for buccaneers of all ages. "The Pirates of Penzance is swashbuckling good time, filled with topsy-turvy plot twists and a brilliant score," said Marilynn A. Wick, Managing Executive Producer. "We are thrilled to be kicking-off our 6th season with this beloved family classic." The comic musical's plot follows Frederic, who is released from his apprenticeship ater 21 years,  to a band of tender-hearted pirates. He meets Mabel, the daughter of Major-General Stanley, and the two young people fall instantly in love. Frederic soon learns, however, that he was born on the 29th of February, and so, technically, he has a birthday only once each leap year. His indenture specifies that he remain apprenticed to the pirates until his "twenty-first birthday," meaning that he must serve for another 63 years! Bound by his own sense of duty, Frederic's only solace is that Mabel agrees to wait for him faithfully.The brilliant nonsense is punctuated with beautiful songs including, "Climbing Over Rocky Mountains"; Mabel's gorgeous waltz entrance "Poor Wandering One"; the lilting duet "Oh, Leave Me Not To Pine"; the Major-General's patter song "I Am the Very Model of a Modern Major-General" ; the ballad of the cowardly constables, "A Policeman's Lot Is Not a Happy One"; and the infectiously invigorating "Come Friends Who Plow the Sea."   Tickets are $75-$85, www.TheWick.org or call the box office at 561-995-2333.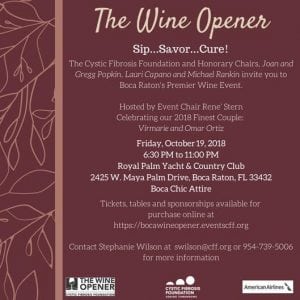 October 19-The Wine Opener-To Benefit Cystic Fibrosis–Sip…Savor…Cure! You are invited to Boca Raton's Premier Wine Event, hosted by Event Chair, Rene Stern;  Celebrating our 2018 Finest Couple:  Virmarie and Omar Ortiz-6:30pm to 11pm-At the Royal Palm Yacht and Country Club-2425 W. Maya Palm Drive, Boca Raton, FL 33432  Boca Chic Attire  Tickets, Tables and Sponsorships available for purchase online: CLICK HERE   For more information contact Stephanie Wilson at swilson@nullcff.org or 954-739-5006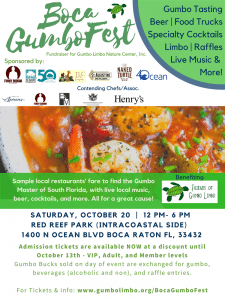 October 20-Boca Gumbo Fest! Chefs To Compete For Best Gumbo In Boca–All For A Great Cause–Local chefs will compete for bragging rights for the Best Gumbo at the first Boca Gumbo Fest and one will be crowned The Best Gumbo Master of South Florida! This fundraiser by the Friends of Gumbo Limbo Nature Center is noon to 6 p.m.,  outdoors on the Intracoastal side of Red Reef Park, 1400 N. Ocean, Boca Raton 33432. The event will have GUMBO TASTING,  Food Trucks, Specialty Cocktails, Limbo, Raffles, Live Music and more. DISCOUNTED Pre-sale tickets NOW through Oct. 13 are $20, and $25 afterward; VIP $50, and $75 afterward; under 12 are $5 at the Gumbo Limbo website. All tickets include FREE Parking across the street at Red Reef Park east. Each admission level includes at least one FREE  gumbo buck; gumbo bucks sold on the day of the event are used to exchange for food (gumbo!), beverages (both alcoholic and non), or raffle tickets.  Prepare your taste buds for some delicious gumbo chefs from restaurants Funky Buddha Brewery, E&M Catering, Boca Resort, Publix Aprons, Henry's of Delray and more! Funky Buddha Brewery's draft van will be serving beer to the guests, and St. Augustine Distillery's famous gin and hibiscus spritz for those who prefer spirits! This event is a fun way for those of legal drinking age to enjoy the outdoors, food, beverages, and music ALL in support of Gumbo Limbo Nature Center! Click the link for all details on this upcoming event: CLICK HERE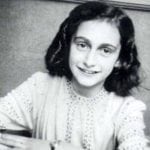 October 24 to November 4- The Diary of Anne Frank-This Pulitzer-prize winning play is based on the diary written by one of the most inspiring essayists of the 20th century. Winner of four Tony awards, including Best Play, The Diary of Anne Frank continues to be one of the most enduring Jewish dramas of our time. JCAT is so proud to bring this inspiring play, the winner of the Pulitzer Prize and four Tony Awards, to the stage for its inaugural production in its new home, The Alan and Diane Lieberman Theater.  At JCAT- The J's Cultural Arts Theatre – JCC Theater- North Miami Beach, FL- For more info. and to purchase tickets, CLICK HERE

SPECIAL EVENT: Try Indoor Skydiving at iFLY Fort Lauderdale!   iFLY, the world's largest indoor skydiving operator, has announced the introduction of a first-of-its-kind virtual reality experience to complement current flight offerings. Consumers will "jump" at the chance to take indoor skydiving to new "heights," experiencing near-real-life skydiving sights in some of the nation's most beautiful destinations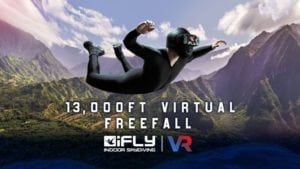 – like Southern California, Hawaii, Switzerland and Dubai without setting foot in (or out of) an airplane. Fliers will also see themselves seamlessly jumping from a plane through a hyper-realistic free-falling experience, with complete immersion via iFLY's state-of-the-art VR helmet and headset. The experience utilizes first-of-its-kind virtual reality technology application, powered by Samsung Gear VR headsets and iFLY's wind tunnel technology, allowing participants to combine the thrill of skydiving from the perspective of a professional skydiver all in a safe and controlled environment. "The idea of a virtual reality flight experience has been a dream of the iFLY brand for more than two decades, but the technology wasn't there," said Dave Kirchhoff, iFLY CEO. "VR headsets are nothing new but nobody is applying VR technology to real-life scenarios like this. We are truly pushing boundaries to make this iFLY experience one-of-a-kind by making the dream of flight more tangible and more real than ever before." All participating flyers must first complete iFLY's pre-flight training course and participate in several training flights before jumping into VR. The iFLY Virtual Reality Flight Experience is available to individuals ages eight and up. For more information and scheduling a visit to iFLY Fort Lauderdale, visit www.iflyworld.com/fort-lauderdale or call 954-280-4359.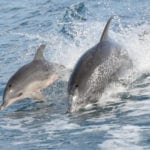 SPECIAL EVENT:  Dolphin Tours to Celebrate World Oceans Day- Join the celebration and experience the beauty of wild dolphins! Ever since June 8th was officially declared World Oceans Day by the United Nations in 2009, the celebration has grown into a tidal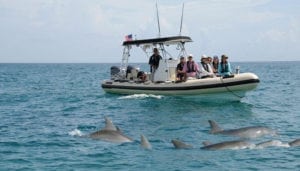 wave of activities around the world, aimed at increasing awareness about how oceans work and how their health is related to our own well being. Come and experience firsthand the beauty of seeing dolphins in the wild; Generally, morning tours start at 9 am, Sunset Tours start at 3 pm. For these special tours anyone 7 years and older is welcome. 

If you have younger children please let us know. For reservations or questions, contact us: Stefan at 561-762-6473  Taras Oceanographic Foundation |Email:  harzen@nulltaras.org |   CLICK HERE:  www.taras.org
NEWS: NEW DANCE STUDIO IN BOCA- "Dancing with the Stars" professionals Maks, Val and Tony hosted a grand opening of their newest "Dance With Me" USA Dance Studio on Wednesday, June 27,their first in Florida; Val and Maks Chmerkovskiy and Tony Dovolani, who have all been "Dancing With The Stars" pros and are owners."This is the place for people who can't dance," they say. Located in Town Center Mall, 6000 Glades Rd c1360, Boca Raton, FL 33431 Phone: 561-500-0601
NEWS: CAMINO REAL BRIDGE in BOCA– will be closed–FOR ONE YEAR! The $9 million renovation project should take roughly 12 to 13 months.During that time, drivers will have to use the Palmetto Park Road bridge instead.
*************************************************************************
NEXT WEEK AND MORE:  
*************************************************************************
---
SAVE THE DATES:
We are selling Mah Jongg cards to raise money for Play for P.I.N.K. ® , where 100% of funds raised goes directly to the Breast Cancer Research Foundation ® .  Since 2015, we have raised more than $8,500 which has been donated for life saving research. Standard-size cards are $8.00 and large-print cards are $9.00. To order cards for delivery anywhere in the United States, please email me at the email address below.   Order deadline: Wednesday, January 23, 2019. Cards will be mailed directly from the National Mah Jongg League around April 1, 2019. If you don't receive an email confirmation/receipt within two weeks after mailing your order,...
Continue reading
0 comments
***************************************************************************
---
ONGOING EVENTS:
Woofing Waters Dog Park & Marina at Quiet Waters Park—Grand Opening ceremonies-2:30pm- Giveaways, K9 demonstrations, photo ops and more- The 2 acre-space in the NW corner of the park includes separate areas (grass and hard surface) for large and small dogs with assorted water features. Cost is $5 for a daily pass, $25 per household for a seasonal pass which is also good at Barkham at Markham Park. For information on vaccination rules and other guidelines, call 954-357-5100 or Broward.org   (Opened October 12, 2018)
Continue reading
0 comments
Zumba Gold-For ages 50 years old and up. Zumba combines invigorating Latin-inspired dance music and moves including; merengue, salsa and flamenco to improve physical health, balance, memory and posture.   To locate classes near you, call: 954-925-3755-or contact a specific instructor: Alexia Badnani, Stonebridge Boulevard,  Clint Moore Road, Boca Raton; ALSO:  classes at Loibels Fitness Center, 2880 N. Federal Hwy., Boca Raton 33431 call 561-609-9923 or email: Loibels@LoibelsFitness .com    ALSO: Zumba® Gold with Hugo: This class features exotic rhythms set to high energy Latin music and international beats. ALL Levels ***ZUMBA® GOLD is a Beginner / Senior...
Continue reading
0 comments
To Check out the current IMAX Movies, Traveling Exhibits, Permanent Exhibits, Special Eventsetc.:  Museum of Discovery and Science & AutoNation IMAX 3D Theater, 401 S.W. Second Street • Fort Lauderdale, FL 33312   954-713-0904 www.mods.org There is always something new happening at the Museum of Discovery and Science! There are hundreds of interactive exhibits including an outdoor Science Park, take a ride on the Everglades Airboat Adventure, experience hurricane force winds in the Storm Center, dig for fossils alongside a giant prehistoric megalodon, get close to a confrontation between a saber-toothed cat and an Imperial mammoth, and...
Continue reading
0 comments
FYI: Boca Raton Public Library Offers Free Tutoring Help For Area Students-Area K-12.  Students now have free access to professional tutors from the Tutor.com Learning Suite, an online service from The Princeton Review, thanks to a recent donation from the Friends of the Boca Raton Public Library. All Boca Raton student library users have access to work with a personal tutor at no cost to them and at their convenience online." Through Tutor.com, students can get help with math, science, English, Spanish, social studies, writing, and ACT and SAT prep. "Through Princeton Review's SAT/ACT Essentials...
Continue reading
0 comments
***************************************************************************
RESTAURANT NEWS:
(Note: For a complete listing of restaurant closings and openings, CLICK HERE)
Openings and events:  Alphabetically: AVANT–In place of the former Solita's and Mastino- 25 NE 2nd Avenue in Delray BURTON'S GRILL– 5580 N. Military Trail, Boca In the new shops on Military Trail, Boca Raton 33431 CRAZY UNCLE MIKE'S BREWHOUSE–It's a brewery serving food, live music and sports watching-Happy Hour menu Monday-Friday, 4 to 7 p.m.; Sunday-Thursday, 11 p.m. to 1 a.m. (late night Happy Hour). With Executive Chef Tara Abrams, formerly of 32 East; Crazy Uncle Mike's, 6450 N. Federal Highway, Boca Raton; 561-931-2889; facebook.com/crazyunclemikes DON CHEPO'S TACO SHOP-  at 6897 Southwest 18th Street(formerly Blue Moon)-include dishes for...
Continue reading
0 comments
Our loyal customers make us feel like a SLAM DUNK!  Thank you for being a loyal customer!  Continue reading to see this week's SPECIALS!   JByrd's Muddy Waters Restaurant  2237 W Hillsboro Blvd.   Deerfield Beach 33442   www.MuddyWatersRestaurant.com  HERE'S WHAT THEY'RE SAYING: "Great local bar/restaurant! Yummy food, cheap drinks, and friendly staff." -Melissa Lernerberg, Facebook         "A favorite vacation destination! We go there as soon as we arrive in Boca Raton!" -Patricia Meech, Facebook THIS WEEK'S SPECIAL!  Enjoy $5.00 OFF Any Purchase Of $25 Or More!!! Thank You For Being A LOYAL Customer!!! ABOUT THE SPECIAL...
Continue reading
0 comments
******************************************************************************
FOR SALE    

BEST OF

 

THE BEST…!

 
SEE ALL THE BEST of the BEST:  CLICK HERE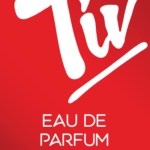 BEST NEW Designer Caribbean Fragrance   SPECIAL DISCOUNT     CLICK HERE
BEST Artist
BEST Home Painter 
BEST Voice Instructor
BEST Realtor , and more!
(Also, CHECK OUT THE ITALIAN AND ALSO VINTAGE DESIGNER HANDBAGS- AT GREAT PRICES) ….
AND MUCH MORE!
*********************************************************************************
FACEBOOK
CHECK FACEBOOK FOR ALL OF OUR EVENT PHOTOS!
AND PLEASE "LIKE" OUR FAN PAGE!  CLICK HERE!
********************************************************************************
---
JOBS

-Networking, Job Boards, Job Fairs
The Lake Worth Playhouse seeks Theater Teachers- who are trained in acting, dancing, and singing for our 2018/19 classes. We need teachers who are motivated, disciplined, and who have worked with children. Evening availability is required. Please send all resumes to Cathy Randazzo at shonna@nulllakeworthplayhouse.org
Surf Club Restaurant-Acclaimed Chef Thomas Keller (the French Laundry in Napa Valley, Per Se in New York) has announced a July opening for the Surf Club Restaurant, his much-anticipated project at the restored Surf Club, 9101 Collins Ave., in Surfside.    The restaurant is now hiring, and those interested can call 305-768-9440 to apply.
Tunie's Natural Grocery & Vitamin Market-Now Hiring: Vitamin Specialist, Cashiers, Grocery Team Members and Graphic Designer-Experience preferred but not required; located at 5651 Coral Ridge Dr., Coral Springs, FL 33076  Apply within or email your resume to: Jobs@nullTunies.com
True Food Kitchen opened recently but is still hiring talented team members, including servers, hosts/hostesses, prep cooks, pastry cooks, line cooks, wok cooks, back servers, dishwashers, pizza cooks and bartenders. Interested candidates  Call 561-419-8105 or visit https://www.truefoodkitchen.com/BocaRaton for locations and more information or follow @true_food_kitchen.
The Global Trade Chamber for dynamic and passionate entry level team for the following positions: Executive Assistant, Sales Executive, Event Planner, International Trade Specialist The candidates must speak fluent English and Spanish. All candidates submit resumes to mariarenee@nullglobaltradechamber.com Qualified candidates will be contacted for an interview.
Front Desk Job in Deerfield Beach- Seasonal front desk position in Deerfield Beach aesthetic laser/medical office doing front desk work for 2 to 3 months. $10 per hour. 954-480-2811. Ask for Carmen.
Prezzo's Restaurant in Boca- Hiring More Than 80 workers; Prezzo, an Italian restaurant concept being revived by Burt Rapoport and Dennis Max, is hiring for the restaurant's November opening. Located at 5560 N. Military Trail, Suite 300, in the new Park Place plaza, which is located between Clint Moore and Yamato Roads in Boca Raton.
Big Easy Casino-(Formerly Mardi Gras) Open now with new renovations following Hurricane Irma-  For available job opportunities, CLICK HERE
Trans AM Trucking Group has an opening for a CDL Class A Owner Operator Truck Driver in their Jupiter location.  Excellent pay. For more info., CLICK HERE  or Apply here
******************************************************************
---
ADOPT THE DOGGIES

NEWS:  Tri-County Animal Rescue is in great need of DOG WALKERS! We have several hundred dogs in our shelter, and they all need to be walked.  PLEASE come in- Tues, Thurs, Fri, Sat, Sun-10:30am to 4pm—come and help.
Tri County Animal Rescue- 21287 Boca Rio R0ad-Boca Raton 33433-Phone: 561-482-8110 – www.TriCountyAnimalRescue.com 
Personal Note:  I just took the one Sunday "class" to learn their procedures. Sign up! It's available at 8:45am every Sunday-  It helped!  I walked a couple of adorable, loving dogs today–it feels so rewarding to volunteer!

Try it!    P.S.  They desperately need gently used towels and blankets for the puppies; The dogs at Tri-County are dangerously low on canned dog food. Pedigree Traditional Meaty ground dinner with Chopped Chicken Canned Dog Food- Please help us by bringing in canned dog food to the shelter, as soon as possible.
Help us "Clear the Shelter"- (Most fees waived on large dogs-Thursday-Sunday 10:30am to 4pm)
Save a life; Adopt today!
****************************************************************************************
---
PROTECT THE DOLPHINS

NEWS:  A UNIQUE AND MEANINGFUL GIFT: "ADOPT A WILD DOLPHIN"
I JUST "ADOPTED" a wild dolphin–His name is "Wonder"- I received a "Certificate of Adoption", a brief life history and color photograph of my dolphin–and a hard copy of the book "An Ocean of Inspiration"–The John Olguin Story.  Each dolphin has its own Facebook page (and there are 300 yet  to be adopted.) All this for only $30 +  $5 for shipping in the U.S.  ( Or, perhaps, just get a copy of this wonderful book for $15 +  $3 for shipping in the U.S. ) This makes a gift that truly supports a great cause. (Note: You will be helping a dolphin scientist with further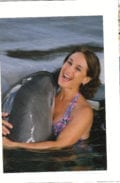 exploration, observation and research to help preserve these special mammals. Support the Palm Beach Dolphin Project- For info: harzen@nulltaras.org or  561-762-6473 Click here to watch this video of a dolphin show-   CLICK HERE  Note By Scientist, Explorer, Author, Dolphin Researcher-Dr. Stefan Harzan: If you have an opportunity to swim with dolphins…why not do it in the open ocean? There, the dolphins may stay close or have the freedom to swim away. It is so much better, because we meet them on their terms.
Contact to adopt your own dolphin: Harzen@nullTaras.org or 561-762-6473

*********************************************************************************
---
VISIT OUR WILDLIFE REFUGE
HAVE YOU EVER BEEN TO OUR NATIONAL WILDLIFE REFUGE?    (It's RIGHT HERE IN BOYNTON BEACH!)
ARTHUR R. MARSHALL LOXAHATCHEE NATIONAL WILDLIFE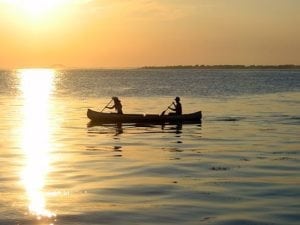 REFUGE
Activities: Bird & Nature Walks, Canoeing & Kayaking, Boating & Fishing, Hiking & Biking, Storytelling, Snail Kite Banding, Python Capture—and more:
Hiking, Guided Bird, Butterfly and Wildflower Walks, Early Morning Bird Walks on the Marsh Trail, Early Morning Bird Watch and Walk – Fly Out, Swamp Strolls, Roving Naturalist on Cypress Swamp Boardwalk or Marsh Trail, Tram Tours of the Marsh, Guided Canoe Trips, Full Moon Guided Canoe Trips, Annual Photography Contest, Annual Juried Art Contest – Loxahatchee Visions, Friends and Family Spring Fling Folk Music Festival, monthly meeting of the Sierra Club Loxahatchee Group (featuring speakers, group kayak or canoe outings)
The Arthur R. Marshall Loxahatchee National Wildlife Refuge preserves a portion of the once vast northern Everglades. It provides habitat and protection for endangered wildlife such as the snail kite and the wood stork and the formerly endangered American alligator.
The main entrance and Visitor Center are located at: 10216 Lee Road  – Boynton Beach, FL 33473  It is 2 miles south of Boynton Beach Boulevard, west off US 441/SR7.    Contact:  561-734-8303  or more info:  CLICK HERE
*********************************************************************************************
BEST TESTIMONIALS
In appreciation of Stepping Out Florida
In terms of energy and dedication, you far surpass the Energizer Bunny, putting in long hours with great professionalism to render a superb, well researched, constantly updated, much needed service to your many readers. Congratulations on making a major contribution to your community.
Frank F., September 25, 2017  

—————————————————
RE: Our New, Updated Website:
Congratulations!
Beautifully done and so user friendly too!
Bob, August 3, 2017
Robert R. Carter
Artistic and Founding President, Actor's Workshop & Repertory Co.
actorsrep.org          theatre000@nullaol.com           561-301-2588 

——————————————————-
Howdy,
I love your efforts
You are amazing – your energy, your spirit, what you do w/ your site. I owe you so much
Thank you
Keith G., August 2, 2017 

——————————————————-
Dear Stepping Out Florida,
I just had to write and tell you how much I love your newsletter!! It is seriously one of the best websites I have come across when it comes to giving out information on activities in the area and further.

Thank you so much for this site, you have no idea how helpful it has been!
Jacqueline S., February 20, 2017 

****************************************************************************
NEWS: Our Google Analytics on July 20, 2018: FOR STEPPING OUT FLORIDA:
             FROM:             Google My Business 
11,893 PEOPLE FOUND YOU ON GOOGLE     165 visited your website
INCREASED BY 54% FROM NOVEMBER 2017
WHAT CUSTOMERS ARE SAYING ABOUT YOU:
Congrats, Stepping Out Florida received a 5 star rating on Google  
*********************************************************************************
    Special Message:
Stepping Out Florida extends deepest sympathy as we learned today of the passing of JByrd, owner of Muddy Waters, a wonderful man, and a very special client of ours. Read this, on their website today: