What's There To Do This Week?
THIS WEEK AT A GLANCE:   
FEBRUARY 18  to    FEBRUARY 24   
CLICK ON THE BLUE DAY OF THE WEEK BELOW FOR MORE THAN 25 GREAT THINGS GOING ON EACH DAY!!!  
Monday –  President's Day: What's Open and Closed, Artigras Art Festival, Oscar Movie Week, Jewelry, Art & Antique Show, Music Jam Sessions, Karaoke, Trivia Contests 
Tuesday  "It Takes Two" Band, Operation Homefront (discount for Military Heroes), Jam Night, "Super Snow Moon" (biggest & brightest of the year)
Wednesday –Ballroom & Latin Dancing, Business Expo, South Beach Wine & Food Festival, Theater Matinees, My Fair Lady (classic film), "Showtime"-Musical Theater Workshop,  Trivia Night at the Brewery, Wine Wednesday, Improv
Thursday –  "    Fiddler on the Roof, Tribute to Hank Williams & Patsy Cline,  Karaoke at Muddy Waters, Trivia Night
Friday   Oldies Night with Joey Dale, Richard Frank performs, Tennis on Tap, Elizabeth Smart speaks, South Beach Wine & Food Fest, Theater, National Margarita Day, Concours d'Elegance event

Saturday –  Cowboy Ball, Jupiter Seafood Fest, Lake Worth Street Painting Fest, Renaissance Fest, Theater, Rockin' at the Hop
Sunday  -Renaissance Festival, Sunday Brunch with singer Leiza Michaels, Karaoke in Delray, Theater Matinees
NEXT WEEK…   AND AFTER ….CLICK HERE 
RESTAURANT NEWS!  For Openings  & Closings,  CLICK HERE 
SPECIAL EVENTS!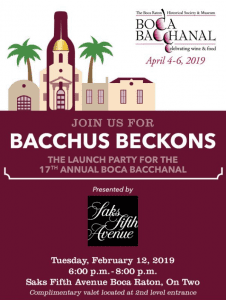 February 12-Join us for Bacchus Beckons! The Launch Party for the 17th Annual Boca Bacchanal! Be part of the excitement as we reveal Chef  & Vintner Pairings for the 2019 Vintner Dinners,  along with introducing this year's Vintner Dinner Hosts. These exclusive dinners sell out quickly and guests will have the first opportunity to choose their Vintner Dinner location! Bacchus Beckons initiates the sale of Vintner Dinner tickets, as it builds excitement for the fine wines and superb cuisine that will be featured at these exclusive dinners. At Bacchus Beckons, guests will have the opportunity to enjoy a bountiful selection of delicious appetizers and sample fine wines from the presenting wineries. Limited tickets, $50 pp.  6:00 – 8:00 PM at Saks Fifth Avenue, Boca Raton,  2nd floor- Complimentary Valet  For more info. and to purchase tickets, CLICK HERE
February 13 to 24-Funny Girl, A Classic Musical Biography of the Legendary Fanny Brice– The most requested show of the season is presented by the Wick Theater.  Funny Girl, the audience-voted favorite, is the semi-autobiographical romantic musical story of Broadway star, film actress and comedian Fanny Brice and her tempestuous love-story with gambler Nicky Arnstein. Nominated for 8 Tony Awards, the beloved musical is full of familiar timeless songs, wit and heartbreak. Synopsis: The ambitious young Fanny Brice starts out as a bit player on the turn-of-the-century New York City vaudeville stage, but works her way up to stardom on Broadway.
Valued for her vocal and comedic talents by the renowned theater impresario Florenz Ziegfeld, Fanny thrives onstage, but her tumultuous personal life with her charismatic husband Nicky Arnstein is more challenging.  The musical features such hits as "Don't Rain on My Parade," "I'm the Greatest Star" and the timeless ballad "People." The Wick production runs from January 17 through February 24, 2019. Tickets are $75-$85, www.TheWick.org or call the box office at 561-995-2333. The Wick Theatre is located at 7901 North Federal Highway. Boca Raton, FL 33445; The play runs until February 24, 2019; Performance are on Wed, Thurs, Sat, Sun Matinees at 2pm; Thurs, Fri, Sat Evenings at 7:30pm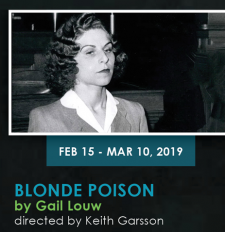 February 13 to March 4-Blonde Poison: Chilling Mystery-See An Extraordinary True Story of a Life in Nazi Germany-Blonde Poison is the true story of Stella Kubler, who, in 1991, in present day London,  reflects on her harrowing days as a young Jewish girl in Nazi Germany. As she recounts her past, will we still see Stella as a victim? Or were her misdeeds as monstrous as those who imprisoned her? Decades after the war, Stella agrees to be interviewed by her childhood friend Peter Wyden, who had a schoolyard crush on her in his youth and is now a prominent journalist. This reunion may be her last chance for redemption. Can she ever be released from her past? Louw's powerful play examines the motivation of an ordinary person who makes extraordinary choices. Four-time Carbonell Award winner Lourelene Snedeker stars in this one-woman show at The Sol Theatre in Boca Raton. Located at: 3333 N Federal Hwy., Boca Raton, FL 33431  The stunning play by Gail Louw is directed by Keith Garsson; Previews February 13 and 14 (Admission: $25); Regular Performances on Fridays & Saturdays at 8pm and Sundays at 2pm (Admission: $30; Front row seats, add $5)  For more info. and tickets, Call 866-811-4111 or CLICK HERE:  http://primalforces.com/buy-tickets/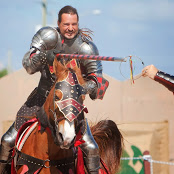 February 16 to March 24- The Florida Renaissance Festival (Deerfield Beach) -Travel back in time to the 16th Century at the 27th Annual Florida Renaissance Festival, coming to Quiet Waters Park,  from 10:00 a.m. to Sunset! Over 100 Artisans selling their wares, Over 100 Performers to entertain, Kid's Kingdom, Entertainment and Food and Drink fit for a King! It's a Fun Family Event for All Ages!  This year's medieval shenanigans will span 6 weekends featuring Time Travelers (Feb. 16 – 18), Viking Invasion (Feb. 23-24), Wenches (March 2-3), Swashbucklers and Sirens (March 9-10), Celts & Highlanders (March 16-17) and Harry Potter (March 23-24.) The other period elements remain the same: jousting on horseback, cockney accents from bearded storytellers, strumming lyres and beautiful curvy bodices. Come try archery, ax throwing or a pub crawl ($29 at 1pm and 3:30pm);At Quiet Waters Park, 401 Powerline Road in Deerfield-For more info.BE SURE TO  CLICK HERE, FOR  tickets, CLICK HERE
2019- SAVE THE DATES: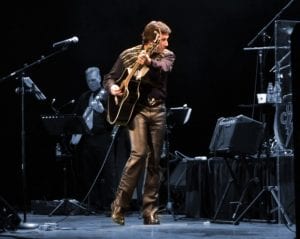 February 22-Denny Diamond: America's Premiere Tribute to the Music of Neil Diamond-Due to scheduling conflicts One Hot Night, Tribute to Neil Diamond
has been cancelled. In its place, Stellar Entertainment presents Denny Diamond, one of the premiere Neil Diamond Tribute Artists in the world! Previously
purchased tickets will be honored night of the performance. Emerging from the elite Chicago music scene in Illinois, Award-Winning Neil Diamond tribute artist Denny Diamond began hitting the ground running in the music realm in 1999, and since that time has manifested into one of the most versatile and multifaceted tribute acts to hit the stage. VIP Pricing includes premium seating a 7:00 PM pre-show meet and greet with Denny Diamond. At the Parker  Playhouse, Fort Lauderdale-For Ticket Info, CLICK HERE

February 28 to March 10-Festival of the Arts Boca–Established in 2007, Festival of the Arts BOCA was designed to promote the cultural arts and enrich the quality of life of the residents of Boca Raton, Palm Beach County, and South Florida. To see the schedule and purchase tickets: Call 866- 571-2787 or Click here: FestivalBoca.org
To see more info. about the schedule of events: CLICK HERE
Doris Kearns Goodwin ~ Leadership: In Turbulent Times-Thursday, February 28-2019
Film with Live Orchestra ~ Star Wars: A New Hope-March 1-2019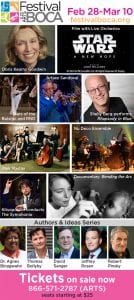 Rhapsody in Blue – An Evening of Orchestral Favorites- Sat, March-2-2019 at 7:30pm
Pink Martini – A Rollicking Around-the-World Musical Adventure-March -3-2019 at 7:00pm
Russian Music & Ballet with Stars of the Bolshoi and Russian National Orchestra-Friday, March-8-2019 at 7:30pm
Nu Deco Ensemble-Saturday,  March 9-2019 at 7:30 pm
10-time Grammy Winner Arturo Sandoval and His Band-Sunday, March-10-2019 at 7:00 pm
SPECIALS:  Save 20% with an Enthusiast Pass, when you purchase a multi-event pass:  CLICK HERE
Upgrade with a Next Wave Lounge Pass (Enjoy the private lounge vibe from the second floor of the West Colonnade of the Mizner Park Amphitheater), CLICK HERE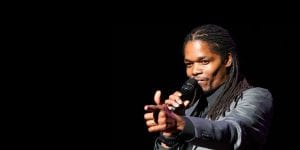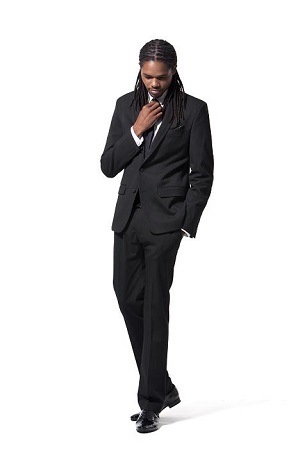 March 3-Singing Sensation From "America's Got Talent"- Eugene Landau Murphy! Sounds just like Frank Sinatra!  Hard to believe that voice!  The Sinatra-singing season six winner of NBC TV's "America's Got Talent!"  He was a former car washer and then his Columbia Records debut album spent six weeks at #1 on the Billboard Jazz chart. Landau's follow-up holiday CD "Christmas Made For Two" raised thousands for the Children's Home Society of West Virginia and received nationwide airplay including Sirius/XM's "Holly" channel. Landau's self-titled third album was recorded at the famed Capitol Records studios in Hollywood, CA where Sinatra had recorded some of his signature classics. Landau has performed dozens of sold out concerts around the world, headlining at Caesars Palace in Las Vegas, the Apollo Theater in New York, The Grove in Hollywood (for Tina Sinatra), the Fountainbleu in Miami Beach, with the Boston Pops Symphony Orchestra, at the Mercedes Benz Arena in Shanghai China, and for U.S. troops stationed across Europe. His memoir "From Washing Cars To Hollywood Star" was an Amazon #1 bestseller in the Jazz Books category, and a Readers' Favorite Award winner. Landau has been honored to perform with living legends including Patti Labelle, George Benson, and former members of the Temptations, Platters and Drifters. He has appeared on CNN, HLN, The Today Show, Fox and Friends, Tom Joyner, Access Hollywood, Entertainment Tonight, Wendy Williams, and dozens other other top media outlets. He gives back on a regular basis by donating his time and resources to a variety of other charitable causes and organizations, many in his home state of West Virginia. Groups he has supported include the Appalachian Children's Chorus, the West Virginia Music Hall of Fame, Walking Miracles, The Drug Free All Stars basketball team, March of Dimes, Diabetes Prevention, the West Virginia Affordable Housing Act, the Southern Leadership Conference, the Salvation Army, Veteran's Administration, an Armed Forces Entertainment tour of Germany for U.S. troops stationed there, the Musical Arts Guild, Shriners Hospital, React Children's Hospital, the Jewish Community Center of Pittsburgh, HospiceCare, Honor Flight, the United Way, and dozens of food banks, toy drives and senior center visits. In 2014, Landau was named one of the United States Jaycees Ten Outstanding Young Americans.   Appearing 7pm to 9pm at the Boca Black Box-8221 Glades Road, Boca Raton,FL 33434-ADMISSION: $35, $45 For tickets: 561-483-9036  For tickets: CLICK HERE   For more about Eugene Landau Murphy and to hear his voice, CLICK HERE
March 9 and 10-Delray Beach Wine & Seafood Festival–11am to 11pm-Back by Popular Demand – Announcing the long awaited return of the Annual Delray Beach Wine & Seafood Festival and admission is FREE; Held at Old School Square, with delicious seafood including Lobster Rolls, Creole Platter, Coconut Shrimp Dinner, Fried Clams, Louisiana Lobster Puffs, Conch Ceviche, Gazpacho, Maine Lobster & Lump Crab Fritters, Fish Tacos, Scallops, Crab Cakes, Mussels, and much more (for example, wine!)   From Amarone to Zinfandel, we also have many food & wine pairing seminars led by vintners from internationally renowned wineries. Also artists and crafters, many of them showcasing Florida coastal designed art and clothing and live music.  Special features of event include:– 100 exhibitors– Wine & Food Pairing Seminars (Limited tickets available; can be purchased in advance) *Seminars feature top chefs from local restaurants and vintners from internationally renowned wineries.– Live music on Old School Square Pavilion stage– Wine Garden & Craft Beer-For more info and schedules, or to purchase tickets to one of the food & wine pairing seminars, visit www.WineandSeafoodFest.com  Held at  51 North Swinton Avenue, Delray Beach  334444  Phone: 561-279-0907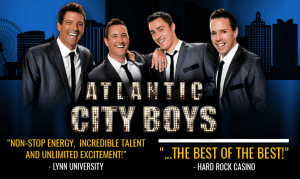 March 14-Atlantic City Boys-These are four dynamic lead singers who have wowed audiences at Las Vegas, Walt Disney World, Atlantic City, as well as cruise ships around the world. Their show is an exciting mix of world-class vocals and interactive comedy, featuring the rock 'n' roll harmonies of The Beach Boys, The Drifters, the Bee Gees and, of course, Frankie Valli and the Four Seasons. The boys have performed with many greats, from Jay Leno to Huey Lewis, Pattie LaBelle and the Temptations! Don't miss your chance to see them perform live at the Mizner Park Cultural Center -201 Plaza Real, Boca Raton , Florida 33432 ; Tickets are $35; For more info. and to purchase tickets, CLICK HERE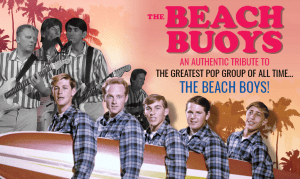 March 21- Beach Buoys-7:30pm-Don't miss this authentic tribute to the greatest pop group of all time…The Beach Boys! From the tight vocal arrangements to the striped shirts and the authentic, vintage guitars and amps, The Beach Buoys have done the research to effectively recreate a live Beach Boys performance from the mid 60's, and have even performed alongside Surf legends, Jan and Dean, The Beach Boys Band, and The Wrecking Crew. Their vintage guitars, amplifiers, and drums are the same as The Beach Boys used on stage. And equally important, The Beach Buoys' members aren't just seasoned musical pros, they're also fans; fans of the Southern California Surf scene, the Hotrod lifestyle, and the music that set the tone for the rest of the country to jump on board! Driven by their love, respect, and passion for the era, The Beach Buoys have succeeded in replicating the sound, look, and the vibe of the boys from Hawthorne!  at the Mizner Park Cultural Center -201 Plaza Real, Boca Raton , Florida 33432 ; Tickets are $35; For more info.and to purchase tickets, CLICK HERE
April 4 to 6, 2019- Boca Bacchanal-Wine & Food Weekend Set to Attract Over 2000 People from Throughout South Florida! Hosted by the Boca Raton Historical Society & Museum. Boca Bacchanal will bring together world class chefs from all over the United States, and distinguished vintners from all over the world, who will offer attendees the opportunity to enjoy scrumptious food and refreshing libations, while supporting an extremely worthy cause. What's new: The new location–at the Boca Raton Resort & Club and the addition of two new events to the weekend lineup:
Thursday evening, April 4, 2019, with an enticing new event– Bubbles & Burgers–at the Boca Resort's Beach Club. For more info, CLICK HERE!
On Friday evening, April 5, 2019, guests can enjoy themselves at one of the signature Vintner Dinners, which will be held in elegant homes and at historic locations. For more info, CLICK HERE!  Vintner Dinner guests will enjoy delectable five-course dinners, in intimate dinner party settings, where extraordinarily talented chefs and vintners will work in tandem to create truly memorable dining experiences.
On Saturday evening, April 6, another new event, the VIP Party–showcasing the featured vintners–will take place dockside, at the Boca Resort. Guests, who opt to attend this event, will also have the opportunity to tour a luxurious 90-foot Cheoy Lee yacht, before they head over to the Grand Tasting. For more info., CLICK HERE!
Also on Saturday, April 6-The festive finale, the Grand Tasting–will also be held on Saturday evening in the Boca Resort's Great Hall. Guests will have the opportunity to feast on small plates–which will comprise a unique dinner-by-the-bite–from over 20 superb restaurants, to sample over 130 wines from an array of impressive wineries and also have the opportunity to participate in live and silent auctions, for items ranging from vacations and dinners, to jewelry, handbags, and clothing, to artwork and electronics. For info. on the Grand Tasting, CLICK HERE!
For additional information or to purchase tickets, visit www.BocaBacchanal.com  or BocaHistory.org  or purchase tickets, by calling the Boca Historical Society at 561-395-6766, Ext.101 or stop into the Boca Historical Society at 71 North Federal Highway, in Boca Raton, Florida 33432.

SPECIAL: Try Indoor Skydiving at iFLY Fort Lauderdale!   iFLY, the world's largest indoor skydiving operator, has announced the introduction of a first-of-its-kind virtual reality experience to complement current flight offerings. Consumers will "jump" at the chance to take indoor skydiving to new "heights," experiencing near-real-life skydiving sights in some of the nation's most beautiful destinations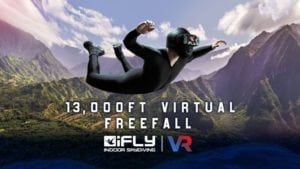 – like Southern California, Hawaii, Switzerland and Dubai without setting foot in (or out of) an airplane. Fliers will also see themselves seamlessly jumping from a plane through a hyper-realistic free-falling experience, with complete immersion via iFLY's state-of-the-art VR helmet and headset. The experience utilizes first-of-its-kind virtual reality technology application, powered by Samsung Gear VR headsets and iFLY's wind tunnel technology, allowing participants to combine the thrill of skydiving from the perspective of a professional skydiver all in a safe and controlled environment. "The idea of a virtual reality flight experience has been a dream of the iFLY brand for more than two decades, but the technology wasn't there," said Dave Kirchhoff, iFLY CEO. "VR headsets are nothing new but nobody is applying VR technology to real-life scenarios like this. We are truly pushing boundaries to make this iFLY experience one-of-a-kind by making the dream of flight more tangible and more real than ever before." All participating flyers must first complete iFLY's pre-flight training course and participate in several training flights before jumping into VR. The iFLY Virtual Reality Flight Experience is available to individuals ages eight and up. For more information and scheduling a visit to iFLY Fort Lauderdale, visit www.iflyworld.com/fort-lauderdale or call 954-280-4359.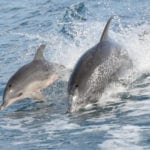 SPECIAL:  Dolphin Tours- Join the celebration and experience the beauty of wild dolphins! Ever since June 8th was officially declared World Oceans Day by the United Nations in 2009, the celebration has grown into a tidal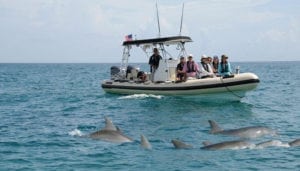 wave of activities around the world, aimed at increasing awareness about how oceans work and how their health is related to our own well being. Come and experience firsthand the beauty of seeing dolphins in the wild; Generally, morning tours start at 9 am, Sunset Tours start at 3 pm. For these special tours anyone 7 years and older is welcome. 

If you have younger children please let us know. For reservations or questions, contact us: Stefan at 561-762-6473  Taras Oceanographic Foundation |Email:  harzen@nulltaras.org |   CLICK HERE:  www.taras.org
NEXT WEEK AND MORE:  
---
SAVE THE DATES:
---
ONGOING EVENTS:
RESTAURANT NEWS:
(Note: For a complete listing of restaurant closings and openings, CLICK HERE)
RESTAURANT NEWS!  For Openings  & Closings,  CLICK HERE 
FLORIDA STONE CRAB SEASON- Now until May 15
Where to dine and "Get Stoned":
FOR SALE    

BEST OF

 

THE BEST…!

 
SEE ALL THE BEST of the BEST:  CLICK HERE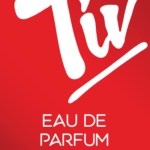 BEST NEW Designer Caribbean Fragrance   SPECIAL DISCOUNT     CLICK HERE
BEST Artist
BEST Home Painter 
BEST Voice Instructor
BEST Realtor, and more!
(Also, CHECK OUT THE ITALIAN AND ALSO VINTAGE DESIGNER HANDBAGS- AT GREAT PRICES) ….
AND MUCH MORE!
FACEBOOK
CHECK FACEBOOK FOR ALL OF OUR EVENT PHOTOS!
AND PLEASE "LIKE" OUR FAN PAGE!  CLICK HERE!
---
JOBS

-Networking, Job Boards, Job Fairs
The Lake Worth Playhouse seeks Theater Teachers- who are trained in acting, dancing, and singing for our 2018/19 classes. We need teachers who are motivated, disciplined, and who have worked with children. Evening availability is required. Please send all resumes to Cathy Randazzo at shonna@nulllakeworthplayhouse.org
Tunie's Natural Grocery & Vitamin Market-Now Hiring: Vitamin Specialist, Cashiers, Grocery Team Members and Graphic Designer-Experience preferred but not required; located at 5651 Coral Ridge Dr., Coral Springs, FL 33076  Apply within or email your resume to: Jobs@nullTunies.com
True Food Kitchen opened recently but is still hiring talented team members, including servers, hosts/hostesses, prep cooks, pastry cooks, line cooks, wok cooks, back servers, dishwashers, pizza cooks and bartenders. Interested candidates  Call 561-419-8105 or visit https://www.truefoodkitchen.com/BocaRaton for locations and more information or follow @true_food_kitchen.
The Global Trade Chamber for dynamic and passionate entry level team for the following positions: Executive Assistant, Sales Executive, Event Planner, International Trade Specialist The candidates must speak fluent English and Spanish. All candidates submit resumes to mariarenee@nullglobaltradechamber.com Qualified candidates will be contacted for an interview.
Front Desk Job in Deerfield Beach- Seasonal front desk position in Deerfield Beach aesthetic laser/medical office doing front desk work for 2 to 3 months. $10 per hour. 954-480-2811. Ask for Carmen.
Prezzo's Restaurant in Boca- Hiring More Than 80 workers; Prezzo, an Italian restaurant concept being revived by Burt Rapoport and Dennis Max, is hiring for the restaurant's November opening. Located at 5560 N. Military Trail, Suite 300, in the new Park Place plaza, which is located between Clint Moore and Yamato Roads in Boca Raton.
Big Easy Casino-(Formerly Mardi Gras) Open now with new renovations (following Hurricane Irma)-  For available job opportunities, CLICK HERE
Trans AM Trucking Group has an opening for a CDL Class A Owner Operator Truck Driver in their Jupiter location.  Excellent pay. For more info., CLICK HERE  or Apply here
---
ADOPT THE DOGGIES

NEWS:  Tri-County Animal Rescue is in great need of DOG WALKERS! We have several hundred dogs in our shelter, and they all need to be walked.  PLEASE come in- Tues, Thurs, Fri, Sat, Sun-10:30am to 4pm—come and help.
Tri County Animal Rescue- 21287 Boca Rio R0ad-Boca Raton 33433-Phone: 561-482-8110 – www.TriCountyAnimalRescue.com 
Personal Note:  I just took the one Sunday "class" to learn their procedures. Sign up! It's available at 8:45am every Sunday-  It helped!  I walked a couple of adorable, loving dogs today–it feels so rewarding to volunteer!

Try it!    P.S.  They desperately need gently used towels and blankets for the puppies; The dogs at Tri-County are dangerously low on canned dog food. Pedigree Traditional Meaty ground dinner with Chopped Chicken Canned Dog Food- Please help us by bringing in canned dog food to the shelter, as soon as possible.
Help us "Clear the Shelter"- (Most fees waived on large dogs-Thursday-Sunday 10:30am to 4pm)
Save a life; Adopt today!
PROTECT THE DOLPHINS

NEWS:  A UNIQUE AND MEANINGFUL GIFT: "ADOPT A WILD DOLPHIN"
I JUST "ADOPTED" a wild dolphin–His name is "Wonder"- I received a "Certificate of Adoption", a brief life history and color photograph of my dolphin–and a hard copy of the book "An Ocean of Inspiration"–The John Olguin Story.  Each dolphin has its own Facebook page (and there are 300 yet  to be adopted.) All this for only $30 +  $5 for shipping in the U.S.  ( Or, perhaps, just get a copy of this wonderful book for $15 +  $3 for shipping in the U.S. ) This makes a gift that truly supports a great cause. (Note: You will be helping a dolphin scientist with further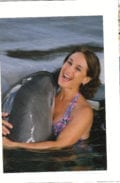 exploration, observation and research to help preserve these special mammals. Support the Palm Beach Dolphin Project- For info: harzen@nulltaras.org or  561-762-6473 Click here to watch this video of a dolphin show-   CLICK HERE  Note By Scientist, Explorer, Author, Dolphin Researcher-Dr. Stefan Harzan: If you have an opportunity to swim with dolphins…why not do it in the open ocean? There, the dolphins may stay close or have the freedom to swim away. It is so much better, because we meet them on their terms.
Contact to adopt your own dolphin: Harzen@nullTaras.org or 561-762-6473

VISIT OUR WILDLIFE REFUGE
HAVE YOU EVER BEEN TO OUR NATIONAL WILDLIFE REFUGE?    (It's RIGHT HERE IN BOYNTON BEACH!)
ARTHUR R. MARSHALL LOXAHATCHEE NATIONAL WILDLIFE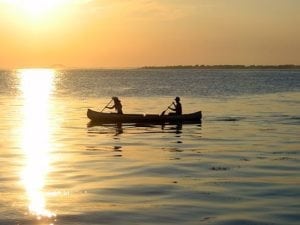 REFUGE
Activities: Bird & Nature Walks, Canoeing & Kayaking, Boating & Fishing, Hiking & Biking, Storytelling, Snail Kite Banding, Python Capture—and more:
Hiking, Guided Bird, Butterfly and Wildflower Walks, Early Morning Bird Walks on the Marsh Trail, Early Morning Bird Watch and Walk – Fly Out, Swamp Strolls, Roving Naturalist on Cypress Swamp Boardwalk or Marsh Trail, Tram Tours of the Marsh, Guided Canoe Trips, Full Moon Guided Canoe Trips, Annual Photography Contest, Annual Juried Art Contest – Loxahatchee Visions, Friends and Family Spring Fling Folk Music Festival, monthly meeting of the Sierra Club Loxahatchee Group (featuring speakers, group kayak or canoe outings)
The Arthur R. Marshall Loxahatchee National Wildlife Refuge preserves a portion of the once vast northern Everglades. It provides habitat and protection for endangered wildlife such as the snail kite and the wood stork and the formerly endangered American alligator.
The main entrance and Visitor Center are located at: 10216 Lee Road  – Boynton Beach, FL 33473  It is 2 miles south of Boynton Beach Boulevard, west off US 441/SR7.    Contact:  561-734-8303  or more info:  CLICK HERE
BEST TESTIMONIALS
In appreciation of Stepping Out Florida
In terms of energy and dedication, you far surpass the Energizer Bunny, putting in long hours with great professionalism to render a superb, well researched, constantly updated, much needed service to your many readers. Congratulations on making a major contribution to your community.
Frank F., September 25, 2017  

RE: Our New, Updated Website:
Congratulations!
Beautifully done and so user friendly too!
Bob, August 3, 2017
Robert R. Carter
Artistic and Founding President, Actor's Workshop & Repertory Co.
actorsrep.org          theatre000@nullaol.com           561-301-2588 

Howdy,
I love your efforts
You are amazing – your energy, your spirit, what you do w/ your site. I owe you so much
Thank you
Keith G., August 2, 2017 

Dear Stepping Out Florida,
I just had to write and tell you how much I love your newsletter!! It is seriously one of the best websites I have come across when it comes to giving out information on activities in the area and further.

Thank you so much for this site, you have no idea how helpful it has been!
Jacqueline S., February 20, 2017 

NEWS: Our Google Analytics : FOR STEPPING OUT FLORIDA:
             FROM:             Google My Business 
11,893 PEOPLE FOUND YOU ON GOOGLE     165 visited your website
INCREASED BY 54% FROM NOVEMBER 2017
WHAT CUSTOMERS ARE SAYING ABOUT YOU:
Congrats, Stepping Out Florida received a 5 star rating on Google  
Your photos reached a new record on Google!                        (Jan.1, 2019)
                                                               10,000
                                To Deby:  At Stepping Out Florida
People have seen your photos over 3,000 times, a new record for you on Google. Thanks for sharing.
| | | |
| --- | --- | --- |
| | Stepping Out Florida |  EST. 12/25/08 |
10,000