WHAT'S THERE TO DO TONIGHT?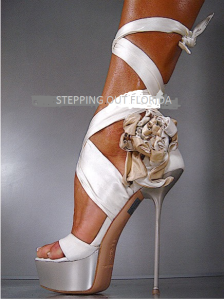 STEPPING OUT FLORIDA
FRIDAY, MARCH 22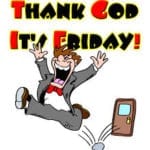 Pavilion Grille
Oldies Night with Joey Dale
Join us for the fun music of Joey Dale and his band–It's all the songs we know and love! Come and dance on the NEW, huge 2000 sq. ft.  Dance Floor!  It's a great night to Meet, Mix, Mingle, Dine, and Dance and celebrate the Holidays at the Pavilion Grille in Boca Raton! Both Singles and Couples welcome!  Dinner served from 6pm; Music starts at 8pm. Admission is $10 which includes a FREE House Drink, or may be credited toward $25 food or beverage; Terrific music, dance,  and fun tonight! All ages! Call 561-912-0000 for reservations or more information. Pavilion Grille, 301 Yamato Rd, Boca Raton, 33431, is located in the lobby of the Seeman Holtz Building located on the NE corner of the intersection of Dixie Hwy and Yamato Road, and has distinctive large glass sides. Just park in the lot or garage and enter the lobby to a world of music and dancing. Directions: Take I-95 and exit at Yamato Rd., Boca Raton. Go east and turn left on Dixie Hwy. Parking driveway is on the right. There is a large FREE parking lot area and also a parking garage on the premises. Pavilion Grille, 301 Yamato Road, Boca Raton, FL 33431 www.PavilionGrille.com    What a great place to dine, dance and mingle!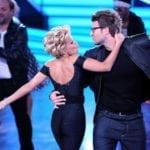 The Week End Ahead:
Saturday, March 23: "It Takes Two" Band; Sunday, March 24:  Singles Party
COME BACK AND JOIN US TUESDAY, March 26at 8pm for the best night of dancing with one of  the best dance bands: "Cachet Band"  Tuesdays always have a good crowd!  We love "Cachet Band"!
(Note: EVERYONE wants to rent our venue with new dance floor for private parties! Think of us for your next party!)
AND MORE: Two-For-One Drinks for Happy Hour : 5:00pm – 7:00pm, Tuesday – Friday: small plates start at $6; drink specials $5 -$8; Dinner served Tuesday through Saturday from 6PM and Lunch from Tuesday through Friday from 12 noon to 3:00 PM   Make dinner reservations  at 561-912-0000
New Dance Floor!
New Flooring!
New Furniture!
New Chef!
The Pavilion's New Chef Cristian, formally of Josephine's, Tavolino's and Casa de Angelo will add his distinct Italian touch to our menu.
Dinner Specials Nightly ( Special Pricing) and the return of the Three Course Dinner!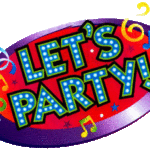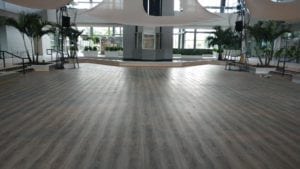 Pavilion: SPECIAL NOTE: Join us and dance on our beautiful NEW DANCE FLOOR! Wow!)
____________________________________________________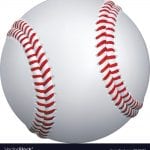 Play Ball! Major League Baseball Spring Training! If you're a fan of baseball, there's nothing better than Spring Training in Florida. Imagine: It's sunny and warm (not too warm), and you're at the ballpark with the family watching the World Series Champion Houston Astros at FITTEAM Ballpark of The Palm Beaches or cheering on their Spring Training neighbor, the St. Louis Cardinals, at Roger Dean Chevrolet Stadium. The players are relaxed, signing autographs, talking to fans and learning to play as a team again after a winter break.  The Palm Beaches are the Spring Training location for the Astros, Cardinals, Washington Nationals and Miami Marlins. From superstars to rookies to guys just trying to make the team, Spring Training is a fan-friendly atmosphere everyone should experience at least once.  Games are March 22, and 24-For the game schedules and teams,CLICK HERE

March Madness- (Until April 8) 
For sports fans, March is known for one thing above all others: brackets. March Madness, as the NBA calls it, runs from March 19 to April 8 this year, and the safest bet you can make is that lots and lots of people will be distracted. One number-crunching firm predicted last year that American companies would lose $1.9 billion in wages paid to unproductive workers spending company time on betting pool priorities. (In other words, March is not a productive month!) How to recoup these costs? Go into gambling yourself! According to the American Gaming Association, fans wagered more than $2 billion on March Madness brackets last year. Each one of those 70-million-or-so brackets has a one in 9.2 quintillion (that's 9 followed by 18 zeroes) chance of predicting the correct winners of every game. hahahaha-Good luck!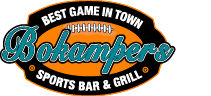 Win a Trip to Ireland or $1M at Bokamper's this March!
Win a Trip to Ireland
As part of its St. Patrick's Day celebration, Bokamper's is holding its annual Irish 'D.E.W. & a Brew' feature, from March 1 – March 31, giving guests the opportunity to win a week-long trip to Ireland. All guests need to do is purchase a Tullamore D.E.W. Irish Whiskey shot and a Guinness Draught 16 oz. together for $9.99, they will then fill out an entry form and give it to their server or the bartender.
The winner will be drawn on Facebook Live at the Bokamper's Fort Lauderdale location on April 5 between 4 p.m. – 6 p.m. on the patio. For Bokamper's locations and more info, click here

March 22 (also 23 and 24)- The Greater Fort Lauderdale Food and Wine Festival: "GFL on the Rise; An Elevated Culinary Experience"- 6:00 PM TO 9:00 PM- a culinary experience like no other This VIP experience will take place at the Atlantic Hotel & Spa's 5th Ocean View Terrace on Ft. Lauderdale Beach, with a perfect 180-degree oceanfront view. #ReleaseYourInnerFoodie with bites from Greater Fort Lauderdale's culinary stars while enjoying a variety of sips from The Wandering Wines and Maison Belle Claire. Spirits and beer will be available for purchase and a silent memorabilia and experience auction curated by Palm Beach Autographs will be featured. Proceeds from both will go directly towards the Winterfest Foundation's mission for Education, Arts and Culture in public places, Water Safety and assisting other charitable sectors in the South Florida Community. Admission: $125   For tickets and more info, CLICK HERE  (SCROLL DOWN FOR INFO ON MARCH 23 events)
Hilarity & Soul: Comedy and Poetry Open Mic Night
– 7:30 PM – 10:30 PM; FREE- Location: Café Collective at 100 N Federal Hwy, Unit C4-3,  Fort Lauderdale FL 33301 Admission: FREE  754-312-2988   Enjoy an evening of entertainment where comedy and poetry collide. New and seasoned performers alike will have a chance to show off their talent for punchlines or free verse. Café Collective will warmly welcome its first act promptly at 8:00 pm. Registration for performers begins at 7:30 pm. Admission is free for all.  Event link:
https://bit.ly/2SO7DsR
March 22 and 23-Bette, Babs and Beyond-Bette Midler, Barbra Streisand, Dolly Parton, Tina Turner and Cher: Five legendary women.
Five decades of song. From radio, to movies, to television, to Broadway these five icons have done it all — and they changed the world while doing it. Celebrate the stories they shared and the music they made including "The Wind Beneath My Wings,""Don't Rain on My Parade,""I Will Always Love You,""What's Love Got to Do With It?" and "If I Could Turn Back Time." Premium $65 / Regular $55 -8pm at The Crest Theatre, 51 N. Swinton Avenue, Delray Beach-For Tickets,
CLICK HERE
March 22 to 24-Wellington Bacon $ Bourbon Festival-
Everything is better with bacon! And when paired with an eclectic array of over 40 American bourbons and whiskeys for your tasting pleasure, then add in FREE admission, well . . . what's not to like? "Pig-out" on a wide-ranging menu developed by local chefs exploring the boundaries of bacon and pork related dishes from the inspired, just like the comfort food Mom used to make, to the somewhat insane and unusual of bacon ice cream. Bring this together with the flavors of well-aged bourbon and you have a match made in heaven. But just in case you can't be tempted to partake of bourbon, Irish whiskey, rye, icy cold beer and a sampling for wine will be at the ready. Community Center & Amphitheater, 12100 Forest Hill Blvd. Wellington, FL 33414 For more info. and tickets,
CLICK HERE
March 22 to 24-Wiesenthal: The Riveting True Story of Simon Wiesenthal- at Mizner Cultural Center -Ctach Wiesenthal, the story of an ordinary man who did extraordinary things showing Friday-Sunday. Written by and starring Tom Dugan, and directed by Jenny Sullivan, Wiesenthal, filled with hope, humanity and humor,  is the riveting true story of Simon Wiesenthal. Nicknamed the "Jewish James Bond," he devoted his life to bringing more than 1,100 Nazi war criminals to justice. Intelligent, funny, flawed and noble, Wiesenthal was a universal hero. His unbelievable dedication and tenacity over decades is honored in this play, which gives equal weight to his wisdom and wit during his long, purposeful life. For more info. and tickets, CLICK HERE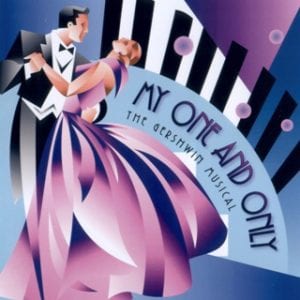 My One And Only, The Gershwin Musical- (until March 24) – Tonight at 8pm! "My One and Only is a Crazy Big, Tap-Happy Musical…"  The timeless music of George and Ira Gershwin features an aviator, a Channel swimmer, exuberant dance numbers, sparkling costumes, romance, comedy, and America in 1927.  Created to showcase the Gershwins' marvelous music, the show ran for two years on Broadway and won 6 Tony Awards and 3 Drama Desk Awards. The plot is classic musical comedy: Captain Billy Buck Chandler, a barnstorming aviator, falls for Edythe Herbert, a former English Channel swimmer and the star of an International Aquacade. Billy, who plans to be the first man to fly solo across the Atlantic Ocean, hopes to win Edythe's hand by taking a crash course in sophistication. Billy's wisecracking female mechanic, Mickey, adds a bit of sass as a series of escapades and misadventures keep the potential lovers from finding happiness. Director Jonathan Van Dyke said, "My One and Only is the all singing, all dancing, all hilarity Gershwin musical comedy." It was a giant hit in the early 1980's with Tommy Tune and Twiggy with songs such as "Kicking the Clouds Away", "I Can't Be Bothered Now", "'S' Wonderful", "Strike Up the Band", "Funny Face", "Nice Work If You Can Get It", and of course, "My One and Only". The show will run until March 24 at the Lauderhill Performing Arts Center (LPAC)  with Showtimes: Wednesday, Saturday, & Sunday at 2 pm, Friday & Saturday at 8 pm; The theatre is located at 3800 NW 11th Place, Lauderhill, FL 33311, in the Central Broward Regional Park on the North East corner of Sunrise Boulevard and 441 (State Road 7). Tickets are $48 to $58. (LPAC charges a $5 service fee per ticket, however if a package of four Stage Door shows is purchased the service fees will be waived.) Group rates are available, as are student prices (with valid ID).  For more information and to purchase tickets, call the box office at 954-344-7765 or 954-777-2055 (LPAC) or visit  www.stagedoorfl.org or on the LPAC website at https://lpacfl.com. For further info,  contact Derelle Bunn Executive Producer/Artistic Director, at DerelleBunn@nullyahoo.com / 954-344-7765 or Carol Kassie (carol@nullcarolkassie.com / 561-445-9244).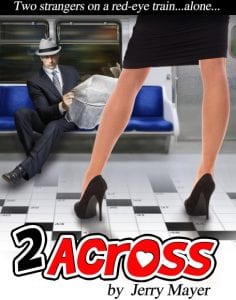 The Play "2 Across"-is called "A Comedy of Crosswords and Romance"-(until March 24)-"2 Across" finds two strangers, a man and a woman, on board a San Francisco BART train at 4:30 a.m. Alone in the car, the only thing they have in common is that they are both doing the New York Times crossword puzzle. Soon the puzzles they unravel are more intriguing than any crossword puzzle could ever be. Executive Producer Ellen Wacher  said, "It also totally meets with our company's mission – to show people over the age of 50 living interesting and active and real lives. I was captivated by these characters' development, and I believe our audience will be too." Director Deborah Kondelik said, "One thing that is guaranteed though, is a delightful very early morning romp by two strangers on San Francisco's BART train. The tie that binds is that both of them are hard at work on the Saturday New York Times crossword puzzle. Although they tackle the puzzle with very different approaches, they soon discover commonalities that cannot be ignored. The stumbling block is that both are married . . . to someone else." For more information or tickets ($39) visit www.pigsdoflyproductions.com or by call 866-811-4111. Performances are on Thursday, Friday, and Saturday at 8 pm, and on Sunday at 5 pm. until March 24. All performances will take place at Empire Stage, 1140 N. Flagler Drive, Fort Lauderdale, FL 33304.  To arrange for interviews, or for photos, please contact Carol Kassie at carol@nullcarolkassie.com  or 561-445-9244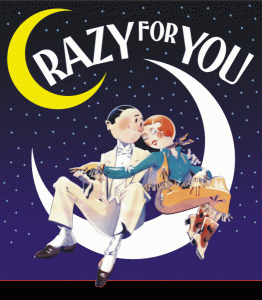 Crazy for You, A Romantic Gershwin Musical Comedy-(Until April 14) Won the 1992 Tony for Best Musical and it is one of the most entertaining shows of all time; The play is a musical feast that showcases more than 20 Gershwin songs and recreates the golden era of the 1930's follies-style lavish production numbers. This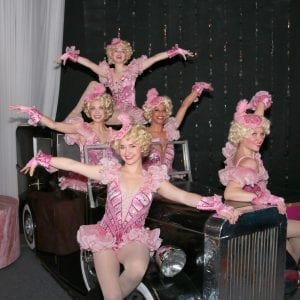 fast-paced, energetic extravaganza features lyrics by Ira Gershwin, music by George Gershwin, and book by Ken Ludwig. Billed as "The New Gershwin Musical Comedy," it is largely based on the songwriting team's 1930 musical, Girl Crazy, but incorporates songs from several other productions as well. Crazy for You won the 1992 Tony for Best Musical, the 1993 Olivier Award (London) and 1994 Dora Award (Toronto) for Best Musical. The plot revolves around a well-to-do young New Yorker, Bobby Child, who is sent to Nevada to foreclose on a theatre owned by the family business. Falling in love with the local postmistress, Bobby decides to produce a show to save the theatre. Showgirls and cowboys deliver beloved classic songs including "Embraceable You," "I Got Rhythm," "Nice Work if You Can Get It," "They Can't Take That Away From Me," and the heartbreaking ballad "But Not For Me. "Wed, Thurs, Sat, Sun Matinees at 2pm;  Wed., Thurs, Fri, Sat Evenings at 7:30pm until April 14–The theater is located at 7901 North Federal Hwy., Boca Raton-Tickets: $75-$85, www.thewick.org or call 561-995-2333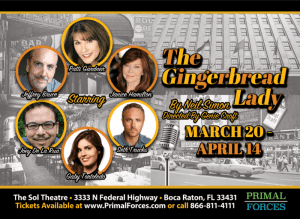 The Gingerbread Lady-" (until April 14)–One of Neil Simon's most mature comedies"…Orlando Sentinel; A major departure from Simon's previous lighthearted plays, The Gingerbread Lady is a more serious drama with comic overtones, and still with Simon's characteristic wit and humor at their brilliant best- At The Sol Theater, 3333 N Federal Highway, Boca Raton;  Performances: March 22 – Apr 14 and ticket prices are $30;  Fri and Sat and 8pm; Sun at 2pm;  For Tickets Call: 866-811-4111 Or visit us online at:  www.primalforces.com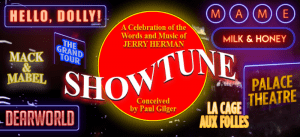 Showtune at Delray Playhouse-Opening Night (show runs till April &)-Showtune is a joyous celebration of the words and music of legendary composer, Jerry Herman. From Hello Dolly!, to Mame, La Cage Aux Folles and others; No Broadway composer has given audiences more pleasure in the past 60 years than Jerry Herman. The show begins Friday and runs through April 7 at Delray Beach Playhouse. For more info, dates, times and tickets, click here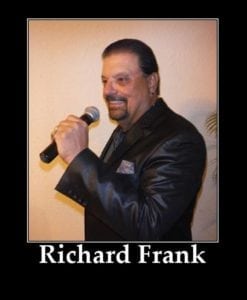 Live Music at Palermo's Italian Bakery in Boynton-7:30pm to 10:30pm-Dinner (with Reservations Only) and Dancing Under the Stars with Live Music by Richard Frank , A Man & His Music; Richard Frank completely captivates his audience with non-stop exciting selections and a brilliant performance. From Las Vegas Hotels and Casinos featuring – His Tribute to the Stars and those Oldies but Goodies from the 50's and up. He will delight you with his renditions of Sinatra, Dean Martin, Tom Jones, The Platters, Billy Joel, and more, and his unparalleled Neil Diamond Tribute. You'll swear it's the man himself. Come walk down Memory Lane with those Oldies but Goodies from the 50s and  and more-Coffee & Dessert available with reservation-Located at 140 N. Congress Avenue, Boynton Beach 33426  Call for reservations and to confirm: 561-737-8500   PalermosItalianBakery.com       (P.S. and you won't believe the extraordinary goodies in the bakery! Come splurge and taste the cookies, cakes and breads, too!)  For more information and entertainment info, CLICK HERE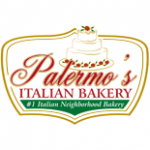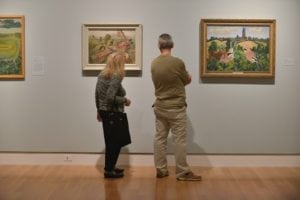 Norton Museum of Art- "Art After Dark" NOW on FRIDAYS--5pm to 10pm-FREE ADMISSION-The Norton's most popular weekly program (changes every week) – Food and beverages are served from the museum's café, Fratelli Lyon, which offers an à la carte dinner menu from 5 to 8:30 p.m. The restaurant offers an à la carte dinner menu from 5-8:30 p.m. For reservations call (561) 832-5196 x 1123, or email fratelli.lyon@nulllyonandlyon.com  Norton Museum is located at 1451 S. Olive Ave. in West Palm Beach. Call 561-832-5196, email info@nullnorton.org, or visit norton.org.
]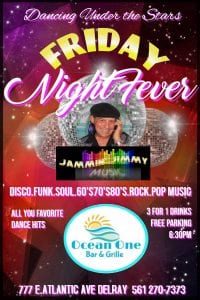 Dancing Every Friday Under the Stars-DJ Jammin' Jimmy provides some good dance music in the courtyard at Ocean One -Disco, Funk, Soul, 60s to 80's, Rock, Pop music-6:30pm- 3-4-1 drinks- Free Parking-6:30pm-At 777 E. Atlantic Avenue, Delray Beach   Call to confirm: 561-270-7373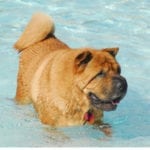 Woofing Waters Dog Park & Marina at Quiet Waters Park–Now open- The 2 acre-space in the NW corner of the park includes separate areas (grass and hard surface) for large and small dogs with assorted water features. Cost is $5 for a daily pass, $25 per household for a seasonal pass which is also good at Barkham at Markham Park. For information on vaccination rules and other guidelines, call 954-357-5100 or Broward.org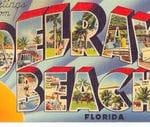 Tickets for Events at Old School Square in Delray-Individual Tickets on sale now-Call the Box Office to get the best seats and learn more about VIP tables in front of the stage at the Crest Theater;   561-243-7922 ext.1    Public, Group and Internet Sales open; For more info. and to see the line-up of upcoming shows at 51 N. Swinton Avenue, Delray Beach  (Check out their FREE Friday night concerts)
Bridge-Join for lunch and an ACBL-sanctioned duplicate bridge game. 11:30 a.m. Boca Raton Community Center, 260 Crawford Blvd., Boca Raton. $6. Call to confirm: 954-598-5856.
Movie Time at the Library-Call for movie information. 1 p.m. Highland Beach Municipal Library, 3618 S Ocean Blvd., Highland Beach. Free.  Call to confirm: 561-278-5455.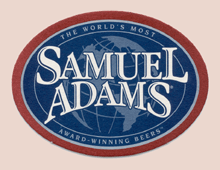 Friday Fish Fry at Muddy Waters- Enjoy Samuel Adams Beer-Battered Fish of the Day-Happy Hour from 4pm to 7pm EVERY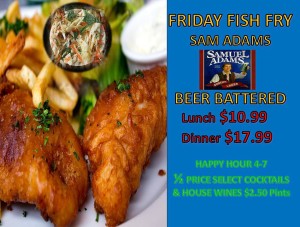 day and ALL NIGHT on MONDAYS-Half price select Cocktails and House Wines; Great Specials on Saturday and Sunday from 11am to 4pm-CLICK HERE to see-And home of the 79 cent clams and oysters on the half shell daily-Open Everyday from 11am till 2am; What a great way to kickoff the weekend! -At 2237 W. Hillsboro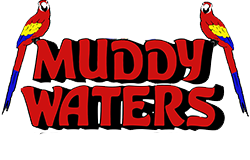 Blvd.-Deerfield Beach 33442- Info: 954-9428-6577 or www.MuddyWatersRestaurant.com  
Something different to do EVERY NIGHT at Muddy's: CLICK HERE
Save the Date: April 6-  BBQ!  (The first Saturday of every month!) 


"Free Roll"-Free Poker Tournaments- At the Big Easy Casino–(formerly "Mardi Gras" Casino)- 831 N Federal Hwy, Hallandale Beach, FL, 954-924-3200 or email:  info@nullthebigeasycasino.com  Hours of Operation: Sunday-Thursday 9:00am-3:00am;  Friday & Saturday Open 24hrs-Free Tournaments every night at 6:50pm
The Rooftop@1WLO– Check out the new rooftop lounge with light bites at 1 W. Las Olas Blvd., Fort Lauderdale. It is the latest from Fort Lauderdale's The Restaurant People, and located on the 7th floor of the One West Las Olas Building (hence the 1WLO name)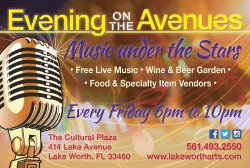 Evening on the Avenues-6:00 pm – 10:00 pm-The FREE weekly outdoor event features live music, wine and beer garden, and food and specialty item vendors. At The Cultural Plaza-414 Lake Avenue-Lake Worth  33460 For more info: 561-493-2550  or www.LakeWorthArts.com  Contact:  etheodossakos@nulllakeworth.org  or 561-533-7335
First Friday Food Trucks-5pm to 9pm at Flamingo Gardens in Davie-Choose from a lineup of 19 South Florida food trucks, with musical accompaniment. DJ Anarchy spins the tunes in the parking lot from 5-9 p.m. while the South Florida Bluegrass Association presents live bluegrass in the courtyard from 6-8 p.m. At 3750 S. Flamingo Road, Davie
Delray Beach Community Dance Jam–7:15 pm – 10:00 pm-Veterans Park Indoor Center-802 NE First St.-Delray Beach-Price: $5.00-The freestyle dancing community event includes instructor-led warm-ups, breathing, meditation and conscious, spontaneous movement.  DJ Dee spins a non-stop eclectic mix of world music, pop, reggae, Latin and rock. Kids are welcome.  Info and call to confirm:  561-243-7350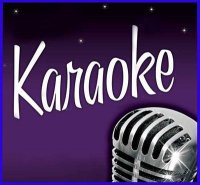 Karaoke at Flip Flops Dockside Eatery– Named 2nd by New Times  in the Top Ten best Karaoke Spots in Palm Beach & Broward counties)-You can start the weekend off right at this seaside bar that aims to bring Key West to Ft. Lauderdale. Every Friday night, Robert Lavalle hosts a night dedicated to karaoke starting at 7:30 p.m. If you need liquid courage, they proudly offer a happy hour all Friday where beer, wine, and well drinks are only $3.  Located directly on the Intracoastal at: 3051 NE 32nd Ave.-Fort Lauderdale, Fl 33308  Call to confirm: Phone:  954-567-1672   Email: flipflopsdocksideeatery@nullhotmail.com
SCROLL DOWN FOR MORE KARAOKE!
IMAX Theater Has Re-Opened and It's Better Than Ever
The Museum of Discovery & Science IMAX Theater-For Info, Click HERE or www.MOD

S.org
IMAX 3D- Located at 401  SW 2nd St. Fort Lauderdale-Phone:  954-713-0930
NOTE: The AutoNation IMAX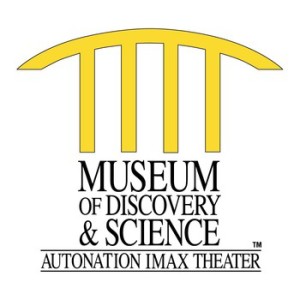 Theater has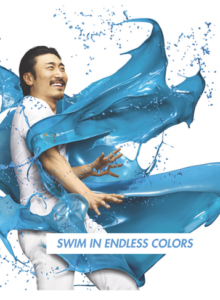 upgraded their projection and sound system to IMAX with 4K Laser; Wait till you see the new IMAX with laser system!  Groundbreaking movie projection technology will transform the AutoNation IMAX 3D Theater experience into one of the most extraordinary theater experiences in the world.
Now the AutoNation IMAX 3D Theater will be the only place in Florida, and one of only a few in the world, to offer 2D and 3D movies using the new IMAX WITH LASER system.  For IMAX Movie Schedule, CLICK HERE
Free Concert in Pompano Beach-Music Under the Stars events are 7 p.m. the second Friday of most months on the Lawn at Atlantic Boulevard and Pompano Beach- Info and call to confirm:  954-786-4111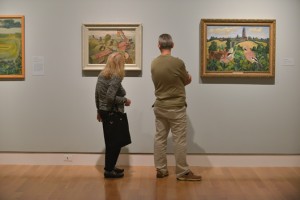 Norton Museum– There's much to celebrate at the Norton this month: The Museum reopened this past summer after a five-week hiatus to re-install galleries and prep for construction.  Be sure to visit the reinstalled galleries to view your favorite works in a new context. Programs such as Art After Dark resume this week, and are free as well! Welcome back! For info. on Exhibitions, Programs, Tours, Art After Dark, Theater Lab (new), and more, CLICK HERE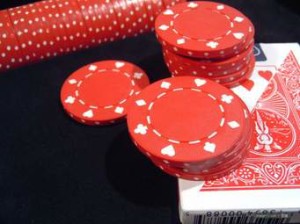 The Casino at Dania Beach-Casino, Concert Venue, Comedy Club! The newest casino in Broward County is here! You have been waiting, and now you will able to try out an all new gaming featuring Las Vegas slot machines, the hottest card room in town, multiple dining options, live Jai Alai and more-301 E Dania Beach Blvd, Dania Beach, FL 33004 -Phone:  954-920-1511
Note: Are you interested in a new job or know of someone who is looking? The new Casino in Dania Beach is still hiring Cocktail Waitresses, Bartenders, Cashiers, Security Agents & Housekeeping Personnel-Resumes should be sent to JOBS@nullDANIACASINO.COM
Boca Resto Lounge--Call 561-430-5639 or visit  BocaRestoLounge.com -Located at 3360 N Federal Hwy, Boca Raton 33431-  Open Tuesday – Sunday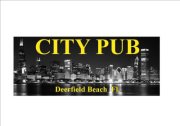 City Pub–Free Parking- No smoking, wood dance floor- Open Tuesday- Sunday- At 956 S. Federal Hwy. -Deerfield Beach- 33441-954-427-8213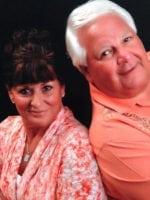 The Doo Wop Kids- (Vinnie & Mary Ann)-Specializing In Doo Wop, Disco, Motown, R&B, Rat Pack & All The New Dance Sounds- Click to hear this really fun Doo Wop group and where they are performing next: DooWopKids.com  or email: DooWopVin@nullbellsouth.net
Business Networking- This networking event focuses on creating relationships that translate to new business. Don't miss this Free Opportunity to help your business grow- Hosted by a different Chamber member on the 2nd Friday of every month.  -Hosts can give a brief presentation of their business at the event.  To host contact chairperson, Joel Pashkin 954-290-5154  Time: 8:00 am – 9:00 am   Location: First Congregational Church of Ft. Lauderdale -2501 NE 30th Street Fort Lauderdale, FL 33306-  Email: info@nullbuyyourlocalappnow.com   Continental Breakfast Served,  Business Card Exchange, Free on site parking,  Networking for those who like to start their day with new prospects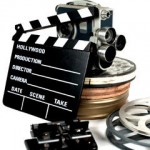 Movies- "Cafe Cinematheque Foreign Films" with Shelly Isaacs is every Friday at 1:00 p.m. at Movies of Lake Worth 561-968-4545 ( and Thursday at 10:30 a.m. at Movies of Delray-For info, call 561-638-0020 – Visit moviesofdelray.com for more information.)  Also, watch "Movie Talk" with Morrie Zryl on wrpbitv.com Fridays at 6 a.m. (and Thursdays at 6pm)  AND, Larry Ferber has a movie club 10 a.m. every Sunday at the FAU Living Room Theatres on Glades Road in Boca, followed by discussion- Call 757-617-1936 for more information and to confirm.
Flagler Green Market in Fort Lauderdale 5 p.m. to 11 p.m. most second Fridays of the month, Call to confirm, 954-785-7475
Green Market in Fort Lauderdale-11 a.m. to 6 p.m. most Fridays The Sanctuary Church, 1400 N. Federal Highway, Fort Lauderdale, Call to confirm-954-564-7600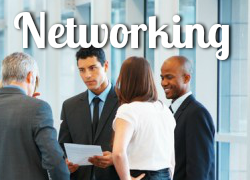 Networking-Scroll down to see those listed below and more- Everyday in various locations- CLICK HERE
SCROLL DOWN TO SEE KARAOKE AT THE BOTTOM OF THE PAGE: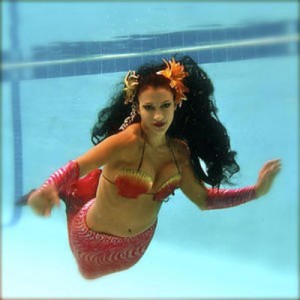 The Mermaid Show-–Every Friday at 6:30pm-Free Admission (but any drinks you buy will cost you!) -As seen in the film "The Right Stuff." Submerged lasses swim in a hotel pool, past windows behind the hotel bar, during 30-minute shows. P.S. Get there early (5:30pm) and get a seat near a porthole! The place gets packed!–At the Wreck Bar in the Sheraton Fort Lauderdale Beach Hotel-1140 Seabreeze Blvd.-on Route A1A-Fort Lauderdale 33316-Info: 954-524-5551- To see what they look like, Click here:  
https://www.youtube.com/watch?v=reNHSUDYBDc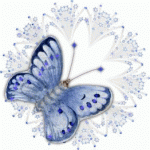 Swamp Tours, Canoe Trips, Guided Bird, Butterfly and Wildflower Walks and more-Join a volunteer naturalist for an early morning nature walk and see how many birds and other critters you can spot.  Learn about the migratory and year-round residents of the Refuge and their habitat.  Your guide will discuss the marsh ecology, answer your questions and identify the birds, butterflies, plants, reptiles and anything else you might find along the way. For information about the Refuge, and their other events, visit www.loxahatcheefriends.com or call the Visitor Center at 561-734-8303.  The Refuge is located at 10216 Lee Road, Boynton Beach, off U.S. 441 between Atlantic Avenue and Boynton Beach Boulevard.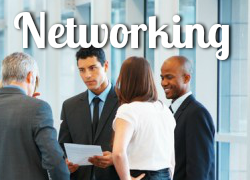 Networking-LOTS of Breakfast networking and more- Everyday in various locations- CLICK HERE
Country Line Dancing Lessons- Tuesday through  Saturday– At Renegades in West Palm- For more than 12 years, Renegades has been one of West Palm Beach's favorite hangouts — Swing by and enjoy the spectacular 10,000-square-foot setting with 75 TVs, a mechanical bull, live music, and down home food from nachos topped with award-winning chili to crispy wings; just throw in a couple of beers-Located on Village Boulevard-600 Village Boulevard-West Palm Beach, FL 33409-561-683-9555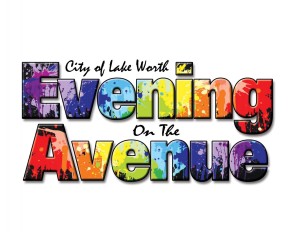 Evening on the Avenue– In Cultural Plaza-Lake Worth--6pm to 10pm-A free music and arts event is held the first and third Fridays of every month-Each year Evening on the Avenues reinvents itself bringing new and exciting music, art, street performers and activities to Downtown Lake Worth-Visitors can stroll from Dixie to the Cultural Plaza on both Lake and Lucerne Streets visiting Art Galleries, Wine & Beer Garden, Food Trucks, Shops and the many wonderful restaurants, both old and new- Bands of every genre will be performing at the mid-town outdoor Cultural Plaza-Puppet shows, arts and crafts vendors and street performers appear on street corners and in every nook and cranny of the town-Side streets feature classic car exhibits, music, exotic foods and clothing, and lots of family fun-Info: DCA (Downtown Culture Alliance) – At 414 Lake Avenue-561-533-5272                            
Happy Hour-Every Friday-At the Martini Bar in Gulfstream Park– Wednesday- Friday from 4pm to 8pm and Saturday, 7pm to 8pm-$5 Tapas and Martinis–Half off beer, wine by the glass, Champagne splits and House liquor-Also a Happy Hour menu-DJ music from 6pm to 10pm-Mention Tony Major Events-Hallandale Beach 33009-East of I-95 and Hallandale Beach Blvd.-2nd Floor in the Village at Gulf Stream–For info: MartiniBarGulfstream.com or 954-589-2679
Music At the Hollywood Beach Theater-7:30pm to 9pm-every Friday-Live Jazz, Blues, Pop and more- along Hollywood's signature 2.5 mile 'Broadwalk-'Charming oceanfront cafes-Free Admission-Info: 954-924-2980-East of A1A at Johnson Street and the ocean
Every Wednesday through Saturday, every week-At The Best Cellar-8pm to 10pm-the best sit-down educational tasting of fine wines-comfortable and fun-Cover: $15-The evening is free with the purchase of 6 bottles or more totaling $150-Also a perfect place for your next  meeting, function or special event-At 1408 NE 26th Street-Ft. Lauderdale (Wilton Manors) -954-630-8020 (Directions: I-95 to Oakland Blvd., east to Dixie Hwy., right on Dixie, left on 26th, in the plaza on-the right)-Call to confirm
Blue Jean Blues-Ft. Lauderdale's Jazz and Blues Club- Happy Hour-5pm to 8pm-Different bands every Friday-9pm to 1am-at 3320 NE 33rd St.-Ft. Lauderdale Fl 33308-(2 blks. N. of Oak. Pk. Blvd. & A1A)-www.bjblive.com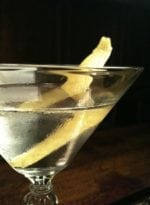 See all Happy Hours by visiting the page entitled "Happy Hours" in the Directory , or just CLICK HERE
( Call venues to confirm)
Karaoke Fridays in Margate– Karaoke from 10pm to 2am-bucket specials-Mugshots Bar and Grill of Margate-1049 St. Rd. 7-Margate-Call first: 954-974-4420
Karaoke in Ft. Lauderdale-9pm to 1am-With JD and Lisa B-At 2528 N. Federal Hwy.-Ft. Lauderdale-Call to confirm: 954-563-9393
Karaoke in Sunrise–The Inn Field Bar & Grill -11439 W. Oakland Park Blvd.-Sunrise- Karaoke Friday nights-Win a $25 bar tab-Info: Wendy, Rising Star Productions-954-593-9705-rstarprod1@nullbellsouth.net Facebook: Wendy Meverden    www.myspace.com/rstarprod1     Call to confirm: 954-593-9705
The Blind Monk Restaurant and Wine Bar in West Palm Beach– a new casual bar with a wine and craft-beer focus-Ben Lubin, a former U.S. Marine, decided to venture into the hospitality business with this small spot on Evernia Street that debuted last August. The food menu is sparse but traditionally wine-friendly-One special each week will be featured;The eatery's name honors Don Perignon, who was, in real life, a blind monk so an alcohol connoisseur's menu features more than 90 wines by the glass, and 300-plus bottles on the list, representing every wine-growing region around the globe. There's a hand-picked selection of microbrews, plus espresso and numerous sparkling juices for the teetotalers- 410 Evernia St., West Palm Beach; 561-833-3605 Open daily, 3 p.m. to 1 a.m.
Kitchen 305–Located in the Newport Beachside Hotel & Resort, Kitchen 305 offers upscale dining in a chic setting- This 3,200-square-foot restaurant features a 40 foot bar, live music, and a weekly line-up of events- As seen on NBC's South Florida Today,  the restaurant has been touted as Miami's number one "Eat Now" on the Hot List-Open 7 days a week-Located at 16701 Collins Avenue-Sunny Isles Beach, FL 33160- For Info and Reservations Call 305 -749-2110
Free Friday Night Dinner and Service–Sabbath Service at 5:30pm followed by a full dinner free of charge-Chabad of Highland Lakes is the only synagogue in which you do not need to pay a membership, nor on holidays, with free dinner every Friday and usually 25 to 30 people in attendance- Saturday service at 9:30am  followed by a full complimentary Kiddush Lunch and Chulent, with mingling and meeting new people,  good for business networking- Sunday service 9:30am followed by a full breakfast-everything free of charge-everyone welcome-2601 NE 26 Avenue-North Miami Beach   (26 Ave/Dixie and 211 St corner house)-Info:  305 -770-1919-Register at: http://www.chabadchayil.org/