What's There To Do This Month (and Next)?               
                 JANUARY   AND FEBRUARY
                                                                                            (scroll down!)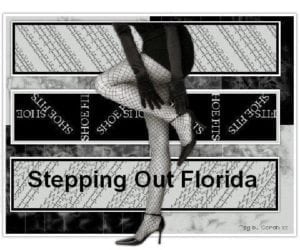 __________________________________________________________________________________________________
JANUARY 21 to 31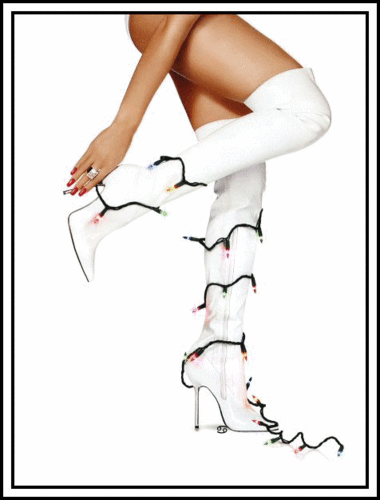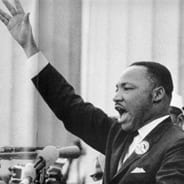 January 21- Martin Luther King, Jr. Day
January 21-Annual Martin Luther King, Jr. Breakfast -8am to 9:30am-The Spady Cultural Heritage Museum begins 2019 with a signature event, celebrating the life and legacy of Martin Luther King, Jr. On Jan. 21, The Spady Museum will hold its annual breakfast event with guest speakers Walter Bond, Ava L. Parker,JD, and Ricky Wade to share their perspectives on King's legacy.For more information, call 561-279-8883.  Location: Delray Beach Golf Club, 2200 Highland Avenue,  Delray Beach, FL 33445   To purchase tickets, CLICK HERE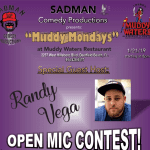 January 21-"Muddy Mondays" Comedy at Muddy Waters Restaurant-Sadman Comedy Productions features Special Guest Host Randy Vega and Open Mike Contest starting at 8pm-At Muddy Waters Restaurant, 2237 W. Hillsboro Blvd. Deerfield Beach-Phone: 954-428-6577
January 22-The Palm Beach Condo & HOA Expo at the Palm Beach County Convention Center, from 10:30 am to 3:00 pm (seminars begin at 9:00 am). Complete your FREE Registration today. Get the tools, information, and contacts you need to gear up for your property's busy season: Learn and get FREE CEU's from 11+ different seminars and courses covering today's essential management topics;  Get advice from experts in law, security, property management, tax, accounting, and more. Browse the newest products and services. FREE Parking! Attendees enjoy parking free of charge in the Palm Beach Convention Center parking garage! As a community association manager, board member, board president, or active HOA member, you're invited. Plus, Property Managers and Board Members that register within the next 7 days with promo code "JAN22" will receive FREE LUNCH at the expo; The Convention Center is locate at 650 Okeechobee Boulevard West Palm Beach, FL 33401;  The free garage is on the south side of the building and can be accessed via Florida/Rosemary Ave.

January 22-FREE Professional Advice and Networking Monthly to Actors, Filmmakers and Writers–Actors, writers, and filmmakers need excellent guidance to turn to for advice, encouragement, and support. There are new no-cost events each month beginning January 22 sponsored by Bob Carter's Actor's Workshop & Repertory Co. (Actor's Rep), 1000 N. Dixie Hwy, West Palm Beach. The group is called The Alliance at Actor's Rep. Guest speaker/panelists for the initial offering are actor director Jevon White, actress/writer Kimberly Smith, and talent manager Marlo Cohen.Ms. Smith says, "Don't go it alone. We intend to discuss all topics related to an actor's career, writing, and filmmaking in a relaxed, friendly environment."Everyone is welcome: stage and screen actors, directors, and writers from beginners to seasoned pros. The first event, Tuesday, January 22 at 7 p.m., called Entertainment Industry 101, will start with the panel discussion followed by questions and discussion.For more information, call Actor's Rep at 561-833-7529 or visit the website at https://www.actorsrep.org/alliance/
January 23-27  The 6th annual Delray Beach Fashion Week- The 2019 theme of "Fashion Never Dies" inspired by 007 will carry throughout the event featuring spectacular fashion, local designers, entertainment and beauty. Diverse fashions will take center stage at the runway shows, fashion luncheon, Shop the Runway In-Store Shopping Event and in-store promotions throughout Downtown Delray Beach. In addition to the Downtown Delray Beach merchants, local fashion designer participants include: Amanda Perna – House of Perna and Neon Bohemians; Glavidia Alexis – Glavidia: by Glavidia Alexis and Glavidia Hair Studios; Bill DeBilzan – The DeBilzan Gallery; Arianne Brown – Ramona La Rue; Lizzie Lambert – Haystacks and Sam Delaney – Greenlines      Two of the runway fashion shows are free to the public to stand and watch. The VIP Pass and runway show reserved seat tickets are available at:  www.DelrayFashionWeek.com, and 100% of ticket proceeds benefit the Achievement Centers for Children and Families. The VIP Pass is $150, is limited, and includes a reserved seat at all runways shows and the luncheon, a One Year VIP IPIC Theater membership (opening in Delray Beach Spring 2019), a VIP Lanyard, entry to VIP Receptions and a special edition of the 2019 Fashion Week Amanda Perna SWAG Bag. Runway show reserved seat tickets and other event tickets range from $25-$50. There is a "Chance to Win" Downtown Delray Beach Package valued at $500 which also benefits the Achievement Centers for Children & Families. Receive one "Chance" with each VIP Pass or runway seating ticket purchased. Additional Chances to Win will be available at each runway show for $5 per chance or $10 for three chances. For more info or tickets: www.DelrayFashionWeek.com, facebook.com/DelrayFashion, #DELRAYFASHIONWEEK, or phone: 561-243-1077
January 23 to February 24-Funny Girl, A Classic Musical Biography of the Legendary Fanny Brice– The most requested show of the season is presented by the Wick Theater.  Funny Girl, the audience-voted favorite, is the semi-autobiographical romantic musical story of Broadway star, film actress and comedian Fanny Brice and her tempestuous love-story with gambler Nicky Arnstein. Nominated for 8 Tony Awards, the beloved musical is full of familiar timeless songs, wit and heartbreak. Synopsis: The ambitious young Fanny Brice starts out as a bit player on the turn-of-the-century New York City vaudeville stage, but works her way up to stardom on Broadway. Valued for her vocal and comedic talents by the renowned theater impresario Florenz Ziegfeld, Fanny thrives onstage, but her tumultuous personal life with her charismatic husband Nicky Arnstein is more challenging.  The musical features such hits as "Don't Rain on My Parade," "I'm the Greatest Star" and the timeless
ballad "People." The Wick production runs from January 17 through February 24, 2019. Tickets are $75-$85, www.TheWick.org or call the box office at 561-995-2333. The Wick Theatre is located at 7901 North Federal Highway. Boca Raton, FL 33445; The play runs until February 24, 2019; Opening/Media Night: January 19, 2019; Performance are on Wed, Thurs, Sat, Sun Matinees at 2pm; Thurs, Fri, Sat Evenings at 7:30pm
January 24-Gladys Knight- at 8 p.m.-She's a 7 time Grammy winner for hits such as "I Heard It Through the Grapevine," "Midnight Train to Georgia," "Every Beat of My Heart," and "That's What Friends Are For"-Held at Broward Center for the Performing Arts,  201 Southwest 5th Avenue, Fort Lauderdale 33312-For tickets:  Ticketmaster.com
January 24-An evening with Robert Watson, Ph.D. – Fundraiser for the Boca Raton Public Library-Join us at 6:00 pm for wine and hors d'oeuvres at the Spanish River Library in Boca Raton, followed by a lecture by distinguished Lynn University professor and award-winning author, Robert P. Watson, Ph.D., on the process of researching and writing two of his recent books, "The Nazi Titanic," and "The Ghost Ship of Brooklyn. The event will also feature exciting raffle baskets from Trader Joe's, the YMCA, wine and other great gift items. Tickets are $25 in advance (upon registration below); $35 at the door (credit cards accepted).  6:00 PM to 8:30 PM – Register Now! Can't make it? Make a donation instead!The Friends is a non-profit organization that raises funds to support and enhance the value of the Boca Raton Public Library as it serves our community. Event held at Spanish River Library mezzanine-1501 NW Spanish River Blvd., Boca Raton, FL 33431
January 24 to 27- Annual Greek Festival-At Saint Mark Greek Orthodox Church-Great food, Live music and dancing-Foods prepared by the "at-home" Greek chefs of our community – All mezzes (appetizers), entrees, and desserts are still homemade, as they have been for over thirty six years when the festival began, and are comprised of only the freshest and finest ingredients available.-$5 entry fee-Comedance like "Zorba the Greek"! Bring the kids for various children's activities, rides and games. Don't forget to purchase some Greek souvenirs and jewelry at the international marketplaceNo Pets please, documented service dogs only (vested please); Held at 2100 Yamato Road, Boca Raton 33431  For more info: http://greekfestivalboca.org/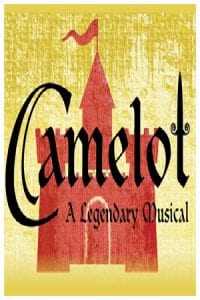 January 24 to February 3 -Camelot – A Legendary Musical at The Lake Worth Playhouse-Borrowing from the Arthurian legends, Lerner and Loewe's Camelot is the duo's fantastical masterpiece which triumphed on Broadway in a legendary original production that lead to a film version, and numerous revivals in New York, London and across the globe. Its Original Broadway Cast Album topped the charts for 60 weeks, with a rich score boasting such gems as "If Ever I Would Leave You," "I Loved You Once in Silence," "The Lusty Month of May," and of course, "Camelot." For Preview Night on January 17, Tickets are $27 , CLICK HERE; For Opening Night (CLICK HERE) on January 18, Tickets are $38 and include Premium Theatre Seats, Appetizers and a Complimentary Glass of Champagne! Appetizers served at 7:30pm and the show starts promptly at 8 p.m.  On Thursday, January 24, Dinner is Sold Out but Orchestra seats are $35 and Mezz. seats for show only are $29,CLICK HERE; You don't want to miss it! R.S.V.P. today to save your seat! Performances are Thursday – Sunday from January 19 to February 3; Lake Worth Playhouse, 713 Lake Ave, Lake Worth, FL 33460 FOR TICKETS: 561-568-6410 or CLICK HERE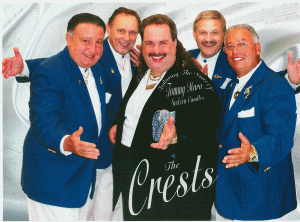 January 26- Tommy Mara and the Crests-The Crest originated back in the late 1950's and went on to chart the hits "Sixteen Candles", "Six Nights a Week," "The Angels Listened In,"  "A Year Ago Tonight," "Step by Step," and "Trouble in Paradise."  Tommy Mara took over the group in the late 1990's and has fronted as lead singer with his powerful voice and an incredible stage presence. At Sunrise Lakes Phase 4 Theater- 10102 Sunrise Lakes Blvd., Sunrise, FL  33322  For tickets:  Box Office Hours: Mon. – Tues. – Thurs. – Fri.   9:00 am – 2:00 pm; Wed.   9:00 am – 8:00 pm; or  Call: : 954- 748-3230  – ext. 1  or   Fax # 954-748-3297  To see more great upcoming shows, CLICK HERE
January 26-The Mardi Gras Ball- 7pm to 11pm- Join Arts Garage for jambalaya, beads, hurricane cocktails, and authentic N'Awlins Jazz featuring the legendary Kermit Ruffins. Masquerade attire is recommended (mask and all.)The signature event will include open bar, dinner, a silent and live auction with Gala Gal Jenelle Taylor, live music, dancing, festive decor and more. Funds raised on this fun night will benefit Arts Garage's diverse events, education programs, and emerging artist programs.-Tickets are $150 per person or $275 per couple; At Arts Garage, 94 NE 2nd Avenue, Delray Beach, FL 33444  For tickets and info, CLICK HERE
January 26 and 27-the 12th Annual Taste of Little Italy-At Tradition, Port St. Lucie;  The popular two-day family Italian street festival always has the best national and local entertainment, authentic food, festival rides and games, wine and cooking demonstrations and so much more. Friday night's headliner is Lena Prima, daughter of the great Louis Prima, performing the songs her dad made famous and more.  On Saturday night, America's Got Talent fave, Sal "The Voice" Valentinetti is back this year and will delight audiences of young and old with his incredible stage presence, voice and and tribute to Sinatra, Dean Martin, Tony Bennett and other legendary crooners. When you see him perform, you will never believe that he's only 22 years old!   Full Entertainment Schedule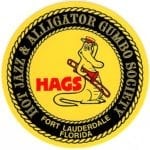 January 27-Dixieland/Hot Jazz Session-Sunday, 1:00 –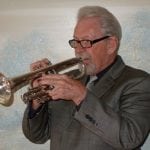 4:00pm; At The Boca Raton Shrine Club, 601 Clint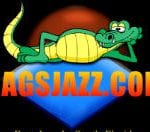 Moore Road, Boca Raton, FL 33487  Presented by the Hot Jazz & Alligator Gumbo Society (HAGS);   Featured band: The Glyn Dryhurst Dixieland Jazz Band;  Admission: $5 members,  $10 non-members  For more info: Phone: 954-651-0970  or website: www.hagsjazz.com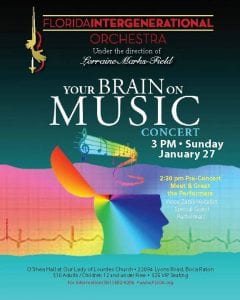 January 27-'Your Brain on Music" Concert- By The Florida InterGenerational Orchestra under the direction of Lorraine Marks-Field; 2:30pm Pre-Concert Meet & Greet The Performers (Vince Zabik, Vocalist and special guest performers);  3pm Concert; The Florida Intergenerational Orchestra of America is a non-profit that has been bringing musician of all ages together since 2005. Their musicians are from ages 9 to 100! The concert promises to be especially engaging with the audience participating and assisting the orchestra with Leroy Anderson's "Syncopated Clock"—the audience gets the clock ticking! Also the hall will bounce to the crashes of "The Thunder and Lighting Polka, and the Radetsky March." Especially exciting will be the orchestra's rendition of "Phantom of the Opera" with a guest appearance by Julia Langley, who has sung extensively with the Cirque De Soleil, joining our phantom, Vince Zabik. There will be many other great selections, so grab hold of your kids, your friends and your significant others and come on down to O'Shea Hall for a great time. Held at O'Shea Hall at Our Lady of Lourdes Church;  22094 Lyons Road; Boca Raton; Admission: $10 Adults; Children 12 and under Free; $25 VIP Seating; For info. and Tickets: 561-482-8206 or FLIOA.org
MUST SEE VIDEO:  CLICK HERE
__________________________________________________________________________
FEBRUARY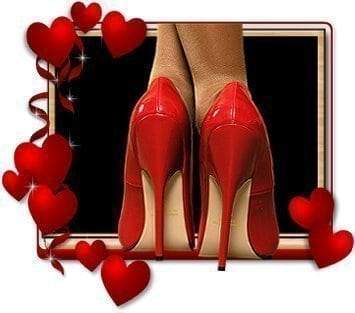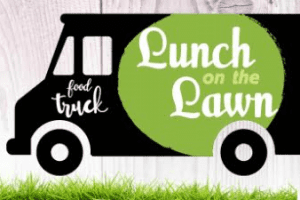 February 1- Lunch on the Lawn- Held at Mizner Park Amphitheater-11:30 AM – 2:00 PM-Free and Open the Public-Spend your Friday lunch hour at Lunch on the Lawn including lunch from various food trucks amidst picnic tables, misting machines and subtle background music; Seating as first come first served basis
February 2- Paul Reiser- At the Coral Springs Center for Arts-At 2855 Coral Springs Drive-For tickets: 561-344-5990 or www.TheCenterSC.com
February 2- The 33rd Annual Boca Raton Museum Art Festival in Mizner Park-10:00 AM at The Boca Raton Museum of Art
February 3- Super Bowl Sunday!  Super Bowl LIII will take place at Mercedes-Benz Stadium in Atlanta, home of the Falcons. It'll be the first Super Bowl hosted at the stadium, which opened in 2017. Super Bowl LIII will be televised by CBS.

February 3-Enjoy Super Bowl Sunday-Watch the Big Game at Bokampers Sports Bar & Grill– For only $99 (+ tax and gratuity), guests can enjoy a a full open premium bar (6 p.m. to final whistle) and a big game buffet, plus prizes and giveaways.  Guests can also order Bokamper's to-go and receive double MVP points (excludes delivery from third party services such as Uber Eats and Bite Squad). To reserve a table, visit us in-store, call your local restaurant or find more details, including the buffet items,  online at Bokampers.com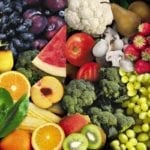 February 10-New Farmer's Market in Boca– Boca Center will be hosting monthly Farmer's Markets in the courtyard the second Sunday of every month. Next: February 10 from 10am-2pm, you will be able to shop from your choice of 15+ local vendors. Enjoy a variety of fresh produce, handmade products, organic juices and more!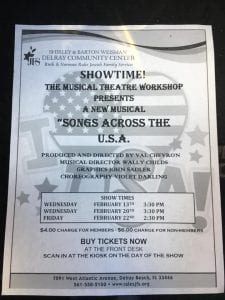 February 13 (also 20, and 22)-Showtime! The Musical Theatre Workshop Presents a New Musical: "Songs Across the U.S.A."-Admission: $4.00 for Members; $6.00 for Non-Members; Held at the Shirley & Barton Weisman Delray Community Center-7091 West Atlantic Avenue, Delray Beach 33446 (Performances are at 3:30pm on February 13 and 20; and at 2:30pm on February 22)- Buy Tickets Now: At the Front Desk (just scan the tickets at the kiosk on the day of the show);  (Note also: Dance Performance AND Comedy Routine by Judie and Stan Brown)
                                                                                                 VALENTINE'S DAY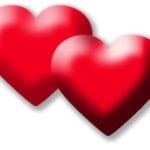 FEBRUARY 14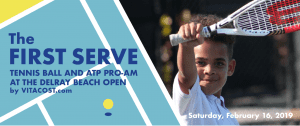 February 16 and 17-First Serve Tennis Ball and ATP Pro Am at the Delray Beach Open by VITACOST.com -First Serve was established in 1993 to enhance the lives of local children through a unique mentoring program in which the organization pays, equips and trains high school seniors to mentor kids from their own communities. For event information: Elizabeth Kelley Grace, 561-702-7471 For tennis enthusiasts to qualify for the ATP Pro Am, contact Sonny Maken, 561-767-0220. For more info. and to purchase tickets, Click Here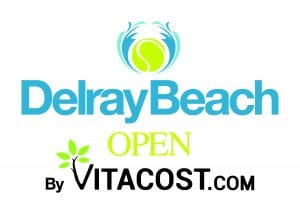 February 22- Tennis on Tap at the Delray Beach Open by VITACOST.com-This is what you get when you pair great ATP tennis with cheers-worthy sips and high-octaine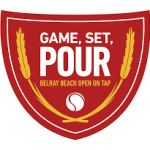 cuisine! Game, Set, Pour! The inaugural craft beer pairing event will showcase award-winning suds from local alehouses like Barrel of Monks Brewing, Copperpoint Brewing Company, and more. Participating restaurants include Dada, Brule, and Kapow. Proceeds will benefit ACEing Autism. Foodies, beer lovers and oenophiles are sure to delight in this year's inaugural pairing event! 5:30pm to 8:30pm-Guests will enjoy local craft beers, renowned wines, and delicious samplings from the area's hottest restaurants. The event will take place at the tournament's on-site Hospitality Pavilion, just steps away from Stadium Court. VIP tickets are $75 in advance ($90 at door), and include early access to food, beer, wine pairings and a one-of-a-kind collector's glass. General admission tickets are $55 ($65 at door). All tickets include seats to the evening's Quarterfinal pro tennis matches.For more information or to purchase tickets, call  561-330-6000 or visit GameSetPour.com    The Delray Beach Open is held at the Delray Beach Tennis Center, 201 W. Atlantic Ave., Delray Beach, FL 33444.
February 21 to 24-Country Royalty: A Musical Tribute to Hank Williams & Patsy Cline-Two of the most influential crooners in the history of country music — Hank Williams and Patsy Cline — are portrayed by two of the most respected tribute artists around, as Country Royalty comes to the Mizner Park Cultural Arts Center in Boca Raton. Jason Petty won an Obie for starring in the off-Broadway hit Hank Williams: Lost Highway, while Katie Deal has toured the country in Always, Patsy Cline. Now, these two powerful performers come together as a duo to sing more than 20 chart-topping hits live, including "Crazy," "Hey Good Lookin'," Your Cheatin' Heart" and "Walking After Midnight." Mizner Park Cultural Arts Center – Studio – Boca Raton    For more info and Tickets, CLICK HERE

February 22, 23, 24-The 13th Annual Boca Raton Concours D'Elegance– Presented by Mercedes-Benz and Autonation-JAY LENO hosts as the gala's headline entertainer; Held at the Boca Raton Resort & Club announces Jay Leno, from the "Jay Leno's Garage" television show, as the headline entertainer and celebrity judge. Jay will be presenting the "Big Dog Garage Award" to his favorite automobile and motorcycle during the Sunday, February 24th judging on the Show Field. Auto enthusiasts, will celebrate with Marque of the Year, Bentley Motorcars on their 100th Year Anniversary. The Boca Raton Concours d'Elegance is the world's largest for charity, and fully benefits the Boys & Girls Clubs of Broward County. Founded and directed by Rita & Rick Case of The Rick Case Automotive Group as volunteers who have annually continued their leadership and hands-on involvement over the last 13 years and Honorary Chair Mike Jackson, is all to benefit the Boys & Girls Clubs of Broward County and the more than 12,300 at-risk youth it serves. "The entire Concours team is comprised of a group of over 300 volunteers who donate their time to the planning and execution of the event," says Brian Quail, President/CEO of the Boys & Girls Clubs of Broward County. Quail added, "In 2018, the event attracted thousands of attendees and to date has raised more than $10 million for our organization."  For a full schedule of events and to purchase tickets:  CLICK HERE
February 23- Paula Poundstone- At the Coral Springs Center for the Arts-At 2855 Coral Springs Drive-For tickets: 561-344-5990 or www.TheCenterSC.com

February 28 to March 10-Festival of the Arts Boca-Established in 2007, Festival of the Arts BOCA was designed to promote the cultural arts and enrich the quality of life of the residents of Boca Raton, Palm Beach County, and South Florida. To see the schedule and purchase tickets: Call 866- 571-2787 or Click here: FestivalBoca.org
To see more info. about the events: CLICK HERE
Doris Kearns Goodwin ~ Leadership: In Turbulent Times-Thursday, February 28-2019
Film with Live Orchestra ~ Star Wars: A New Hope-March 1-2019
Rhapsody in Blue – An Evening of Orchestral Favorites- Sat, March-2-2019 at 7:30pm
Pink Martini – A Rollicking Around-the-World Musical Adventure-March -3-2019 at 7:00pm
Russian Music & Ballet with Stars of the Bolshoi and Russian National Orchestra-Friday, March-8-2019 at 7:30pm
Nu Deco Ensemble-Saturday,  March 9-2019 at 7:30 pm
10-time Grammy Winner Arturo Sandoval and His Band-Sunday, March-10-2019 at 7:00 pm
SPECIALS:  Save 20% with an Enthusiast Pass, CLICK HERE
Upgrade with a Next Wave Lounge Pass, CLICK HERE