RESTAURANTS-

 OPENED

:
   (Scroll Down to see

CLOSINGS!)
2017 OPENINGS:  BOCA RATON
Ouzo Bay in Boca– formerly Jazziz- Authenic Greek/ Mediterranean with daily wild catches from around the world- Located at 201 Plaza Real-Boca Raton, Florida 33432  561-757-0082
Frank & Dino's-formerly in Deerfield Beach -now in the former Merlino's location; Classic Italian-American dishes & cocktails in a swanky interior with Rat Pack music & decor.  39 SE 1st Ave, Boca Raton, FL 33432  Phone: 561-218-4636  or CLICK HERE
Luigi di Roma Italian Ristorante-(formerly Frank & Dino's)-718 S Federal Hwy, Deerfield Beach, FL 33441 Phone:  954-531-6151
Bomboleo Cocina and Mezcaleria– Mexican, Latin American-formerly Flashback Diner) 1450 N Federal Hwy, Boca Raton, FL 33432-  Phone: (561) 750-2120 or CLICK HERE
Louie Bossi's-Ristorante, Bar, Pizzeria-100 E. Palmetto Pk. Rd., Boca 33432 Phone: 561-336-MOZZ (6699)  www.LouieBossi.com
Baciami Italiano-Las Ventanas – Opened by father and son duo Steven Pellegrino, Sr., and Steven Pellegrino, Jr.-1415 S Federal Hwy-Boynton Beach, FL 33435  Click here to see specials:     www.BaciamiItaliano.com
In the New "Park Place" Plaza–At 5560 N. Military Trail, Boca Raton: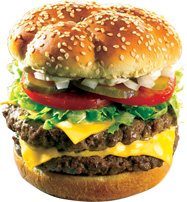 The Habit Burger Grill-named the "Best Tasting Burger" in the nation out of 65 burger chains that were reviewed.  Known for its signature Charburger. www.HabitBurger.com 
Fresh Market- Located in the new "Park Place" development on North Military Trail just north of Yamato Road-The Boca market will be the 43rd in Florida for the North Carolina-based upscale grocer, known for its extensive array of prepared foods and fresh produce, and variety of gourmet food products. The other Boca Fresh Market is on West Camino Real.
Also Park Place Deli (formerly Rappy's Deli) is a modern spin on the classic Jewish style deli, serving breakfast, lunch, dinner and cocktails. 
Other Deli Openings: Juniors (of NY, noted for cheesecake), My Delicious Deli (Garden Shops), Brighton Beach Bagel & Bakery, and Howard's Famous Corned Beef & Deli
New York Grilled Cheese-(noted for using a waffle iron grilling)-on Federal Hwy., across from Mizner Park in Boca
The Regional Kitchen & Public House, with celebrity Chef Lindsay Autry- due to open at 651 Okeechobee Blvd., West Palm Beach.
Clayton Carnes' Cholo Soy Cucina- Opening in the next month on South Dixie Highway in West Palm Beach. Carnes just won the latest big Food Network "Cutthroat Chefs" competition.
MORE New Openings:  

Domus (upscale Italian in Royal Palm Plaza), Diplomat Cigar Lounge, GourmetPhile (also in Royal Palm Plaza), Capricci Italian Gelato, iBake Bistro (SE 1st Ave), Beach Park Cafe (E. Palmetto Pk. Rd)
Openings in the 5th Avenue Shops

on Federal Hwy: Los Tacos, Fresh Kitchen, Tucker Duke's
Also:

Kanpai (grill your own Japanese BBQ), Boca Burger House, Parlour Vegan Bakery-all on Federal Hwy. in Boca; Lina's Taverna (middle Eastern cuisine), Oisho Bento (sushi), Siam Nippon Thai Sushi & Saki Bar (Shops at Boca Grove on Powerline),Little Brazil, Boca Italiana
In Town Center Mall:

Sliderz; Sprinkles & Scoops (KMart Plaza on Palmetto)
On Glades Road:

Boca Resto Lounge (formerly Pellegrino's), Novello (formerly Renzo's), Fries to Caviar (formerly Darbster), Cantina Max (formerly Moonshine Molly's)
_______________________________________
2017 OPENINGS:  DELRAY BEACH
Death or Glory Bar (formerly The Falcon House)-116 NE 6th Ave-Delray Beach, Florida, FL 33483-Phone: 561-808-8814-Opened 4/18/17
Bolay,

The bowl restaurant in Boca opened in the former Voodoo BBQ & Grill space in the Polo Club Shoppes & in Palm Beach Gardens, Bolay is at 3333 Northlake Blvd.; The "nutrient dense super food bowl restaurant" features a DIY (Do-It-Yourself) menu. You choose a base (for example, noodles or quinoa), then add vegetables and a protein (such as tuna or chicken) and then a sauce. The options are endless.  At 5030 Champion Blvd- Boca Raton FL 33496 Phone: 561-609-1781   Visit:  
www.EatBolay.com
Brighton Beach Bagel and Bakery (N. Military), Che (formerely Hudson), Blue Island Fish (Linton & Military), Harvest Seasonal Grill & Wine Bar (in the new Delray Place Center on Federal Hwy.), Windy City Pizza (W. Atlantic Ave.);  1000 Degrees Neapolitan Pizza (build your own); Wood & Fire Neapolitan Pizza (thin crust, on Military Trail); Purgreens in Pineapple Grove; BurgerFi (W. Atlantic Ave.)
2017 CLOSINGS:
Boca: Merlino's, Piccolino, Off the Hook, Boca Beach Cantina, Renzo's of Boca, Armadillo Cafe, Mr. Prime Steakhouse & Buffet, Aladdin's Eatery, Meatball Room, Zone Sports Lounge 
Delray: Max's Social House, Tryst, Solita & Mastino, Hudson at Waterway East, Out of Denmark, Paplani Gelato, The Porch, D'Angelo Trattoria
Special Note:

Blue Anchor Pub (Very Open, with great new owners and Happy Hour specials from Open to 7pm-For more great specials, CLICK HERE:  http://theblueanchor.com/  804 E. Atlantic Avenue, Delray