TUES-APRIL 21
WHAT'S THERE TO DO TONIGHT?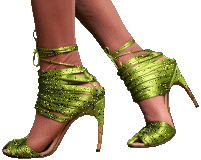 STEPPING OUT FLORIDA
Pavilion Grille
"Cachet Band" Performs Tonight
Come to Boca's Best Tuesday Night Dance Party!  It's great music tonight by the fabulous Cachet Band!  They play a great mix of music including Top 40, Disco,  Swing,  50's to present, Salsa, Classic Rock,  Motown, Cha Cha and more-  Get your dancing shoes on! Singles and Couples welcome– Come and Meet, Mix and Mingle! Dinner served from 6pm; Music starts at 7:30pm-Free Drink, Free Parking, Good Dancing, Good Crowd- The Pavilion is the perfect place to dine, dance and mingle -The Pavilion Grille has a huge, 2,000 sq, ft, wooden dance floor, plenty of Free parking, award-winning food and music-$10 cover includes FREE Parking and FREE House Drink or is credited toward $20 food and beverage purchase-
Also….Happy Hour "Bar Bites" menu from $6 and Happy Hour pricing includes $6 wine and mixed drinks from 4pm to 7pm-  At Pavilion Grille- 301 Yamato Rd- Boca Raton, 33431- Located in the lobby of the Stonegate Bank Building- The building is 4 stories tall and is located on the NE corner of the intersection of Dixie Hwy and Yamato Road, and has distinctive large glass sides-Free parking in the lot or  garage and enter the lobby-Use this address for GPS: 301 NE 51st Street- Boca Raton, FL 33431-   Info: 561-912-0000 or www.PavilionGrille.com   (MORE! The Pavilion Grille has Dinner served Tuesday through Saturday from 6PM and Lunch from Tuesday through Friday from 12 noon to 3:00 PM)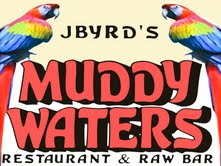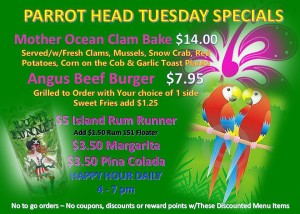 Parrot Head Specials at Muddy Waters!-Home of the 69 cents clams and oysters on the half shell daily-Everyday has a different special (check them out on this website every day of the week!) Today's deals: Mother Ocean Clam Bake -$14, Jumbo Shrimp (peel 'n eat-59 cents each) and Angus Beef Buccaneer Burger ($7.95)-Wash it down with one of the Pirates Groggs or if you're having a bad day, drink a "Pain Be Gone: or a "Blackbeard's Spiced Rum Cocktail" or an Island Rum Runner ($5)-(Yo Ho Ho and a Bottle of Rum!) Some "Pirates" like the Vodka Oyster Shots while playing Sports Trivia at the bar or the Margaritas and Pina Coladas while watching the 19 H/D TV's–AND, by the way,  Happy Hour every day of the week from 4pm to 7pm- $3.50 Margaritas and Rum Runners–Located at 2237 W. Hillsboro Blvd.-Deerfield Beach 33442 Click here:  www.MuddyWatersRestaurant.com   or 954-428-6577
Earthday Event- Reducing Your Carbon Foot Print by Going Organic! Presented by Whole Foods Pembroke Pines, 6:30 p.m. to 7:30 p.m., Miramar Branch Library & Education Center, 2050 Civic Center Place, Miramar,  954-357-8090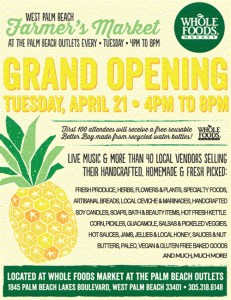 WPB Farmer's Market Grand Opening-4pm to 8pm-Whole Foods Market at the Palm Beach Outlets-Celebrate the grand opening of the West Palm Beach Farmer's Market at the Palm Beach Outlets, happening every Tuesday from 4 to 8pm-There will be live music and more than 40 venders selling their fresh foods! Plus, the first 100 attendees will receive a free reusable Better Bag made from recycled water bottles- For more info: CLICK HERE
POF Party ("Plenty of Fish" Singles Group)- Happy Hour -Salsa Lessons-Two Bands-Happy Hour is from 6-8pm, with all drinks half price, including top shelf and premium  as well as Happy Hour Food Specials-Free Salsa Dance Lesson at 6:30pm-Then the live music and dancing starts-Let's meet at 6pm to mingle and talk before the party- No Cover Charge, Free Parking-Blue Martini-in the back of the Town Center Mall-6000 Glades Road, Boca Raton Florida, 33431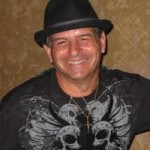 Karaoke in Boynton Beach– At Corcoran's Tavern & Grill- located in the Renaissance Commons on Gateway & Congress in Boynton Beach (formerly Slainte's).  The talent here has been incredible, and growing week by week.  The food and ambience are great, and everyone really enjoys it. New Start Time: The fun starts at 7:30 and they'll be offering Happy Hour drink and food prices.   -1475 Gateway Blvd., Boynton Beach -For info: 561-375-9997-Free street, plaza and garage parking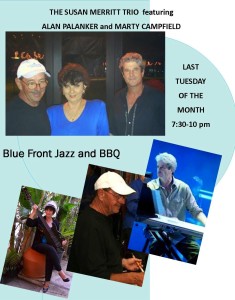 BBQ & Jazz at The Blue Front with the Susan Merritt Trio-7:30pm to 10pm-Alan Palanker, piano;  Susan Merritt, bass; Marty Campfield, drums- 1132 N. Dixie Hwy- Lake Worth, FL 3346- Info:   mybluefront.com (561)833-6651  (The Trio also performs on Thursdays from 7pm to 10pm  at Zucarelli's in West Palm Beach and Sundays from 7:30pm to 10:30 pm at 264 The Grill in Palm Beach)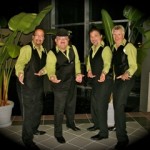 The Joey Dale Show– Come and enjoy this fabulous group (Joey, Michael, Peter and Bob) as they perform their fun Doo Wop and classics music!-8pm to 10:30pm- At the Atlantic Grille in the beautiful Seagate Hotel-They always get a great crowd-Better have your comfortable dancing shoes on for this group! 1000 E. Atlantic Avenue- Delray Beach-Free Admission- Metered street parking till 8pm and then free- Or hotel valet parking $5 Info: 954-254-0711 or Joey@JoeyDale.com     www.JoeyDale.com  Read Joey Dale's Story: The New York native recalls his life in Doo Wop: CLICK HERE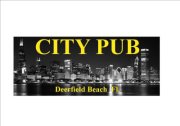 City Pub-Dixieland Band– at 7:30pm- Come on in and Dance! Happy Hour– 11am to 7pm Every Day (All Well Liquor and Domestic bottles only $2.50 during Happy Hour)-Free Parking- No smoking and new 1,000 sq. ft. Brazilian wood dance floor- At 956 S. Federal Hwy. -Deerfield Beach- 33441-DIRECTIONS: From north/south -Take I-95 to SW 10th Street, go east to Federal Hwy, make a left and a quick right into shopping center-On The N.E Corner of S.W 10th and Federal behind the gas station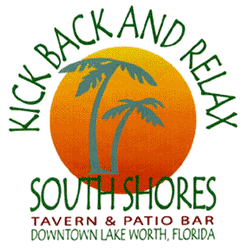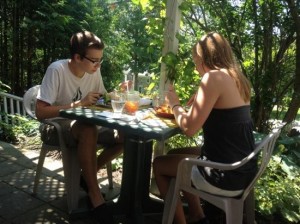 South Shores Tavern–Lake Worth's Favorite Backyard-Delightful Outdoor Patio Dining in the Tropical Garden-Happy Hour:  from 4pm-7pm, 7days a week-Open Monday – Thursday from noon to midnight-On Fridays and Saturdays open noon to 1:30am,  and Sundays open from noon till midnight)-Customers say, "prices are reasonable and drinks and food are great"-At South Shores Tavern-502 Lucerne Avenue at M Street-Lake Worth – 561-547-7656 or www.SouthShoresTavern.com

Jazziz Nightlife in Mizner Park, Boca–An acoustic evening with Al Stewart at 7:30pm- For tickets and Info:  561-300-0730  or www.jazziznightlife.com  -JAZZIZ Nightlife offers  fine cuisine, wines, champagne, caviar, cigar and piano bars; plush indoor and outdoor lounges; and live entertainment-At 201 Plaza Real-in Mizner Park-Boca Raton 33432-Open weekdays at 4 p.m. –  Info:   https://www.facebook.com/JazzizNightlife
Batten's Farmers Market-6807 Stirling Rd., Davie-954- 990-7820-Hours: Year-round, Monday, Tuesday, Thursday & Friday, 10 am–5 pm, Saturday & Sunday, 9 am–5 pm-Batten's Farmers Market is a local icon, acclaimed for its abundance of delicious strawberries that grow during winter and spring. The farmstead experienced difficult times and closed in 2008, but it reopened in 2011 under new ownership. Batten's continues its tradition of selling fresh conventional and organic produce from local farmers, in addition to breads, raw honey, nuts, jams and jellies. There's also a milkshake and smoothie counter. Kids enjoy the petting zoo, and can take cooking and gardening classes.
Brothers Farmers Markets-Hollywood Location, 4191 N. State Rd. 7-Phone: 954- 962-9292-Davie Location, 6807 Stirling Rd.-954-585-2225-Hours for both locations: Open Year-round, Monday–Friday 8am–5pm, Saturday-Sunday 8am-3pm-Established in 2003, Brothers Farmers Market supports Florida farming by offering a bounty of fresh organic and conventional produce at reasonable prices. The market is very popular, so the produce cases are constantly being restocked. Beyond fruits and veggies, the shelves are filled with so many unique gourmet products that shoppers tend to spend a lot of time here browsing.
Ft. Lauderdale Farmer's Market-Visit us in the parking lot just south of our store where there will be over 50 vendors selling products that are grown or created locally-2000 N Federal Hwy-Fort Lauderdale, FL 33305
Women Only Executive Networking Group– At Seaside Grill -1406 N. Ocean Blvd. -Pompano Beach. Florida 33062-. 11:30am – 1:00pm-. Every 2nd & 4th Tuesday- Cost Only $20 includes lunch & refreshments- Presented by the South Florida Women's Chamber of Commerce, Broward County Chamber of Commerce,  and the South Florida Chamber of Commerce- Presenting How To Do Business With Broward County Government at this event. (954) 565 – 5750 www.BrowardBiz.com
Networking in Coral Springs--The Coral Springs Coffee Meetup is every Tuesday at 7:45am sharp-Breakfast at Toojay's Original Gourmet Deli for the purposes of meeting and developing relationships with other business professionals-Guest are always welcome–Bring plenty of business cards-BYOB (Buy Your Own Breakfast)- Located at 2880 N. University Drive-Coral Springs 33065 at the Walk Plaza (954-346-0006)-Info: Arlene: 561-670-6828- http://www.yourlinktolocalbusiness.com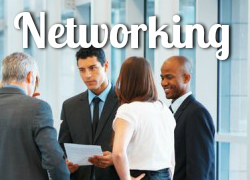 Networking-LOTS of Breakfast networking and more- Everyday in various locations- CLICK HERE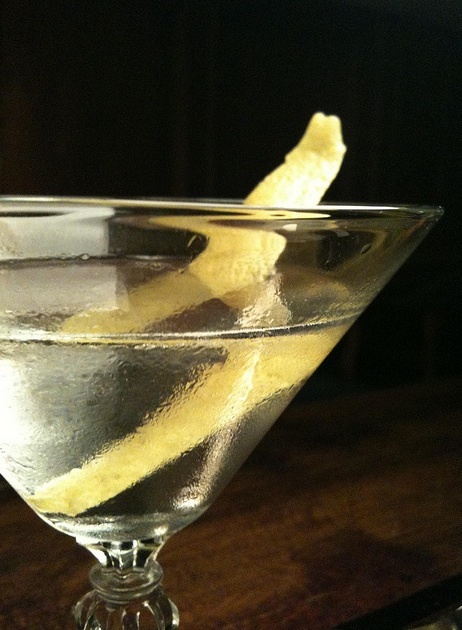 FREE Drinks for Ladies on Tuesday at Tanzy's from 4pm to 7pm– Also Monday-Friday Happy Hour specials on drinks and appetizers -Also $5 signature infused vodkas & select cocktails, $5 select wines by the glass, and $4 select draft beer – At Tanzy Restaurant-Mizner Park-301 Plaza Real, Boca Raton-Info: 561-922-6699 
Ladies Night-Butcher Block Grill– 5PM until Close Ladies drink all night at 1/2 Off-7000 W. Camino Real, Boca Raton, Florida 33433 -561.409.3035 or http://butcherblockgrill.com
Country Line Dancing Lessons- Tuesday through Saturday- At Renegades in West Palm- For more than 12 years, Renegades has been one of West Palm Beach's favorite hangouts — Swing by and enjoy the spectacular 10,000-square-foot setting with 75 TVs, a mechanical bull, live music, and down home food from nachos topped with award-winning chili to crispy wings; just throw in a couple of beers-Located on Village Boulevard-600 Village Boulevard-West Palm Beach, FL 33409-561-683-9555

Dance-'FUN'-damentals and Useable Intermediate WCS (West Coast Swing) Patterns-Lessons by Louis Schreiber start at 7:30PM- At New Millennium Ballroom-2500 E Hallendale Beach Road-Suite T- Hallandale, FL – Info: CLICK HERE
Something A Little Different: Roller Skating!  Every Tuesday, it's "Intoxi-Skate"-Yes, drinking and skating is allowed…while local DJs play dance-able, skate-able music-Enjoy drink specials and it's only $4 admission, plus another $2 for skate rental-Gold Coast Roller Rink-2604 S. Federal Highway-Fort Lauderdale- Info:  954-537-1010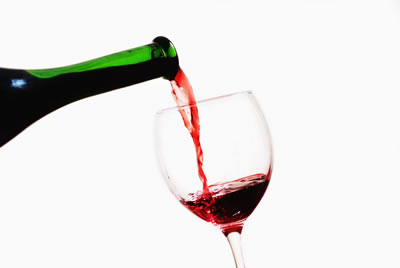 Tasting  Tuesdays at Carrabba's-A wine-tasting every Tuesday night featuring a flight of 3 red wines or 3 white wines for just $8-Info: CLICK HERE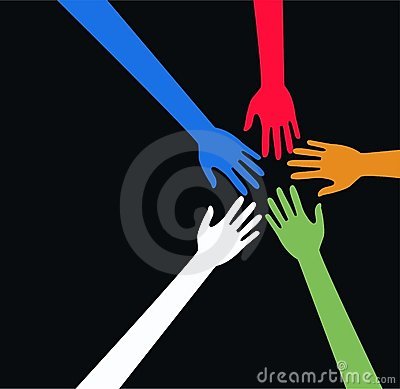 Separated and Divorced Support Group-Helpful to those who lost a relationship, a loved one- Meets 2nd and 4th Tuesday of the month- 7pm -8:30pm-$10 donation-Includes refreshments- Emotional, social and spiritual discussion to help each person move forward in a more content and healthy manner-Bring your business cards!-Moderator: Mark Roseman, Ph.D. Mediator and Relationship Coach-At the Toby Center-4731 W. Atlantic Avenue, Bldg B, Suite 18-Delray Beach, FL 33445 Info:561-244-0010 – Fax 561-300-8587 or email: mark.roseman@thetobycenter.org www.thetobycenter.org   
Taco Tuesdays at Uncle Julio's in Mizner Park– $2 Taco Tuesdays- Every Tuesday, All Day- And Happy Hour from 3pm to 7pm with drinks from $3 to $7-in Mizner Park-449 Plaza Real- Boca Raton 33432- Info; 561-300-3530
Taco Tuesdays at Cabo Flats- All -You-Can-Eat, All Day, Every Tuesday- for $15- Unlimited: includes chicken, veggie, ground beef, steak, shrimp or mahi tacos-at Delray Marketplace, 14851 Lyons Road in Delray Beach, 561-499-0378 or Downtown at the Gardens- 11701 Lake Victoria Gardens Avenue-#5101-Palm Beach Gardens 33410–Phone 561-624-0024
Trivia Night at The Dubliner Irish Pub in Mizner Park-Every Tuesday. For more information call  620-2540 or visit DublinerBoca.com
Blues Jamming-Every Tuesday-bring your instruments-But drums and P.A. provided-Full band to back you up – 9pm to 1am-at Fish Tales -3355 NE 33rd Street, Fort Lauderdale, FL 33308 -Info:  954-689-2344     or  www.fishtaleson33rd.com‎
Jazzy Blues at Tokyo Blue- music by Dr. J.-8pm to 10pm every Tuesday-extended Happy Hour-half price drinks and appetizers-then Karaoke with Klass until 1am (free shot when you sing)-inside the Ocean Manor Beachside Resort-4040 Galt Ocean Drive-Fort Lauderdale-Info: 954-566-2122
At Blue Jean Blues–Ft. Lauderale's Jazz and Blues Club-8pm-12am-At Blue Jean Blues 3320 N.E. 33rd St. Fort Lauderdale 33308-(2 blocks N. of Oak. Pk. Blvd. & A1A)- www.bluejeanblues.net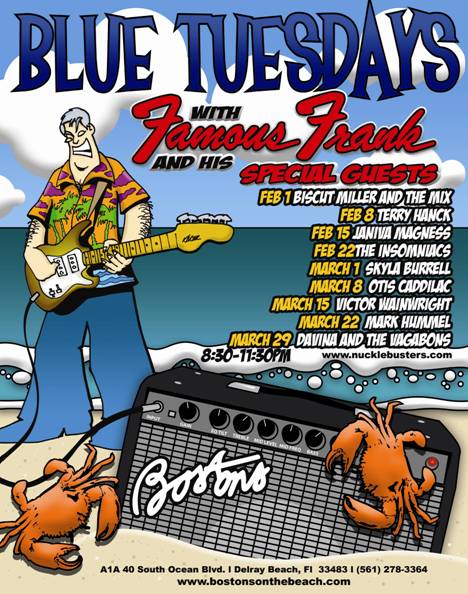 Blue Tuesdays-at Boston's on the Beach-Every Tuesday- At 40 S. Ocean Blvd.-On A1A and Atlantic Avenue in Delray Beach 33483- Blue Tuesday with Famous Frank-9pm to midnight-Cover: $5-$10-Always a great time.Always great music. Every Sun: Grateful Dead Night (7pm Every Mon: Reggae Night (10pm) And other great music throughout the week- Great ocean-view,, try the dining experience upstairs at 50 Ocean. Tuesday Schedule: 10/7  Don Cohen Birthday & Musicians Exchange Reunion Show; 10/14 Jimmy Thackery  & The Drivers; 10/21 Eric Culberson; 10/28 Yo Mama's Big Fat Booty Band; 11/4 Albert Castiglia Band;  11/11 Damon Fowler Group; 11/18 Famous Frank's Birthday Bash; 11/25 Lauren Mitchell Band; 12/2 Terry Hanck Band; 12/9 Samantha Fish; 12/16 Victor Wainwright And The WildRoots Info:  www.bostonsonthebeach.com    561-278-3364
Blue Martini– Happy Hour- 1/2 off drinks from 4pm to 8pm -every day, 7 days a week-ALL locations (from Kendall to West Palm)- includes Town Center, Boca Raton-561-561-910-2583- Latin Night-Live Band from 8pm to 11pm-DJ from 11pm to 3am
Blues Jam-Every Tuesday-See ad above-with Heidi and the El Cats-bring your instruments-drums and P.A. provided-full band to back you up-7pm to 10pm-at South Shores Tavern-502 Lucerne Avenue-Lake Worth 33460-Info:561-547-7656 or www.southshorestavern.com or to call the band:561-901-4352
Complimentary Wine-Tasting-at Hollywood Vine-6pm to 9pm-also wine classes offered-at 2035 Harrison Street-Hollywood 33020-Info:954-922-2910-Call to confirm
Dress to Thrill-Ladies Night-at Feelgoods in West Palm Beach-As goes every Tuesday, women drink free the entire night, and they don't pay a cover-cover for men starts at 10pm at  219 Clematis St.- West Palm Beach- Call 561-833-6500, or visit feelgoodswestpalm.com
Music & Dancing Under the Stars-at the Hollywood Beach Theater-7:30pm to 9pm every Monday, Tuesday and Wednesday-music (and dancing) from Big Band to Country to Rock & Roll-Free Admission-Info: 954-924-2980-East of A1A at Johnson  Street and the ocean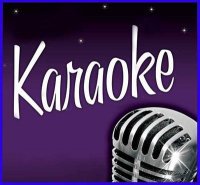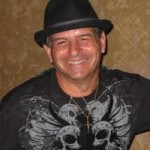 Karaoke in Boynton Beach– St. Patty's Day Party–7pm to 11pm- Join us for a special St. Patrick's Day Party at Hurricane Grill & Wings in Boynton Beach. Corcoran's had a previous commitment to Irish bands that night, so we're moving around the corner for that night. It promises to be a fun night of dancing and singing as we celebrate the Irish tradition. At Hurricane Grille and Wings -1500 Gateway Blvd., Boynton Beach  (SE corner of Gateway and Congress)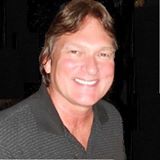 Karaoke at Benny's Lantana Bar & Grill – with KJ Dan Renken– 7pm to 10pm-Benny's Lantana Grill-(formerly The Grumpy Grouper) -224 North Third Street-Lantana, Florida-561-328-9909
Hotel Biba in West Palm Beach-DJ music-drink specials-8pm to 1am- No cov er-320 Belvedere Road-Call first-for schedule changes-561-832-0094

                                   

ONGOING:
Renegades–Country-western nightclub-Dancing on 2000 sq.ft. dance floor- Ladies drink free till midnight- 4833 Okeechobee Blvd.-West Palm Beach-  561-683-9555
Gold Coast Ballroom -Dancing- Coconut Creek- 8 pm- Cover:  $15  -includes light sandwich, cake, coffee or tea- this venue now includes a drink bar (alcohol) and sandwich bar 954-979-0770
The Living Room – In Boynton Beach-located in the old Lindburgers in the Catalina Center-Live music 6 nights a week-Decorated with eclectic pieces of furniture – sofas, chairs, coffee tables-Guests are invited to pull books and games from the overflowing bookshelves and make themselves at home-The menu is eclectic as well – a great mix of casual pub food-Located at 1709 N. Congress Avenue- Boynton Beach-  561-742-4399